Spartans overcome scrappy Grizzlies for 3-0 sweep
EAST LANSING, Mich. – Michigan State's volleyball team was back in action Thursday night for its first game since losing to No. 21 Tennessee on Sep. 7. The Spartans found an easier opponent in the Oakland Golden Grizzlies, recording a 25-18, 26-24, 25-17 sweep.
The Spartans struggled out of the gate, surrendering an early 3-2 deficit. Oakland's Taylor Dellinger got involved with three of Oakland first four kills. The fun didn't last long for the Grizzlies, who had issues handling the Spartans' serves all set as Meredith Norris notched two consecutive aces for Michigan State to give the Spartans an 8-5 lead.
Naya Gros continued her excellent play as well for MSU with two kills and three blocks. After a tense midset that saw the Spartans cling to a three-point lead, they went on a 6-2 run that put the set away for good, with Rebecka Poljan's hard spike finishing off the Grizzlies, 25-18.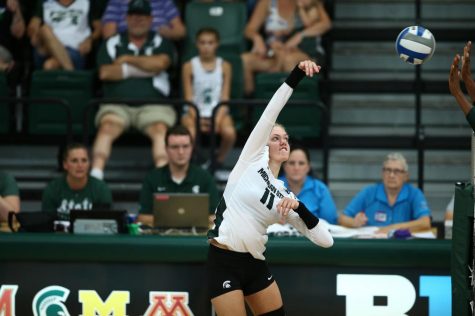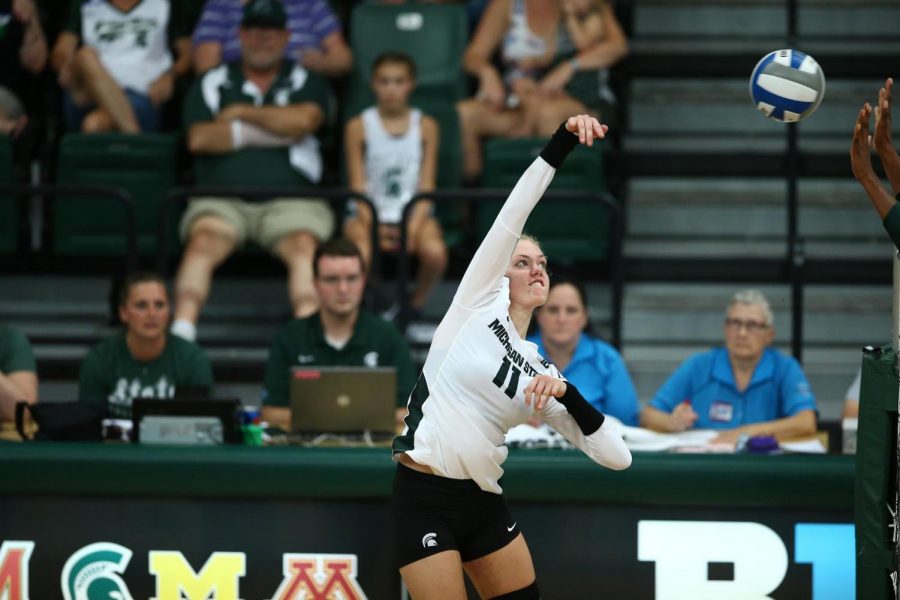 Head coach Cathy George noted some points of improvement. "Oakland did a really nice job of challenging our block," she said. "We weren't pressing as well as we should." 
In the second set, the Spartans got the better of themselves, as errors and poor defense allowed Oakland to stay even with MSU up to an 11-11 tie. The teams continued to trade points, trying to grab momentum away. Dellinger was hard for MSU to deal with, accounting for most of Oakland's offense. The Spartans were stymied by the Grizzlies' defense as well, with libero Lindsay Wightman accumulating 14 digs by the end of the set.
The teams continued to battle, tying at any number you can think of. The tie at 23-all was broken by setter Elena Shkylar's kill, which was balanced by an ensuing service error from Biamba Kabengele for another tie at 24. The Spartans finally put together two quick points to survive the set, 26-24.
"Execution now is huge," junior Alyssa Chronowski said. "It's only going to get harder and harder from here."
The third set began with Oakland spotting MSU a 4-0 lead on four straight hitting errors. The fourth came an extremely long volley that featured a fantastic diving dig by Jamye Cox to extend it. The Spartans traded points with the Grizzlies, and for a while it looked like the second set would repeat itself. But Poljan stepped up, with two huge block assists that gave the Spartans a 13-10 lead.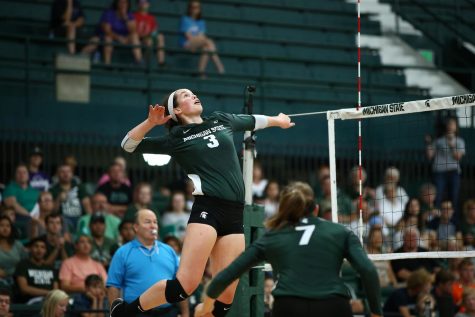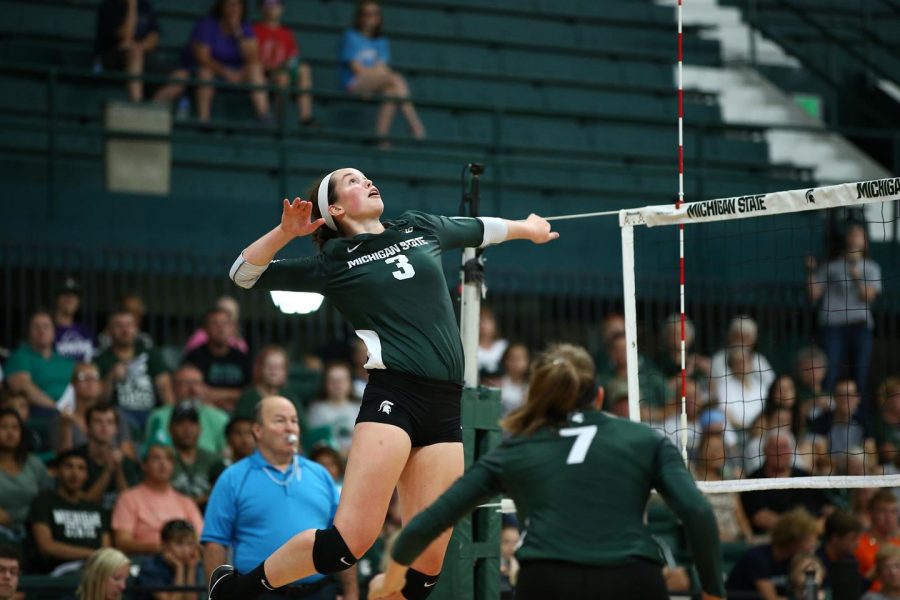 From there, the Spartans played their best volleyball of the night as they quickly pulled away from the Grizzlies. Both Gros and Norris hit double-digit kills. After reaching the match point, the Grizzlies' desperation rally was thwarted by Chronowski, who scored the game winner for the Spartans at 25-17.
George was pleased with her team's finish. "I was glad that in game two they didn't just give into that," she said. "Game three is where we took it from there."
The Spartans end their home stand against North Carolina on Sunday at 1 p.m.
Contact Ian Drummond at [email protected]. Follow him on Twitter at @idrumma.