Michigan State wide receivers step up against Western Michigan
EAST LANSING, Mich – Mark Dantonio called out the wide receiving core after Michigan State defeated Tulsa a week ago.
"I was disappointed in the effort when I see guys running routes that are not at full speed," Dantonio said at his press conference on Tuesday.
Michigan State's wideouts stepped up in a big way against Western Michigan on Saturday night.
Matt Dotson caught the first touchdown of the game to get the scoring started. It was Dotson's first touchdown of the season. This was the first of a three touchdown first quarter, one of those also from the air.
The statistics speak for themselves. Eight different receivers caught a pass, including quarterback Brian Lewerke. Lewerke caught a "Spartan Special" pass for 17 yards from Darrell Stewart Jr., replicating the "Philly Special" from the Super Bowl two years ago.
Stewart led the entire team with 10 receptions on 13 targets for 185 yards and a touchdown. Cody White chipped in five catches on seven targets for 63 yards and a touchdown.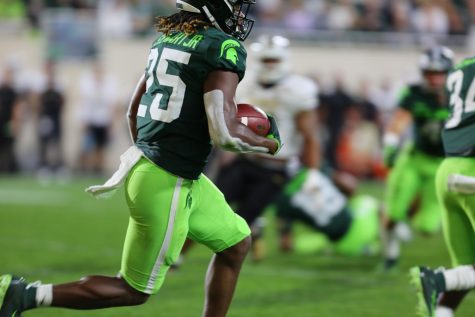 "Very steady performance, big catches," Dantonio said.
In between the statistics, it is the little things that nobody sees from a box score. The entire receiving core was finding open space and getting separation from the Western Michigan defenders. 
One example of this was C.J. Hayes, who ran a crossing route in a zone defense in the first half. He found a hole in the defense on his way across the field and stopped in the opening allowing for an easy completion from Lewerke to Hayes.
Hayes was one of the wideouts who stepped up after Jalen Nailor went down.
"You just gotta step up and make the best of the situation," Hayes said.
Although the completion was for only a handful of yards, it was the little things like this that allowed such a dominant performance from this Spartan wide receiving core. 
Michigan State has a variety of playmakers spread wide in White and Stewart, as well coming out of the backfield in the Spartan's trio of running backs, Connor Heyward, La'Darius Jefferson and Elijah Collins. This Michigan State offense has some potential to become a serious threat in the Big Ten going forward.
"No matter who's there we just try and make plays," Hayes said.
Contact Luke Saccone at [email protected] Follow him on Twitter at @lukesaccone4.