Wahlberg's two goals lead Spartans past Detroit Mercy
EAST LANSING, Mich. – The Michigan State women's soccer team defeated Detroit Mercy 3-0 on Sunday, taking on the Titans before the men's soccer team took on Cornell.
The Spartans came into the contest with a 4-1 record after suffering their first road loss last Thursday, falling to Butler 3-0. MSU hoped to recover against the struggling Titans (1-3-1) at the friendly confines of DeMartin Stadium. 
And recover they did. 
It was all MSU all afternoon long in this game. The Spartans dominated in all phases, boasting 19 shots while holding the Titans to just two. The Spartans controlled time of possession throughout the game as well, and it wasn't long before they found their way onto the scoreboard. Sophomore Gia Wahlberg led the charge in the 10th minute, scoring off a beautiful lead from from Danielle Stephan, who leads the team with five assists on the season.
However, MSU fans know this game could have easily been a lot uglier. 
The Spartans were plagued by missed opportunities early on, including a corner score being erased as a result of a foul. 
"We definitely didn't come out like we should have," senior Sadie Misiewicz said. "We should be coming out a lot faster." 
MSU ended the first half with a 1-0 advantage, but still looked to improve. Coming out of the half, the Spartans again dominated time of possession, this time capitalizing on opportunities. Halfway through the second, Bella Jodzis netted her team's second goal of the day off an assist from forward Camryn Evans. 
Then it was Wahlberg again. 
The Illinois native found the net for the second time of the day, scoring unassisted from deep. This brought her total up to a team-high of seven scores on the season, and placing her at third in the nation for goals scored. She said that although the recognition feels good, "I just thank my teammates for that, really nothing individual there."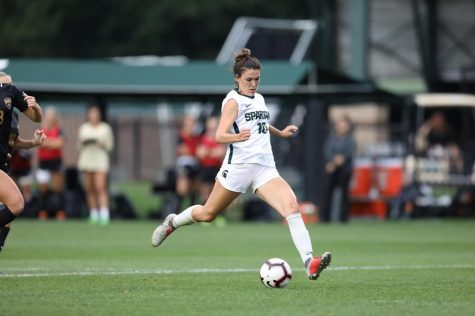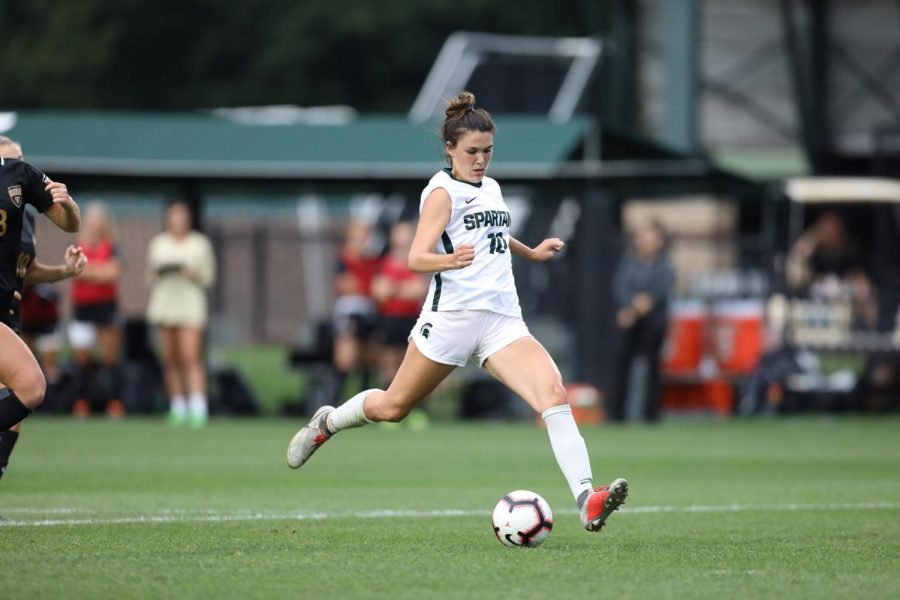 This would be the final score of the game, resulting in a 3-0 victory for the Spartans. 
Head Coach Tom Saxton said the Spartans "weren't good enough in the first half," but noted that "the second half got consistently better."
The Spartans now move to 5-1 on the season and prepare to host Bowling Green this Thursday.
Contact Henry Menigoz at [email protected].