Gilmour: Why a lack of goals is reason for worry, but also confidence
Ian Gilmour, Men's Soccer Beat Reporter
September 6, 2019
EAST LANSING, Mich. – If an opponent fails to score against you, it is impossible to lose. 
That hasn't been an issue for Michigan State so far. Including the preseason, it took 412 minutes for an opponent to penetrate the Spartans' backline. 
In a campaign where they are tasked with replacing two first-round draft picks in the attacking third of the pitch, no one expected Michigan State to explode for bundles of goals to start the season. Add to that the temporary loss of first team All-American Giuseppe Barone to injury, and producing goals becomes an even more difficult task for head coach Damon Rensing and his squad. 
But the most worrisome thing for the Spartans is the lack of creativity in the final third. Gone are the days they could rely on DeJuan Jones and Ryan Sierakowksi to create goals and chances out of nothing. 
Farai Mutatu is the man many are looking at to pick up where Jones and Sierakowski left off and there's no doubt he has shown flashes in the past. The best example being when he picked up the ball in his own half, made a lung-busting run all the way into the opposing 18-yard-box, and rifled one top corner against soon-to-be national champions Maryland last October, which was Maryland's last loss until No. 12 Virginia beat them this past week. 
And through two regular season games so far, Mutatu has been the brightest spot offensively. But amid a missed penalty deep in overtime against SIUE, it remains unclear if Mutatu can step up when MSU needs his talent most. 
For the rest of the attack, it will most likely take even more time to get going. Paired with Mutatu on the front line for both games so far has been freshman Alaa Algahim and redshirt senior Cody Sweatte. 
Though Algahim had never worn an MSU kit in a competitive game before, there were stretches when he was the best player on the park during his debut versus SIUE. His first touch was crisp, his passing was tidy yet intuitive and his demeanor was that of a veteran. His creativity flourished in all areas except the final third, a common theme for the Spartans thus far. 
Sweatte does bring years of experience to the side, but not much time spent on the field. He did not feature for Rensing's side until last year, when he played 121 minutes throughout the season.
But not all hope is lost, not by any means.
On the defensive side of things, MSU has had minimal issues. The early-season centre back pairing of Michael Wetungu and Nick Woodruff has been very solid. 
The most interesting storyline with the Spartans defense is the absence of first team All-Big Ten centre half Patrick Nielsen. Like Barone, Nielsen has sat out the first two games of the season with apparent injuries, though Nielsen has not been missed as much as Barone.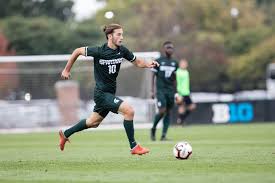 When Nielsen returns, whether it's Friday against No. 13 Washington, or later on this month, how Rensing re-shuffles his back four will be critical. Barring injuries, Will Perkins and Olu Ogunwale have the physical qualities and style of play of typical fullbacks and would be expected to keep their spots there.
Rensing has mentioned Woodruff can play holding midfield, leaving Wetungu and Nielsen in the center of the defensive stronghold. What repercussions that move may have for the midfield and forwards, especially when Barone returns, will be just as important as Rensing's back line tactics. 
It's also important to remember this is a team missing six of the core starters from a College Cup run 50 years in the making last year. It will take time for Rensing to figure out just how this team will thrive. 
And don't forget that Rensing has led MSU to the NCAA tournament in eight of his 10 years at the helm and has gone to the Elite Eight four of the last six years. 
MSU faces its biggest test so far this season when they host No. 13 Washington on Friday at 7 p.m. at DeMartin Stadium.
Contact Ian Gilmour at [email protected] Follow him on Twitter at @IanGilmour04.