Matriarchs of Music | Noname
The genre of hip-hop, as of recently, has been transformed by emerging women artists. New names like Rico Nasty, Tierra Whack and Lizzo have captivated the charts and challenged the rap world's reputation as a male-dominated space. This feeling is encapsulated when you hear Chicago's rapper-poet Noname ask on her track "Self," "Y'all really thought a b*tch couldn't rap, huh?"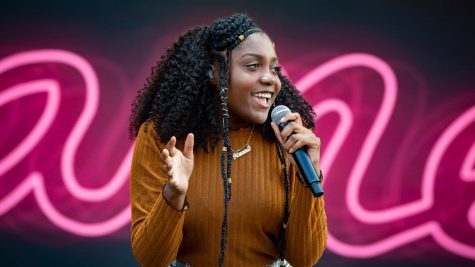 For Noname, born Fatimah Warner on Sep. 18, 1991 in the Bronzeville neighborhood of Chicago, the pursuit of rapping was not always a clear-cut path. Having spent time in her mother's bookstore as a kid, Warner began to develop an interest in writing and poetry. She frequented open mics and did slam poetry competitions, which exposed her to freestyle rapping and led her to collaborate with local Chicago talents like Chance the Rapper, Saba and Mick Jenkins.
Had she not continued to make a name for herself in the rap scene, she said she probably would have become a nurse instead. ("That was the only other thing that I enjoyed doing," she told Rolling Stone.) But, thankfully, she continued on and is now making it big. With the albums Telefone and Room 25 under her belt, Noname has already become one of today's most critically acclaimed lyricists and hip-hop artists.
Her first big break came when she appeared on Chance the Rapper's second mixtape, Acid Rap, on the track "Lost". I remember when my teenage self first came across this mixtape. Like many other people my age, I completely fell in love with it. Noname contributes a great verse to a great song on a great project, representing a high point in the mixtape's soulful, jazzy, dreamlike production. It felt both out-of-this-world and quintessentially Chicagoan all at once – an atmosphere that Noname has further cultivated over the years.
She continued to deliver features for her male collaborators, such as "Comfortable" by Mick Jenkins, a few tracks from Kirk Knight's Late Knight Special and "Finish Line/Drown" from Chance the Rapper's Coloring Book. As her stardom grew bigger and bigger, fans anxiously awaited her official debut. Her first mixtape, which was first announced in 2012, wouldn't arrive until the summer of 2016.
But finally, there it was: Telefone, a warm, poetic project that solidified Noname as one of the most talented and interesting artists in hip-hop. Through its thought-provoking lyricism laid over smooth, melodic beats, Telefone uses the concept of open-ended phone calls to immerse its listeners into Noname's world. She blends the struggles of Chicago's south side with a sense of childlike creativity, seeming at once both mature and innocent. The genre hip-hop is lauded for its use of social commentary and reflection of real-life issues, but this has largely been limited to the male point-of-view. Noname is here to offer a new perspective – one that can't be ignored.
Noname's debut album, Room 25, was released on Sep. 14, 2018. Despite only taking a month to record, Room 25 feels almost perfect. With a casual, stream-of-consciousness delivery, Noname showcases her personal and musical growth since the release of Telefone two years before. The life of fame has made her more travelled, more financially secure and more grown-up. All of these changes helped to make Room 25 what it is: a universally-acclaimed project by a young rapper from Chicago.
What's in a name? At a time when there's an abundance of interesting stage names, that someone would identify as "Noname" is peculiar in itself.
"I try to exist without binding myself to labels," Noname told Fader. "I'm not really into labels at all, even the way I dress; I usually don't wear anything with a name brand. For me, not having a name expands my creativity. I'm able to do anything. Noname could potentially be a nurse, Noname could be a screenwriter. I'm not limited to any one category of art or other existence, on a more existential level."
But how would she describe herself, given the chance?
"I think I'm like a young black 20-something artist who's trying to who's trying to, like, explore their identity through music and other things," she told NPR.
With a short but expansive discography, it's clear that Noname is still growing, experimenting and learning. Even as she continues to develop as an artist and an individual, her work serves to embolden many artists who have ever felt unsure of their place in the hip-hop industry.
"Y'all really thought a b*tch couldn't rap, huh? Maybe this is your answer for that."