Matriarchs of Music | Rico Nasty
Arguably no genre is harder for women to break into than rap. As someone from a poor background who had no encouragement from her male counterparts, Maria Kelly, commonly known as "Rico Nasty," has managed to do so in a big way.
Rico began to gain recognition from a larger audience when she collaborated with rapper Lil Yachty on the song "Hey Arnold," which was later released on her defining mixtape titled Sugar Trap. However, Rico had been making music long before this, dropping her first mixtape, Summer's Eve, as a junior in high school.
Rico took a break from her musical career after graduating high school when she discovered she was pregnant with her son Cameron, who recently turned 3. Cameron's birth, she said, lit a creative spark in her that inspired her to start making music again.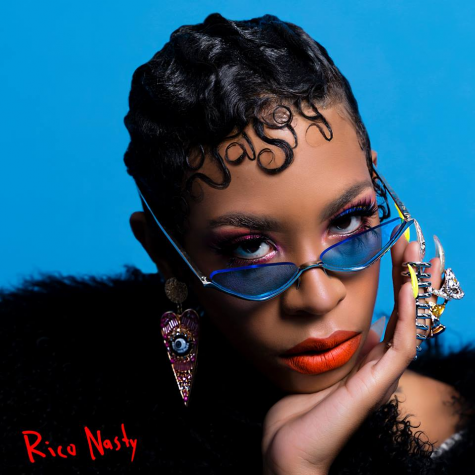 As a result, in 2017 she released multiple songs that gained unprecedented popularity including "Key Lime OG" and the track that triggered my obsession with Rico Nasty, "Poppin'." Since then, Rico released her first full length album, Nasty, in June of 2018. This album not only became the soundtrack to my first summer in college, but gave Rico's career an incredible boost.
More important than her commercial success is the unique, authentic personality she has maintained throughout her climb to the top. As she has moved further into the spotlight, she has used her platform to make a significant contributions to the worlds of fashion and beauty.
Her music career has given her the resources to live my ultimate dream of having the bank account to match her taste. She regularly appears at her shows and on social media sporting avant-garde, costume-like hair, makeup and designer clothes.
When Rico talks about growing up, she often describes being ostracized for her unusual interests and style. Now that she is in public eye, a lot of her stylistic and musical choices are key to her identity as an artist. More importantly, they set her apart from her competition and give her a unique edge that keeps me and countless other fans crawling back for more.
My initial attraction to Rico's music was rooted in her out-of-the-box influences that ranged from pop to metal. She has essentially created her own genre which she refers to as "Sugar Trap", alluding to the poppy, melodic beats she often raps over.
The aspect of Rico's music that always keeps me coming back, however, is the aggressive, empowering energy that she has channelled throughout all of her work. A word to the wise, don't play Rico Nasty around a group of women if you aren't ready to fight. From Tales of Tacobella to her more recent tracks like "Roof" and "Sandy", I know I can rely on Rico to bring me out of any funk.
I admire Rico's steadfast creativity and boldness, especially during a time when there is an overwhelming trend within the hip-hop industry to continuously rap over mass-produced, mundane trap beats. On the other hand, there is a strong pushback coming from artists like Brockhampton, Tierra Whack, Doja Cat, Megan Thee Stallion, Rico Nasty and many more.
The popularity of these artists excites me because it's pushing boundaries on all fronts. Experimental music created by women of color and members of the LGBTQ+ community is being empowered and recognized in a way that would have never been possible even 10 years ago. There's a lot of progress to be made, but I am grateful to be alive during a time when there is growing room in the music industry for diverse artists and sounds.
On Thursday, April 25, Rico Nasty dropped a brand new album, Anger Management, featuring Baauer, EarthGang and SPLURGE, with production by Kenny Beats.