Spartans' bullpen struggles as MSU drops series opener to Indiana
EAST LANSING, Mich. – It was a cold, windy and gloomy spring game at McLane Stadium Friday night when the Michigan State Spartans hosted the Indiana Hoosiers for the opener of a three-game Big Ten series. The weather would accurately depict how the evening went for the Spartans, as they went through three pitchers in six innings en route to a 13-4 loss.
It seemed as if a curse had been cast upon the Spartans' bullpen Friday night. Three pitching changes were made in the span of back-to-back innings, resulting in a poor offensive performance as well. Indiana took advantage as they marched to a ninth straight win.
It was not a pretty start for MSU's starting pitcher Mason Erla, as he gave up four runs in the first two innings. His early deficit would be redeemed by his teammates in the bottom of the second when designated hitter Casey Mayes sent one deep to left field for a three-run home run, cutting the score to 4-3.
The Spartans' rally continued into the third inning when after two hits, Indiana's Pauly Milto threw a wild pitch, bringing home Justin Antoncic to tie the game at 4-4.
At that point, it looked like an even battle was in store for the rest of the way. That anticipation would be proven wrong though, as MSU would be held scoreless for the rest of the game and Indiana would go on to score nine more runs.
The fifth inning was a long one for the Spartans. After Erla's struggles presented themselves again when the Hoosiers loaded the bases with no outs, a pitching change was made and Evan Flohr entered the game.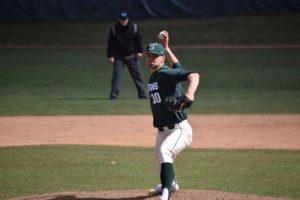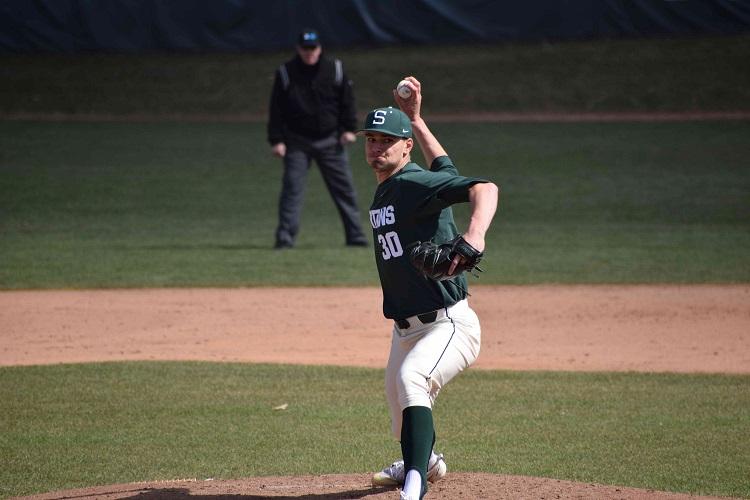 His effort to undo the mess awaiting him was unsuccessful as he walked two batters, bringing in two runs. After the first out of the inning, Flohr would walk yet another batter, Drew Ashley, growing Indiana's lead to 7-4.
Another pitching change was made.
The Spartans' defense finally got to rest after Colten Panaranto came in to close the inning while still giving up two runs, stretching Indiana's lead as they went up 9-4.
In the top of the sixth inning, the Spartans faced déjà vu as the bases were loaded with no outs once again. This led to a third pitching change. Panaranto was replaced by Jarret Olson who continued the Spartans' nightmare after throwing a wild pitch to bring in Grant Richardson, pushing the score to 10-4.
He would give up a two-RBI double to Indiana's Justin Walker before ending another dreadful inning for MSU. The score was extended to 12-4 in the Hoosiers' favor.
Head coach Jake Boss Jr. said Indiana is not the team you want to give free opportunities to.
"It's frustrating when the strike zone just disappears," Boss said. "It's [Indiana] a good ball club. You have to make them earn everything that they get."
Both teams would go scoreless until the eighth inning when Olson gave up a solo home run to Indiana's Wyatt Cross, which served as the cherry on top in Indiana's seemingly endless beatdown on the Spartans. Indiana leads the nation in home runs.
Boss said the team's focus needs to enhance as they move forward.
"We still got a chance to win the series," Boss said. "We gotta keep playing. I think we need to be a little mentally tougher. I think we play hard, but I think we let too many outside influences affect the course of an at bat. We have to do a better job of taking ownership of what's going on."
The Spartans will look to tie the series and achieve their first Big Ten victory of the season when they play Indiana Saturday at 4:05 p.m.