Warning Track – 4/18/19 – Thursday Blues
Hang on for a minute...we're trying to find some more stories you might like.
Podcast: Play in new window | Download
Subscribe: Apple Podcasts | Android | RSS
On this week's episode of Warning Track, the crew discusses MSU's struggles at Rutgers, along with the team's victory against Eastern Michigan. The show is then finished off with a look at Indiana and another round of game predictions.
Follow @WDBMSports for more coverage of MSU baseball.
About the Writer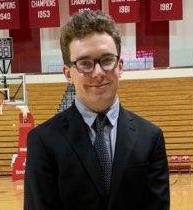 Luke Sloan, Assistant Sports Editor
Luke serves as Assistant Sports Editor while also covering the baseball team. He has previously covered various other sports including football, men's basketball, women's basketball, hockey, volleyball, men's soccer, and women's soccer.

Follow Luke on Twitter: @LukeSloan_7