Spartans persevere through lengthy rain delay to down EMU
MSU was forced to endure a 95-minute rain delay, bouncing back to win 5-3
EAST LANSING, Mich. – What began as your average evening baseball game turned into a late-night marathon at McLane Stadium, as a 95-minute rain delay occurring after the third inning forced Michigan State's contest against Eastern Michigan to resume at 9 p.m.
This challenge would not prove to doom the Spartans though, as they persevered through fatigue to win 5-3 over the in-state Eagles during a contest that was split in two.  
"I'm proud of our guys," head coach Jake Boss Jr. said following the game. "It's always tough coming back from a rain delay like that. Anytime you win it's a good night."
Prior to the lengthy rain delay, the Spartans held a 2-0 lead after a single from Marty Bechina and back-to-back walks from Royce Ando and Adam Proctor loaded the bases for Zaid Walker, who promptly doubled down the right field line to score a pair in the bottom of the first.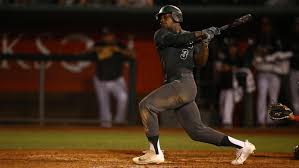 Caleb Sleeman got the start for the Spartans, occupying the role of "opener" as opposed to starter, throwing just two innings while holding the Eagles (8-28-1, 3-9 MAC) scoreless. Sleeman allowed five runs in 1.1 innings Sunday at Rutgers, prompting Boss to use him sparingly on Wednesday.
"He only threw 38 pitches against Rutgers," Boss said. "We wanted to get him some work, the plan was to throw him for one or two innings. It was good to get him back out there after a rough outing against Rutgers."
The Spartans (9-25, 0-8 Big Ten) struck first after the rain delay, with a two-out single from Ando bringing home Zach Iverson and Antoncic to grow the lead to 4-0 after five innings. This deficit would not remain as large for long, as the Eagles struck for three runs in the seventh off Sam Benschoter.
After the Eagles loaded the bases with no outs, Benschoter walked Drake Peggs to bring home a run. Evan Flohr would enter the game and strike out Zach Owings, but the ball got away from catcher Adam Proctor, allowing another run to score. A groundout from Nate Jones scored the Eagles' third and final run of the inning, but the damage was already done and the lead trimmed to 4-3.
"That was a tough spot for him (Flohr), I give a lot of credit to him" Boss said. "He's been throwing well for us all year."
Proctor would make up for his mistake though, as he singled to right field, scoring Marty Bechina with two outs in the bottom of the inning to add an insurance run. This would prove to be enough to secure a victory, as Flohr tossed a scoreless eighth and Indigo Diaz slammed the door for the save in the ninth.
Walker and Ando led the way for the Spartans with two RBI apiece. Zach Iverson also finished with two hits, continuing his streak of hot hitting. Jesse Heikkinen picked up the win for the Spartans in relief, improving to 1-2 on the season. The save from Diaz was his fourth of the season.
Wednesday's game could have been confused as a family reunion for both coaching staffs, as they shared a large number of past connections from stops in East Lansing and Ypsilanti. Boss was the head coach at EMU in 2008, leading the Eagles to a MAC tournament title and an NCAA tournament appearance.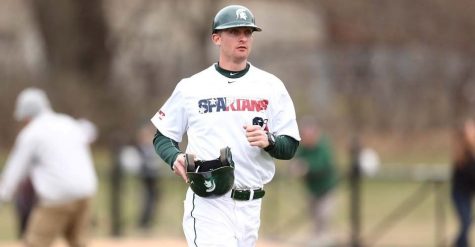 Michigan State pitching coach Mark Van Ameyde managed EMU from 2014-17, while current Eagles head coach Eric Roof played at MSU from 2007-09 and volunteered as an assistant coach for Boss from 2013-14. EMU pitching coach AJ Achter played at MSU from 2008-10, while another Eagles assistant, Jonathan Roof, played at MSU from 2008-10 and coached in East Lansing from 2016-17.
Phew, that was a mouthful.
"I love those guys over there," Boss said. "Eric (Roof) is a special guy as far as I'm concerned, he's like a son to me. All those guys really, like AJ (Achter) and Jonathan (Roof), they played a lot of good baseball for us. I don't like competing against them, but I would do anything for them."
The Spartans will now look to pick up their first win in conference play this upcoming weekend against the Indiana Hoosiers. This three-game weekend series will start Friday in East Lansing, with Mason Erla taking the ball for a 6:35 p.m. first pitch.