Emergence of go-to pitchers paying dividends for Spartans
Hang on for a minute...we're trying to find some more stories you might like.
EAST LANSING, Mich. – As a head coach or manager, there's no better feeling than confidently setting your rotation prior to a series, or having go-to relievers in the bullpen for every situation.
Jake Boss Jr. did not have this luxury earlier in the season, but many members of his pitching staff have quietly started to carve out niches for themselves, and it's flipped the complexion of the 2019 season.
Michigan State has won four of its last six games, good for easily the team's hottest stretch of baseball this season. The catalyst behind this winning has been a group of pitchers that looks to have found its groove headed into the latter part of the season.
At no point this year has the staff looked as collectively confident as it does right now, that can be attributed to the first bout of consistency the unit has seen during 2019. The Spartans have identified their go-to hurlers for every situation, and those players have taken off since being given consistent roles.
Starting on the mound…
The starting rotation is still without breakout star Mike Mokma (shoulder soreness), who has easily been the team's most successful starting pitcher this season. But the remaining starters are thriving in their current roles, posting some of their best career numbers in the process.
It was a disappointing start to 2019 for Mason Erla, but the Spartans' Friday night starter has turned a corner in his role leading off the weekend on the mound. Erla has gone six innings or more in his last three starts, including a career-high nine scoreless innings in his last start against Indiana State.
His 5.40 ERA and 1-5 record on the season is still something he isn't proud of, but the redshirt sophomore is playing some of the best baseball in his career, effectively cementing himself as the ace of the staff.
The second spot in the rotation has been occupied by Mokma for the majority of the season, but junior lefty Mitchell Tyranski has consistently thrown in that spot the past few weeks, and like Erla, he's beginning to turn a corner as well.
Tyranski, the longtime reliever who made only one start headed into the season, has already made four in 2019, but none was as successful as his last outing against the Sycamores. He tossed a career-high seven innings, only allowing two earned runs on three hits.
The southpaw has only failed to go five innings once during his stretch of starts this season and is quickly becoming comfortable starting the second game of a weekend series.
The third spot in the rotation, usually occurring on the final game of a weekend series, has been a revolving door for the vast majority of 2019. Players such as Jesse Heikkinen and Jarret Olson have occupied this role, but neither has been as effective in it than Caleb Sleeman last Sunday.
In only his third-career start, Sleeman completed 6.2 scoreless innings of three-hit baseball last weekend in the final game against Indiana State. It was an impressive outing for a player who's 12 prior appearances all came in relief.
After an outstanding weekend series for the rotation from start to finish, the same three pitchers who only allowed two runs to the Sycamores will line up in the same order for this weekend's series at Rutgers. It's safe to say Boss didn't flinch when lining up his probables.
Now entering the game…
For as dominant as the rotation has been over the past week, one can argue the relievers have topped their efforts during the Spartans' stretch of winning. In the last 12 games, the bullpen owns a 2.35 ERA, a paltry .194 batting average against, and 47 strikeouts in 46 innings pitched.
That unit has combined for no earned runs during the past four games, including the Indiana State series in East Lansing. Like the rotation, a number of pitchers have stepped into consistent roles in the pen, contributing to the unit's dominance.
One of those players has been Sleeman, who now occupies a new role after being comfortably slotted into the rotation. But before becoming a starter, Sleeman was stellar out of the bullpen, serving as the team's valuable long reliever.
Following him during the course of a game, setup men Evan Flohr and Colten Panaranto have solidified themselves as go-to pitchers in the seventh and eighth innings. The lefty Flohr has a team-high 16 appearances, good for fourth in the Big Ten as well.
Panaranto is listed as a freshman on the roster, but the first-year player's poise and dominant repertoire of pitches in the late innings convinces most that he's amongst the upperclassmen. Boss has had the luxury of mixing and matching his late inning relievers, and it's proven to be a valuable weapon late in ballgames.
The duty of finishing out games has gone to newly-minted closer Indigo Diaz, a converted starter who now throws heat in the ninth. Diaz has compiled 36 strikeouts in 26.2 innings pitched while recording three saves. He's also tied for seventh in the Big Ten with 14 strikeouts looking.
From setting his rotation to making pitching changes late in games, Boss can now go about handling his pitching staff with confidence, and he can focus on strategy. It's all thanks to go-to pitchers, ones who take the ball for a start, and others who finish off the game when it matters.
About the Writer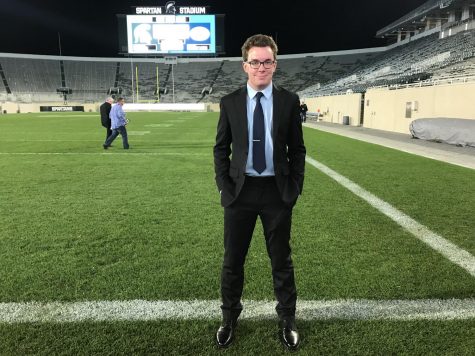 Luke Sloan, Sports Editor
Luke is a sophomore journalism major who currently serves as Sports Editor for Impact 89FM. As Sports Editor, Luke refines the articles our volunteers produce and helps them grow as writers. He also assists with day-to-day functions of the sports team while covering a variety of sports across campus.