Meet the Directors | Marketing Team
Impact 89FM (WDBM) is more than just music; we're more than a radio station. Our new "Meet the Directors" series invites you to get to know the people behind all the content we produce for our readers, listeners and loyal fans.
This week we meet Sarah Dropsey, Andy Campbell, Ryan Carlson, Katie Nichols, Mickey Dejong, and Megan Martine of the marketing team. Sarah, a junior English and RCAH double major, is WDBM's assistant marketing director; Andy, a sophomore social science and education double major, is WDBM's promotions director; Ryan, a junior media and information major, is WDBM's social media director; Katie, a senior advertising major and public relations minor, is WDBM's recruitment director; Mickey, a junior psychology and sociology double major, is WDBM's events director; and Megan, a junior creative advertising major, is WDBM's creative director.
Together, this group of dedicated directors, alongside a team of volunteers, works to organize, promote and share all the best aspects of the Impact. From giving away tickets, and other prizes, on air and organizing interview and in-studio performances, to promoting our content on social media (Facebook, Instagram and Twitter) and creating stellar graphics to accompany it, they make sure the work that's done as a station is reaching both our online audience and the students on campus. Simply put, without our amazing marketing team, not as many people would know we existed.
Why did you decide to join the Impact?
Andy: Well, I've been really involved in music — playing music, listening to music, being a concert rat — for my entire life and college radio has always been something I'm really into. Being a part of it was kind of a dream and I never thought I'd be in this position.
Sarah: I was also a concert rat since I was like six, and going up. I never thought about college radio or something i could be involved in, but Impact came to my residential college open house and I talked to the former station manager, Audrey, and she seemed really fun. So, I was like, 'Hey, let's volunteer,' and it just fell down the wormhole from there.
Ryan: When I joined, I was planning to live in East Lansing over the summer, and so I was just looking for jobs to do. One of my friends, Joel Dejong, shared a post that said they were hiring front desk workers, so I thought, 'Oh, I'll check this out. I've heard good things about the Impact.' I got the job, stayed over the summer, worked in the fall, and now I'm hired on as the social media director.
Megan M: I started because, well my brother worked here and he told me about it. Ultimately I wanted to do graphic design stuff here, like designing the T-shirts and stuff. I joined street team and was there for a while, then there was finally a graphic design position opening at the end of my freshman year, so I jumped on that, and I've been doing it ever since.
Katie: I knew Abby Treadwell, our now marketing director, prior to working at the Impact and she was the one who said, 'I got this job at Impact 89FM, the radio station, you should check out job applications for it. I would love for you to be on the marketing team with me.' The events position was available, and Mickey and I both applied. I had more recruiting experience than event experience, so they reopened the recruitment position and that's how I got here.
Mickey D: Joel was also the one who told me about a position here. I had recently become the special events director at MSU Telecasters, and then the posting for the events director came up. I thought, 'Hey! I'm pretty good at this, I'll apply,' and that's pretty much it.
What's one Netflix series you could binge watch over and over again?
R: Oh, that's easy. "It's Always Sunny in Philadelphia."
MM: I'm gonna have to say "The Office", because i literally do watch that every day. Like no matter what I'm doing, "The Office" is on.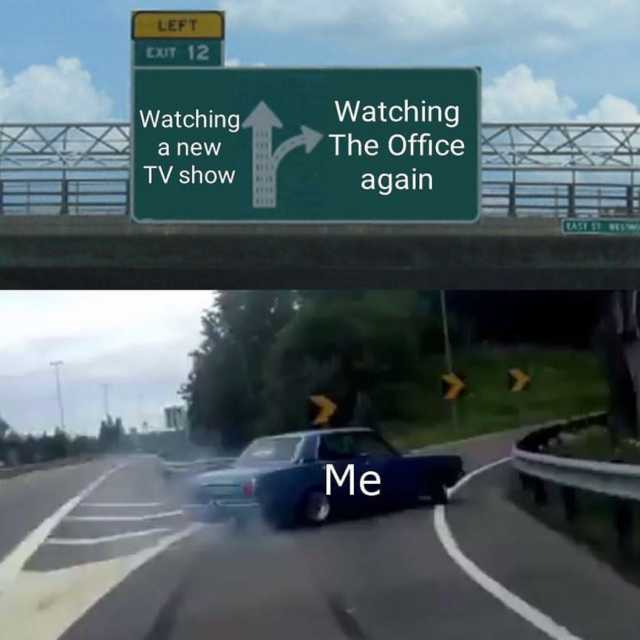 K: I'm going to have to say "The Office" too because i will watch episodes over and over again and not get sick of it. I don't really binge Netflix, but I do like watching "The Office."
MD: Hands down, "Parks & Recreation." Leslie Knope is my spirit animal and I just enjoy watching it all the time.
K: Oh, I could go with "Gossip Girl" too… or "Grey's Anatomy." I don't know, it's really too hard. 
A: "Orange is the New Black" is incredible, so probably that. I'm also in love with what's her name— the girl from That 70's Show. Oh, uh Alex Vause!
S: I would probably watch… We'll I mean I do rewatch "Portlandia" over and over again, so that's going to be my answer.
What is your favorite part about working at the Impact?
A: The people. I mean I've met some really cool people and have had some really cool experiences at concerts with people that I've known. I was at (a) Tyler, the Creator (concert) the other day, and there were like five other Impact people that I ran into there, so it's just a nice big community.
S: Aside from the free coffee and the fact that all my friends work here, I think it's a really great place to kind of expand your creative horizons. You can learn a lot from this place and there's a lot of different facets to get involved in without needing any prior experience or knowledge, which is always pretty cool.
R: For me, it goes into the people. When I started, I was expecting when I started to get like the same college radio type of people. In my head, I thought that'd be it, but now that I've been here almost a year, I realized there's so many walks of life. I just think that's cool to talk to people like that and have a good time.
MM: Yeah, i was going to say the people too. I just like sitting in the lobby, and I feel like literally every day I come in, another person comes in and it's a new face, and new person I get to talk to all the time. I just love that!
K: I mean, I think we all think about how it's the people for us, because we're so different but we all bring a different perspective to the Impact and we all get along so well, which is so fun because we are all so different, but I also love the fact that because we're student ran, that there so many opportunities to help out and learn. Like if i wanted to learn about graphics, I could help Megan with a poster, or if I wanted to dive into sports or content, I'd be more than welcome to do that. I think that's the most exciting for me because I'm creating an impact here at Michigan State because I'm able to create material to show to potential future employers or just look back on.
MD: I think for me, it has to do with my journey in life. I joined the Impact— sorry it's kind of a more personal response. I joined Impact and Joel and I were engaged. People were just not nice about it in general, but at Impact it was a really warm environment, and they were so supportive and so encouraging, and they continue to be that way in my walk, and I realized what i wanted to do for my life here. I guess it's just like a big journey of discovery and community for me. Yeah, the journey of Impact is my favorite part about it.
What store would you most like to max out a credit card and why?
K: Oh my, do you have to just pick one?
R: FYE. I love that store. You can get clothes, you can get movies, you can get records… and posters.
MM: Umm… I'm deciding between Target and Meijer because they both have everything.
K: I was just thinking about Target. That's so funny.
MM: Yeah, I'm going to go with Meijer to be honest, because ever since a few years ago they've really been upping their clothes game. I could get way more clothes there than any other place, and they have like… plates.
MM: Guys, yeah I don't have a lot of great utensils at my house.
K: I would go for an answer such as Target or something, just to be practical, but if I could really max out a credit card I would choose… there's a couple of stores in my hometown, like there's this one called Brandy Melville, and it's my favorite clothing shop, so I'd probably have to but a lot of clothes from there. Or one of the surf shops from my hometown, I could definitely max out a credit card there. Something, I guess, more Southern California.
S: I would say the Dr. Marten store, but I would need more than just shoes. So, I would say Urban Outfitters. As problematic as they are, they're like my dream closet if I could afford it.
A: I hate that I was going to say the same thing.
A: I think I'd probably max out a credit card out at Flat, Black and Circular, the local record shop. If it were to be clothes, I hate to say Urban Outfitters, but they have expensive things that are good.
MD: I would most certainly say Sam's Club…
All: Ohh…!
MD: …because bulk supplies are my life. Bulk mac 'n cheese, bulk cleaning supplies, if I don't have room I can buy a shed there, and put it in the shed. Like literally, Sam's Club…
K: Seriously, I feel like grocery stores are the way to go. I could go to Whole Foods and do some serious damage… I'd spend so much money on food.
When are you happiest?
R: Let's see… I think like today is a good example. I'm just walking down through campus, and there's a nice breeze, there's people walking around, I think the sun was setting. It's just really nice. It just feels good. It feels zen.
MM: My answer would be similar to Ryan, but I would be set on a beach listening to good music, the sun is shining. I don't know, it's just impossible to be in a bad mood like that.
S: My most happy moments to date are when I'm seeing a show and a lot of my friends are there and we're dancing together. Like, I think of pretty much every time I see Twin Peaks, I end up in a huge crowd of friends and I usually end up crying after.
A: I think some of my best memories for sure are just doing rat-ty stuff with my friends, like going to shows, not really caring what I'm doing, just being very in the moment.
S: Like at that Yay High show we were just at.
A: Yeah, I know. I was very in the moment. That's very important to me.
K: I'm definitely happiest when I'm on a beach, vacationing, in the sunshine doing vacation stuff. I literally love being on the beach, or like in the ocean flopping around on a surfboard or something, cuz that's all I did… I can't really surf.
MD: You guys are going to kill me, but it's actually in winter.
K: Oh god. As I'm sitting here talking about sunshine and summer…
MD: I know, but i would definitely say winter in Michigan, and it's snowing. There's an obvious layer of snow outside and it's almost Christmas time, like a week before Christmas, because you can put on Christmas classics, and you've got your christmas tree, and the fire is going, and you're reading…that's like bliss. I'm like getting really happy just thinking about it.