Meet the Directors | Content & Video Teams
Impact 89FM (WDBM) is more than just music; we're more than a radio station. Our new "Meet the Directors" series invites you to get to know the people behind all the content we produce for our readers, listeners and loyal fans.
This week, we meet Joel Guzmán and Will Spurrier of the video team, and Jonathan Shead and Stephanie Stapert of the content team. Joel, a grad student studying arts and cultural management, is WDBM's video director; Will, a junior media and information major, is WDBM's assistant video director; Jonathan, a fifth year-senior journalism and professional writing double major, is WDBM's managing editor; and Stephanie, a freshman creative advertising major, is WDBM's website manager.
Together, these two teams, alongside a handful of volunteers, collaborate together and with other departments at the station to produce written, visual and video content for the Impact's website, all while Stephanie makes sure everything looks cohesive and is functioning properly for our readers. These two teams work together to produce artist interviews, in-studio performances, and promotional material for different events we host, including when we celebrated Impact's 29th birthday.
Why did you decide to join the Impact? 
Stephanie: Marissa, our operations director, came to one of my classes and was like, "hey the Impact is awesome! We need people, you should join," so I thought I should check it out. I like music and it sounded fun. I came and joined the video team, content team and street team. Eventually I told them I had ideas for the website, so they told me to apply for the web manager position and here I am.
Will: I joined Impact at Academic Orientation Program (AOP) when I came to MSU. Out of all the organizations I saw in that little room, it was the only one that appealed to me. It just felt like the right environment for me and I decided to get involved as one of my first moves on campus. After three years as a volunteer, I decided to apply for assistant video director because I felt an obligation to be the same kind of mentor to other students that I received when I joined.
Jonathan S: I switched majors a lot early on, and didn't fully know what I wanted to do. It was always centered around writing but I wanted to be in a lot of different industries. Eventually I came to the conclusion that i wanted to write about music so I started looking for outlets that I could do that and further my career goals. I joined super late, but I always say better late than never. I guess I joined first as a career builder, but what got me to stay is just how cool everyone is here. I felt like I found a great group of friends right away.
Joel G: I really started working right away when i came from Puerto Rico. I was working on some video stuff in the College of Arts and Letters and then one day Ella, our promotions director, said I should check out the Impact because they were looking to hire a video director. At that time I wasn't aware of the radio station, but I checked it out and thought "oh this is kinda cool," so I went to there to see what it was like. I liked the vibe of the people here so I applied, and I just love it. They trust you and give you freedom in what you do with your work.
If you didn't have to sleep, what would you do with the rest of that time?
W: I would burn through all the podcasts I have yet to listen to. I'd spend like seven hours.
S: I have like a list of things I would do… because I don't have time anymore, or don't make time, I really miss playing basketball, so I would do that.
JS: Some midnight basketball?
S: Once I'm done with college I'll definitely be coaching at some point; that's hopefully the goal. So, then I'll have time for that, but currently I don't.
JS: What would I do if I didn't sleep? Uh… probably blog more. I always tell myself I'm going to blog about things, and I always find ideas week by week, but then it becomes not relevant anymore. I don't have an active blog right now, that's really what you should get out of this.
W: Producing content around the clock, always writing.
JS: Ya, totally. Carpal Tunnel? Screw carpal tunnel, I keep going.
JG: I would probably write more sketches, I don't have time to do that anymore, so I'd write more comedy sketches.
When are you most happy?  
S: Today has been great, just because it's been warm outside. I guess just when it's warmer out and I'm with good people, like friends, or I have a moment to be myself and not worry about what anyone else is thinking.
W: I feel the most satisfaction when I finish a project and everything goes as planned, which doesn't happen often, but that's always a major high for me.
JS: This is very specific, but it's the moment when you're at a music festival and you're smack dab in the middle of like three stages. They're all people you want to see. You're kind of listening to it all. You're eventually going to decide which person you're going to see, but its like a really blissful feeling, like you're listening to all your favorite songs in heaven. It's really euphoric, it honestly is.
JS: But you have to be in the middle. If you're too far to one side, it won't be as blissful or euphoric. It's a proven fact.
JG: For me, being in a different country and being involved in the community, doing something crazy like a theater piece or creating another head like Radio Cabeza, and then seeing the faces of everyone happy. That's happy to me.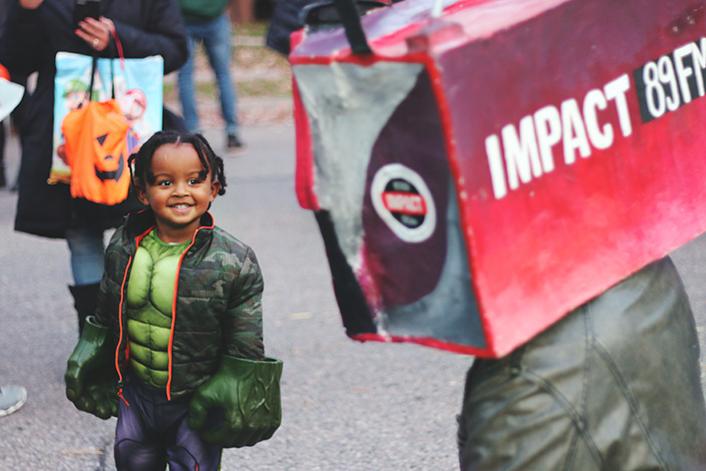 What's your favorite part about working at the Impact?
S: Definitely say the people as well as I get to do something I love to do. I get to be around music and work on marketing-based projects and collaborate with amazing people .
W: I want to second what Joel said, I enjoy the freedom to grow in your field and not really having some dictate exactly what you do. You're just able to do whatever you want with the materials you have and the job at hand.
JS: I've definitely made some of my best friends here, but beyond that, I've always thought I had a diverse music taste and Impact showed me I didn't until I started working here. I've learned about a ton of new artists and gone to shows I wouldn't of known about had I not worked here, so it's been a cool musical experience.
JG: Basically, I want to learn how American culture works and I think radio and music is how people express themselves. I want to learn how people work, why they do stuff, and what they enjoy listening to, and Impact gives me a place to do that.
What is your musical guilty pleasure?
S: Someone else start…
JS: I'll start, I know this one easily. Definitely pop-laden EDM music. Music that's like … without judgement on anyone else, music that your stereotypical sorority girl would listen to.
S: Like the Chainsmokers?
JS: The Chainsmokers is a great example. I love that album! I dig it.
S: Man, I like so much different music… I'd go with either country or some metal, like some Iron Maiden and Metallica. That's what my dad and I always listen to, because that's what he likes. Have you ever hear it on the piano? Because it's beautiful.
W: I'm not particularly guilty about this, but I never really bring it up with people that I seriously f— with Michael Jackson. I mean, like you can't have a conversation with anyone under a certain age about Michael Jackson because it always ultimately boils down to he did this, he did that… To be fair all my interactions are with people online who are staunch pessimists, but yeah I keep that to myself a little bit.
JG: I listen quietly by myself to Reggaeton. I put it on here once, but when I go to a party I'm just like, "put that music on!"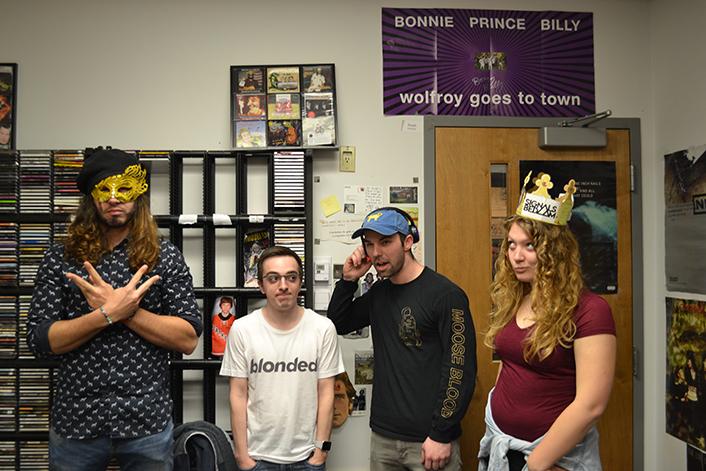 Check out more from our video and content departments on our website!