ICYMI | Impact's Top 5 Music Stories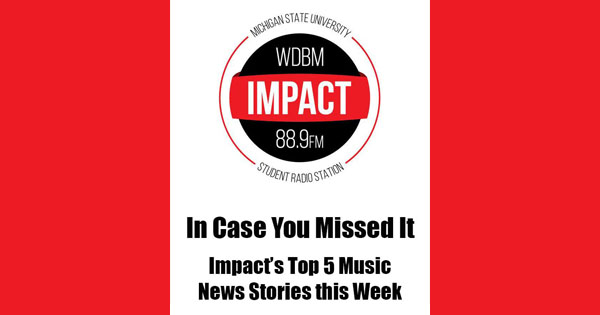 1. Rock 'n' Roll Legend Chuck Berry Passes Away
Legendary rock 'n' roll star Chuck Berry, whose youthful nature, energetic guitar tunes, and larger-than-life personality helped shape the early and most prominent years of rock 'n' roll history, passed away this weekend at the age of 90. Mr. Berry was born on Oct. 18, 1926, and began his career in music in the 1950s. Throughout his career, Mr. Berry  shaped and defined the rock 'n' roll landscape that was to come. His career continued well into the 80s and 90s, and as rock 'n' roll shifted through the years, he never lost his youthful spunk and his love for playing music. And that's how the world will remember him.
Rest in peace to a true rock 'n' roll legend. Listen to some of Chuck Berry's greatest hits below.
2. Lollapalooza 2017 Tickets Go on Sale Today
Long before it announces its 2017 lineup, Lollapalooza Chicago opened up ticket sales today at 10 a.m. to all buyers. The four-day festival, which is set for August 3-6 in Grant Park, Illinois, is selling individual day passes for $120 per day and $335 for four-day passes. VIP and Platinum ticket options are also available for $650-$2,200 and $4,200 respectively. Despite no one knowing the official lineup yet, these tickets are bound to sell out fast. Don't be the last person to get your ticket in your group of friends. What are you waiting for, get your ticket now!
3. Tracklist for the New Gorillaz Album Released

Fans of the UK-based rock/hip-hop group Gorillaz have been waiting what seems to be ages for the band to release a fifth studio album. Their last album, The Fall, which was released in 2011, is the last thing they've released in over five years, and fans have been craving something from the group since. However, it seems like the extra wait may have been worth it.
Although the album title hasn't been officially released yet, fans received yet another sneak peak into the band's forthcoming work with the release of the album's track list. With feature tracks from Carly Simon, De La Soul, Pusha T, Vince Staples, and D.R.A.M., this album is sure to be nothing short of amazing.
4. Father John Misty Releases Three "Generic Pop Songs" on Soundcloud

Prior to his forthcoming album, Pure Comedy, Father John Misty offers his fans a bit of comic relief, in the form of satirical music, as well. The artist took to Twitter and Soundcloud to post about and release three new songs for listeners, which he cleverly titled "Generic Pop Song" (numbers 3, 6 and 9). The songs, he said, are meant to mirror the generic, repetitive sounds found in a lot of today's pop tracks. Don't take my word for it though, go give the three new songs a listen here.
5. Drake Finally Releases "More Life" Playlist
After teasing the release of his much anticipated project, "More Life," month after month, the Toronto emcee finally released the 22-song playlist (not a mixtape) for listeners to stream on Spotify or Apple Music. They playlist contains a superstar list of features, including two songs with Giggs and several others with Lil Wayne, Sampha, Young Thug, Kanye West, Quavo, and PARTYNEXTDOOR, and it surely will earn Drake a lot of plays on these major streaming services. However, only time will tell if this project tops the artist's most previous album, Views, or if it will be just another project in the artist's lengthy discography. For now, we can just be thankful we have 22 more Drake songs to get to know and love.
Check out the full playlist below.