ICYMI | Impact's Top 5 Music Stories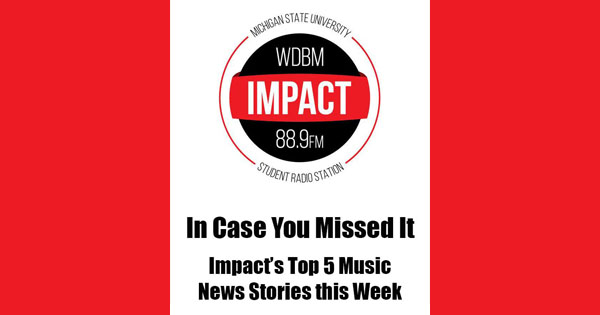 1. Kendrick Lamar releases fourth studio album DAMN.
Kendrick Lamar finally released his fourth studio album, DAMN, after teasing fans saying the release date would be the week prior. Although fans anxiously waited the album's arrival, its raw simplicity and catchy 808 beats were definitely worth the wait. Lamar brings a laid-back flow to many of the tracks on DAMN, similar to the lyrics found on Section.80, rapping introspectively rather than as a social/political warrior. Lamar's half-rapped, half-sung lyrics are elevated over the album's upbeat melodies, giving prominence to the words he speaks. With a small, but experienced list of features — Rihanna, U2 and Zacari — it's apparent this album is all about Kendrick simply being Kendrick.
Written by Jonathan Shead
2. Gorillaz announces first North American tour in 10 years
After a mysterious "homecoming" show in London to promote the release of their upcoming album, Humanz,  Gorillaz has announced their first full length North American tour since 2010. Beginning in Chicago early July and ending in October at the Ill Points Festival in Miami — making a stop in Detroit in Sept. to play the FOX Theater — Damon Albarn and company are in for a busy summer. While supporting acts have yet to be revealed, given the star-studded features on the album, we hope more great news lies ahead.
Written by Anthony Vacante
3. Mac Demarco releases new single off upcoming album This Old Dog
Mac Demarco seems to be culminating an underlying trend of maturity on This Old Dog with his latest single, "On the Level." The track features Demarco reflecting on the name he's made for himself throughout his career, as he croons "Carrying a name/ Fall until my final day/ Now who's there left to blame?" over a smooth, head-bobbing backbeat and repetitive synth melodies. "On the Level," as well as the artists two preceding singles, "My Old Man" and "This Old Dog," fit right in with Demarco's theme of maturity. Although Demarco seems to be growing up, it doesn't seem to fully detracting him from the classic jizz jazz, slacker rock, sound that he's known for. As he starts a new chapter in his life and moves from Queens to Los Angeles, it'll be interesting to see what kind of music comes from these changes.
Written by Tommy Stefani
4. Taylor Bennett releases "Only Brother" for Chance's 24th birthday
Taylor Bennett, Chance the Rapper's brother, released a remix of "D.R.A.M. Sings Special", off of Chance's Coloring Book, as a surprise for his brother's 24th birthday on Sunday. Bennett has already been making a name for  himself in the music industry with recent projects such as  Broad Shoulders and Restoration of an American Idol. This remix, which is titled "Only Brother", is meant to serve as an ode to Chance for everything he's done for Bennett during the two brothers' lifetime. According to a tweet he posted on the rapper's birthday, Chance liked the song so much that it brought him to tears.
Written by Alec Reo
5. Tyler, the Creator remixes Bill Nye's theme song for new Netflix series
Tyler, The Creator has famously struggled with academia. We can each relate to this while reflecting on a time school felt unbearable — unless, of course, you are a virtuoso with the ability to function on 2 hours of sleep a night. For a lot of us, however, adolescence was made simpler by educational entertainment, such as in science class watching Bill Nye. . As a kid, Tyler looked up to Bill just as we did, and still do, though only one of us gets to meet and collaborate with the legend himself. Taking this connection a step further, Tyler revamped Bill Nye's theme song for his upcoming Netflix debut, "Bill Nye Saves the World." Tyler saves most of the original tune, but ditches the snare, resulting in what Tyler says, "Could be a house song." Take a listen yourself, and check out Bill Nye's new show, out on April 21 via Netflix.
Written by Anna Gustafson