ICYMI | Impact's Top 5 Music News Stories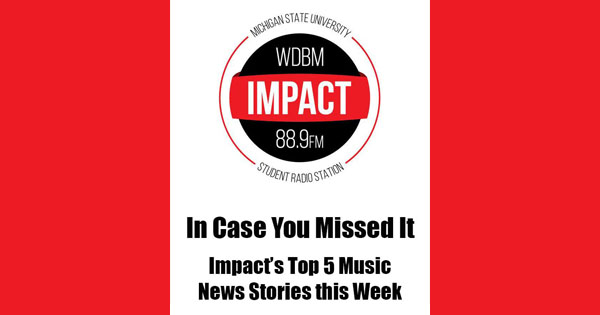 1. South by Southwest (SXSW) begins and continues through this week
SXSW, the favored festival by music lovers, film buffs, techies and creative minds, is celebrating its 30th anniversary as a festival, taking placing on March 10-19 this year. Notable headliners at the event's music festival include the Avett Brothers, Weezer, Wu-Tang Clan, Joey Bada$$, and many more. The festival, which brings in more than 500 performers each year, also offers several of the week-long event's shows and performances online on Facebook Live for those who couldn't make the trip.
2. Gorillaz announce their own festival titled "Demon Dayz"
UK-native alternative hip-hop band Gorillaz further dispelled rumors that new music is on the way this past week with the announcement of their very own music festival titled "Demon Dayz." The band's performance at "Demon Dayz" will be their first live performance in five years, and fans are hopeful the group's accompanying album release date will be announced soon too. The one-day festival is set for June 10. Tickets went on sale this past Friday, March 10, so grab one while you can.
3. Pitchfork Music Festival releases complete 2017 lineup
After announcing their 2017 headliners — LCD Soundsystem, A Tribe Called Quest and Solange — Pitchfork has finally released the complete list of artists who will be performing at this year's festival. Notable acts like Dirty Projectors, Danny Brown, Vince Staples and Frankie Cosmos will be joining LCD Soundsystem on the first day. Saturday, July 15, will include PJ Harvey, Angel Olsen, S U R V I V E, and Cherry Glazerr along with A Tribe Called Quest. Finally, joining Solange on Sunday is the Avalanches, American Football, Isaiah Rashad and Joey Purp.
Tickets are on sale now.
4. The Shins release new album titled Heartworms
After a long wait for fans, The Shins finally released their new album, Heartworms, five years after their last album Port of Morrow. With half a decade between the group's last record and this one, frontman James Mercer has proven that he can still write a great indie-pop song and conform to the new musical landscape of 2017. Along with the album release, the band also released a second version of their previously released song "Name For You" titled "Name For You (Flipped). Check out this new version and the groups new album here.
5. Chance the Rapper pledges to donate $1 million to Chicago Public Schools
After what the Chicago emcee would call an unsuccessful meeting with Illinois Gov. Bruce Rauner, Chance the Rapper reported in a press release last Monday that he would donate $1 million toward properly funding Chicago Public Schools (CPS). The rapper explained at the press release that the money would be used to fund arts and enrichment programs, as well as provide the basic necessities student needs to have a quality education.  After this fact, Chance also pledged to donate an additional $10,000 toward specific at-risk schools in the city. This is just another reason for us to love Chance.