MO POP Festival | VIP Ticket Giveaway
Hang on for a minute...we're trying to find some more stories you might like.
Impact 89FM is giving you the chance to win a pair of VIP passes to MO POP Festival by submitting an entry to our contest! All entries will be posted on our Facebook page on Feb. 25 for our listeners to vote on. Listeners will have one week to vote for their favorite entry – whichever has the most likes by the end of the week will win!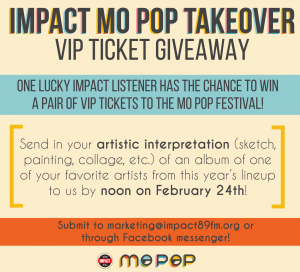 To enter the contest, send your artistic interpretation of one of your favorite albums from the year's Mo Pop lineup to marketing@impact89fm.org, or message us on Facebook.
All entries should include your name, city, and a short description of your interpretation.
For more info about Mo Pop's lineup & what perks VIP tickets include, head to mopopfestival.com