BLOOMINGTON, Ind. — Michigan State football picked up its fourth win of the season on Saturday afternoon, in a 24-21 thriller over the Indiana Hoosiers at Memorial Stadium. 
The Spartans took back the Old Brass Spittoon with the win, which went to Indiana after last year's 39-31 loss at Spartan Stadium.  
"Our guys did a good job of making plays down the stretch," MSU interim head coach Harlon Barnett said. "That's what you have to do when you're going to finish like that."
The Michigan State offense started off strong, with a touchdown pass from redshirt freshman quarterback Katin Houser to redshirt junior tight end Maliq Carr on the first drive of the game. 
Two minutes later, the Hoosiers responded with a 4-yard touchdown from freshman running back Trent Howland. 
Michigan State continued to stick with Katin Houser as the starting quarterback. Redshirt sophomore quarterback Andrew Schorfhaar handled the backup duties, replacing freshman quarterback Sam Leavitt, who did not travel with the team. Leavitt will plan to use his redshirt year, making him ineligible to play the rest of the 2023 season. 
Houser finished the day 26-of-41, 245 yards, three touchdown passes, and two interceptions.
"We knew going into this week that it was a big game for us. We wanted to bring the Spittoon back where it belongs," Houser said. "Being able to see the trophy and spend time with the guys was huge."
"He's [Houser] similar to Sam [Leavitt], very confident and close to cocky. I love those guys because they believe in their abilities, and that's what allows them to play at a high level," Barnett said. 
At the end of the first half, senior wide receiver Montorie Foster Jr. made a highlight-reel one handed catch, then shook off two defenders and ran to the endzone for a 29-yard touchdown.
MSU went up 14-7 after the touchdown. 
The second half featured more big plays from Maliq Carr, who hauled in nine receptions for 100 yards and two touchdowns on the day. Carr, who has missed time due to injuries this season, had his best game of the season, and was a focal point in  MSU's offense that helped the team pick up the fourth win of the season. 
With the Spartans trailing 24-21 late in regulation, Katin Houser made a big play happen in a crucial moment. Houser spun away from pressure, scrambled to his left, and let the ball fly to Maliq Carr, who took a big hit after the catch. Carr found the endzone after the catch, giving MSU the lead late.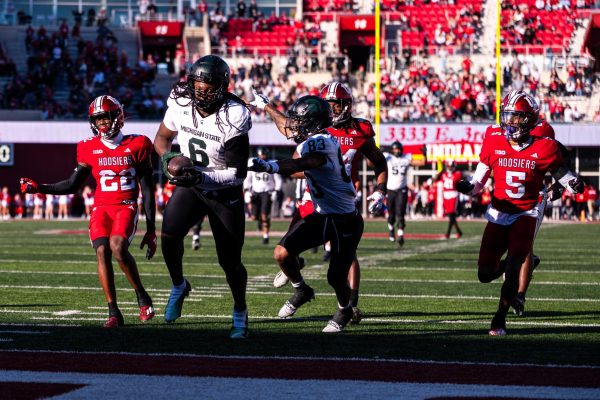 "It was just a scramble drill. We practice it every day at practice. I turned around, he saw me, and we made it happen," Carr said. 
On the next drive, Indiana quarterback Brendan Sorsby found wide receiver Dequece Carter for a 9-yard completion to get to the MSU 27-yard line. 
A few plays later, Sorsby was called for intentional grounding, backing up the Hoosier offense. 
Indiana kicker Chris Freeman came on for a 48-yard field goal attempt, but missed wide right. 
Michigan State clinched the 24-21 victory, improving to 4-7 on the season. 
The Spartans will close out the 2023 season on Friday, Nov. 24 against No. 12 Penn State in Detroit. Matt Merrifield and Zac Slowik will be on the call from Ford Field at 7:30 p.m.