COLUMBUS, OH – Michigan State football suffered its seventh loss of the 2023 season, in a 38-3 beatdown to No. 1 Ohio State on Saturday evening at Ohio Stadium. 
Coming off a 20-17 win against Nebraska, and snapping a six-game losing streak at home, MSU was outplayed in every phase of the game. The Buckeyes' skill position players were too much, putting up 530 yards of offense. 
"We didn't play how we wanted to play," MSU interim head coach Harlon Barnett said. "It's our third top ten team that we've played this year, and we've got a ways to go. 
On the first drive of the game, Ohio State found the endzone with ease, on a 19-yard end-around run from junior wide receiver Marvin Harrison Jr. 
The Buckeyes kept their foot on the gas, with two more touchdowns for Harrison Jr. in the first half. The highly touted NFL Draft prospect finished his night with 149 receiving yards and three total touchdowns. 
Michigan State struggled to put together a sustainable offensive possession in the game, only putting up three points and 182 yards against the fifth-ranked defense in FBS. 
MSU's only source of scoring was a 53-yard field goal from redshirt senior kicker Jonathan Kim.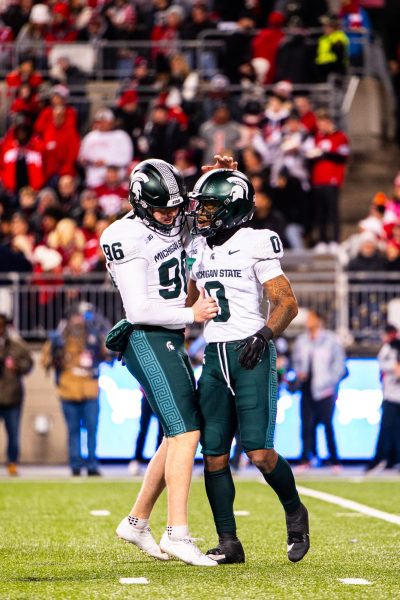 Redshirt freshman quarterback Katin Houser made his fifth start for the Spartans, completing 50% of his passes, and throwing for 92 yards. 
"I thought we were moving the ball pretty well. We got down to the 35-40 yard line, and sometimes we just hit a wall, whether it was a bad read or a bad throw by me," Houser said. "We just need to finish those drives going forward."
Redshirt sophomore quarterback Andrew Schorfhaar checked into the game late in the fourth quarter, replacing Houser. 
Freshman quarterback Sam Leavitt did not see any game action, as a decision looms on whether he will keep his redshirt year. 
Later in the first half, Ohio State kept piling on, with a 9-yard touchdown run from junior running back TreVeyon Henderson. 
Three minutes later, senior tight end Cade Stover found the endzone for the 18-yard score. Ohio State closed out the first half with the Stover touchdown, going up 35-3. 
OSU added a late field goal from Jayden Fielding in the early stages of the fourth quarter, making it 38-3. 
Michigan State football will stay on the road on Saturday, Nov. 18, for a noon kick at Indiana. Matt Merrifield and Zac Slowik will be on the call from Bloomington on impact89fm.org.