IOWA CITY, Iowa – In a game where Michigan State football had plenty of opportunities to pull off an upset win, too many costly mistakes hurt the Spartans in a 26-16 loss to the Iowa Hawkeyes on Saturday evening at Kinnick Stadium. 
"Our guys are playing with great effort," MSU interim head coach Harlon Barnett said. "With all the distractions and things going on, you cannot fault their effort tonight."
In a sloppy, hard-nosed defensive battle, Michigan State was outscored 13-0 in the fourth quarter, a big reason for the Spartans' third straight loss. 
Iowa quarterback Cade McNamara was injured in the first quarter, and did not return. The Michigan transfer completed three passes for 46 yards before leaving the game. 
In the second quarter, Iowa took a lead with a 13-yard touchdown pass from Deacon Hill to Erick All. All was responsible for all three catches on the Iowa drive, while recording 51 yards. 
At the end of the first half, Michigan State's offense drove down the field to set up redshirt senior kicker Jonathan Kim for a field goal attempt. Kim drilled the 58-yard field goal, marking the longest recorded kick in Kinnick Stadium history.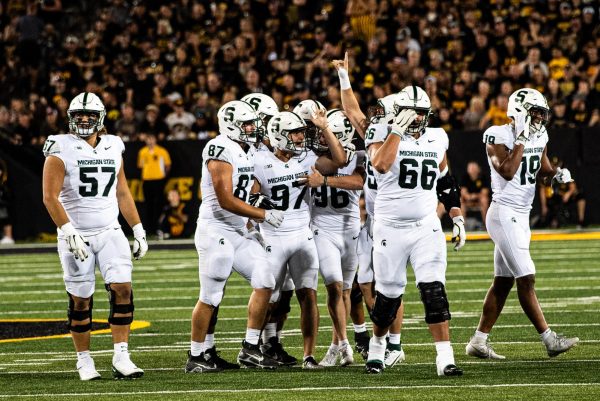 "It was awesome. He had more than enough room on that kick," Barnett said. "He is a weapon for us."
The second half began with two chaotic moments. As MSU's offense began to move the football, Noah Kim gave it back to the Hawkeyes with an interception in the endzone from junior defensive back Cooper DeJean. 
Two plays later, redshirt sophomore defensive end Tunmise Adeleye forced a fumble that was recovered by redshirt junior linebacker Cal Haladay, who took it all the way to the end zone for a touchdown, putting MSU up 16-10.
Redshirt junior quarterback Noah Kim once again struggled in his fifth outing of the year, completing 25 of 44 passes, throwing for 193 yards, and three interceptions. 
Iowa drilled two field goals to tie the contest up at 16. 
With 3:45 left in the game, Cooper DeJean fielded Ryan Eckleys punt and took it all the way to the end zone for a 70-yard touchdown, which ended up being the game winning play.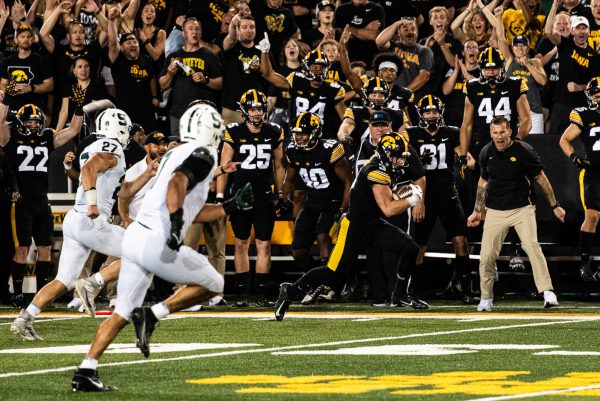 "Nothing went right. He's [Cooper DeJean] a good athlete, and made a play on the ball," Cal Haladay said. "We just need to make the tackle when we can."
MSU had a chance to answer on offense, but came up short after graduate senior wide receiver Tre Mosely fumbled the football, turning possession back to the Hawkeyes.   
Iowa got possession in MSU territory and kicked a field goal to go up 26-16, ending the Spartans hopes of an upset victory. 
"We feel ourselves getting better as a team each week. Offensively, I feel like we're doing some good things out there, like moving the ball and rushing better than we have done earlier in the year," MSU redshirt senior J.D. Duplain said. 
Michigan State will be on its bye week on the week of Oct. 7. The Spartans' next opponent will come on Oct. 14, as they will travel to Piscataway, N.J. to take on Rutgers.