EAST LANSING — Michigan State football opened its 2023 season victorious on Friday evening, defeating the Central Michigan Chippewas 31-7 at Spartan Stadium. 
After a first half filled with penalties and stalled drives, Michigan State was able to clean up its miscues, leading to a blowout win against its in-state opponent from Mount Pleasant, Michigan. 
"I just thought we had some jitters out there," said Michigan State head coach Mel Tucker. "We started slow, but we kept choppin' and we were able to execute in all three phases and get the win."
On the game's first play, UConn transfer running back Nathan Carter came out of the gates with a 31-yard run. 
The Michigan State offense went stagnant after Carter's run, as the Spartans only put up six yards through the air in the first 20 minutes of action. 
In the second quarter, the Chippewas scored the first touchdown of the contest, with a 12-yard pass to Chris Parker to go up 7-3. 
The Spartans quickly responded with a 32-yard pass from quarterback Noah Kim to redshirt freshman wide receiver Jaron Glover to enter CMU territory. Shortly after, Nathan Carter ran up the middle for a two-yard touchdown to give the Spartans a four-point lead.
Kim, who was named the starter by head coach Mel Tucker on his pregame radio show, completed 10 of his first 21 passes in the first half but made second-half adjustments to improve his night. The redshirt junior finished the game with 279 yards and two touchdowns. 
"Over the course of time, he won the job. This is his fourth season. He knows the offense. We feel like he can go and run the offense," said Tucker. 
"It's the first game, mistakes are bound to happen," said Kim. "We made some great plays out there, but we definitely left some out there."
It was all Spartans in the second half, led by MSU's defense that was flying around the field. Linebackers Cal Haladay and Jacoby Windmon combined for 18 tackles in the win. Halladay, a two-year letterwinner, also had an interception.
"In the first half, we had a little bit of a slow start," said Haladay. "We got a lot of cleaning up to do."
The second half featured a couple of highlight-reel moments. Redshirt junior wide receiver Christian Fitzpatrick hauled in a 72-yard reception to put MSU in the red zone, and sophomore wide receiver Tyrell Henry went up and caught a one-handed touchdown from Noah Kim to put the Spartans up 24-7 in the fourth quarter.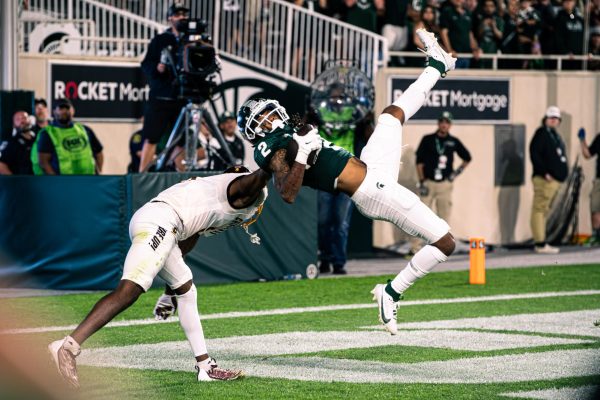 Four minutes later, Michigan State got possession and drove back down the field, with redshirt junior Maliq Carr catching an eight-yard touchdown pass. 
Michigan State is now 9-0 in its traditional Friday night games at Spartan Stadium.
The Spartans start off their 2023 season 1-0 and will be back at home next Saturday for a date with the Richmond Spiders on Sept. 9 at 3:30 p.m. Zac Slowik and Matt Merrifield will be on the call from Spartan Stadium on Impact 89FM.