MSU women's basketball advances in Big Ten tournament after 73-69 victory over Purdue
Marin Klein, Women's Basketball Beat Reporter
March 3, 2022
INDIANAPOLIS — After a game that came down to the wire, the Michigan State Spartans were able to come out on top with a 73-69 victory over the Purdue Boilermakers in their first victory in the Big Ten  women's basketball tournament. 
"This team, I can't say enough about them, they've never folded," said Spartan coach Suzy Merchant. "They never give in, and they never stop fighting."
MSU was coming into its first tournament game after a loss to Ohio State in East Lansing where it had managed to secure more rebounds than points.
The Spartans were dominant on rebounds again on Thursday. Not as many as the 60 they racked up against the Buckeyes, but they finished with a total 38, which was led by Tamara Farquhar, who saw some familiar faces after transferring to MSU from Purdue.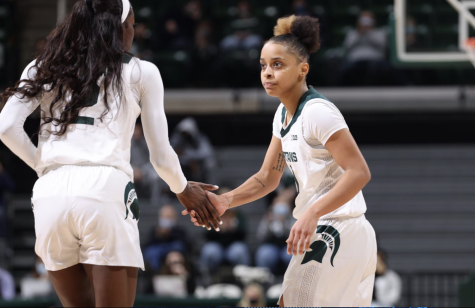 In the first quarter, the Spartans started on a strong scoring run, getting an early lead. The Boilermakers were able to catch up due to Spartan fouls, including a technical foul called on MSU coaches. These fouls then put Purdue on a 7-0 scoring run in just over a minute. However, it quickly went the other way, as the Boilermakers started sending the Spartans to the line. In just one quarter, MSU had eight fouls and Purdue had seven. 
Nia Clouden got into foul trouble early in the game with three before the first half was over. Clouden, who led her team with 23 points, was a key asset to the game. Luckily for the Spartans, freshman Matilda Ekh got back into the rhythm that had been missing the last few games. Ekh has been struggling with shooting the past couple weeks, but she proved that she was back on Thursday. She had a total of 10 points, along with three assists. 
"We have to focus on keeping our level of aggression up and still try to be smart," Clouden said. 
This matchup was set to be a fairly even match, with both teams having almost identical season stats. It must have been like looking in a mirror, as the Spartans and the Boilermakers were playing in extremely similar fashions, and the foul trouble and turnovers that have plagued the Spartans all season were a common issue for the Boilermakers as well. There were a total 29 turnovers in this match with 14 from MSU and 15 from Purdue. The Spartans scored 20 points off turnovers, while the Boilermakers only had 10.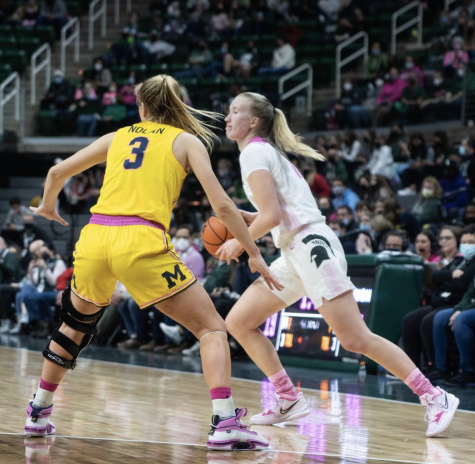 Going into the second half the teams were on back-and-forth runs. The Spartans were holding on to the lead by just a few points. They had not been able to pull ahead by more than seven points in the first half. As much as the Spartans would score, the Boilermakers would quickly answer. This pattern seemed to keep going with MSU shooting at 41% in the paint and 22% from the 3-point line, while Purdue shot 37% and 37%. 
Taiyier Parks, Alisia Smith and Farquhar joined Clouden in foul trouble not long into the second half. On Purdue's side, it had two players also in foul trouble. Offensive fouls became a key to this game as top players were being benched on either side. Although both teams were equal on their total fouls, MSU had four players in foul trouble with a team-total of 19 fouls, while Purdue had two players in trouble with a team-total of 22 fouls.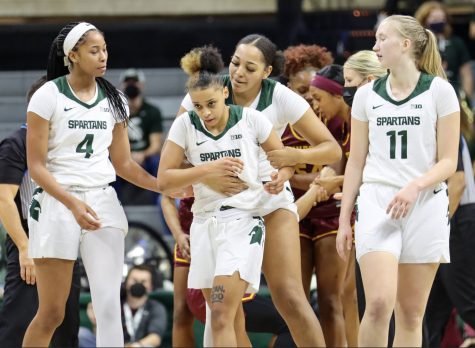 The last quarter started with a lot on the line. MSU led by one point, and both teams were on two- minute scoring droughts. The teams started back on a back-and-forth seesaw, keeping the game within just a few points. In the last three minutes, it was down to the wire, with the Boilermakers leading by a point. They went on a 6-0 run over a minute and a half. 
In the final minutes of an intense match, Purdue fouls got the Spartans to the line and helped them pull ahead. Purdue fouls were their downfall in the end as the Spartans were able to pull away. 
The Spartans will advance to rematch No. 1 seed Ohio State on Friday morning. After a close loss to the Buckeyes, the Spartans will be looking for an opportunity to redeem themselves. Tipoff is at 11:30 a.m. from the Gainbridge Fieldhouse in Indianapolis.