Nia Clouden scores 50 points in 2OT loss to Florida Gulf Coast
WEST PALM BEACH, Fla. – Michigan State senior guard Nia Clouden became only the fifth Division I basketball player in the state of Michigan to score 50 points in a single game in the Spartans 85-84 double overtime loss to Florida Gulf Coast in the West Palm Beach Invitational on Monday. 
While the Spartans were unable to get the victory, Clouden's record-setting afternoon deserves a closer look. 
Clouden scored the first seven and final eight points of the game for the Spartans, and did a lot of the scoring in between. Clouden took 28 shot attempts in the game, making 17 of them, and the rest of the team combined for 35 shots total, with Taiyier Parks taking 14 of those off the bench.
But what makes this performance truly special is that Clouden only made one 3-pointer in the game, going 1-for-4 from behind the arc. Where Clouden got most of her points was the free throw line, as she went 15-for-17 from the stripe, constantly making life difficult on the Eagles defense and drawing fouls.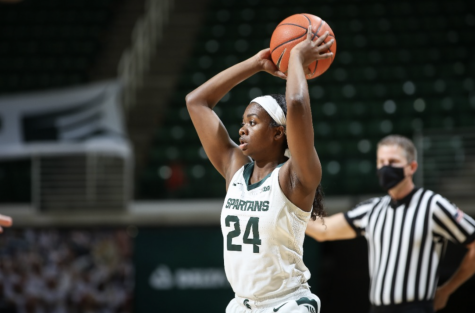 However, Clouden didn't get a lot of help, as she was the only starter in double figures. Parks contributed 14 points off the bench, but her effort along with Clouden's wasn't enough to push the Spartans over the top. 
Eagles guard Kierstan Bell spoiled Clouden's outstanding performance with the final five points of the game, including a go-ahead steal-and-score in overtime to secure the Eagles win in West Palm Beach.
Clouden's career high in points coming into Monday's game was 34 a season ago in a loss to the Michigan Wolverines. And along with joining the 50-point club in the state of Michigan, she also became the fourth player in Michigan State history to score 40 or more points in a game, and officially broke Tori Jankoska's record 42 points in a game that she set back in 2017.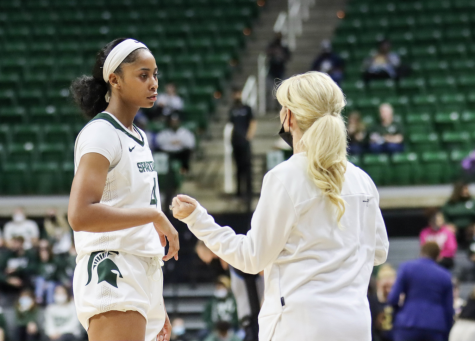 The Spartans have been short-handed for most of the season due to injuries and illnesses throughout the year, including in this game, as they were without junior guard Moira Joiner once again, who is still in concussion protocol. And with Alyza Winston's sudden transfer a couple of weeks ago, head coach Suzy Merchant and the Spartans are looking for other players to step up alongside Clouden in the future.
It will be a quick turnaround for Clouden and the Spartans, as they will conclude in the West Palm Beach Invitational and take on the West Virginia Mountaineers at 11 a.m. on Tuesday.
You can follow Michael Markoch on Twitter @mcmarkoch20.