Bednarz: Spartans will greatly benefit from versatility of 2022 four-star Dillon Tatum
EAST LANSING, Mich—Wednesday was a huge day for Mel Tucker and Michigan State as the Spartans formally signed their 22-member class, five of whom are four-stars, as well as four transfers. It was the highest-rated recruiting class since 2017.
One intriguing member of the 2022 class, a player who seemed to be leaning towards Michigan for the majority of the recruiting cycle, is West Bloomfield Safety Dillon Tatum.
The 5-foot-10 193-pounder is a consensus four-star prospect who is rated as the No. 5 overall player in Michigan and the No. 263 overall recruit in the nation, according to 247Sports. He chose Michigan State despite his high school coach Ron Bellamy being hired by Michigan's safeties coach before the start of the 2021 season.
Perhaps nothing is more enticing about Tatum than his versatility on the field during high school. He played running back, slot receiver, corner and safety while also returning kicks for West Bloomfield.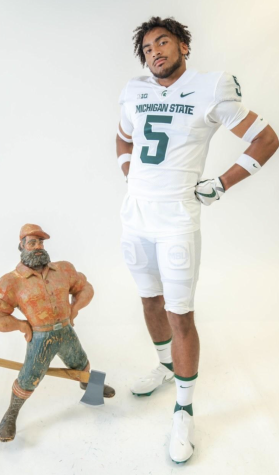 His career stats include six interceptions and 61 tackles as a safety and 1,187 yards and 23 touchdowns as a running back. During his junior season in 2020, Tatum had 38 tackles, three interceptions and six pass break ups, including one interception in the Lakers 41-0 championship victory over Davison.
This, mind you, comes as he shared carries with current Michigan four-star  running back Donovan Edwards in 2020. 
Allen Trieu, a national recruiting analyst for 247Sports, categorized Tatum as a player who possesses "short-area quickness and twitch to be able to play man" as well as "good ball skills."
The Spartans are looking to fully convert him to either safety or a large nickel corner and be a consistent versatile disruption in the secondary, something the team is currently lacking. Secondary coach Harlon Barnett was instrumental in getting Tatum to commit to MSU.
Tatum had 34 total Division I offers, including from Michigan, Florida, Georgia, Kentucky, Ohio State, Utah, USC, Notre Dame, Wisconsin, Texas A&M and Penn State.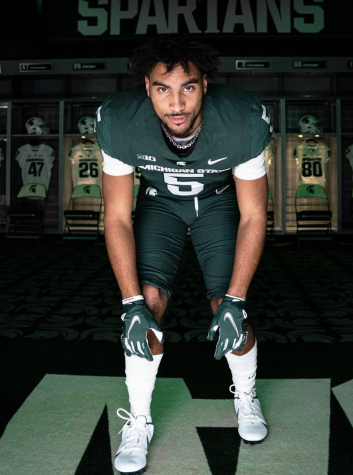 Coach Mel Tucker has confirmed that Tatum would be one of the high school players enrolling early alongside four-star defensive tackle Alex VanSumeren, four-star quarterback Katin Houser, four-star Jaden Mangham, three-star cornerbacks Ade Willie and Caleb Coley, three-star tight end Jack Nickel and three-star defensive end Chase Carter.
MSU's four transfers, Jacoby Windmon, Jalen Berger, Aaron Brule and Khris Bogle, will also enroll in January.
Simply put, while it remains to be seen, the additions of Tatum, Mangham, Coley and others should help deliver some much-needed versatile support to a secondary that is allowing over 337 passing a game, by far and away the worst mark in Division I. Tatum specifically could also help MSU bridge the gap into the post Kenneth Walker era with his ability to rush the ball effectively in certain packages.