PREVIEW: Spartans face big road test at No. 8 Notre Dame
EAST LANSING, Mich. – The Michigan State Spartans (9-6-1, 4-4-0 Big Ten) will be getting one of their biggest tests of the season this weekend as they will travel to face No. 8 Notre Dame (11-4-0, 5-3-0 Big Ten) on their home rink. Both teams will look to start a new win streak after their respective prior streaks were broken over the weekend.
No. 18 Ohio State ended Notre Dame's six-game win streak last Friday. Even though it out shot the Buckeyes 36-28, Notre Dame lost 4-2 for its fourth loss of the season. The Irish, however, got their revenge the next night, cruising to a resounding 5-1 win.
The Spartans come into South Bend winning five of their last six games.
Despite a goal from each of the Krygier brothers, the Spartans could not overcome the 22 penalty minutes they accrued throughout the game. Roughly halfway through the third period, Nittany Lions forward Connor MacEachern converted on a power play goal that would end up being the game-winner. Tyler Gratton would score an empty-netter as time expired, and so the final score was 4-2. 
The second game would see the Spartans cut the penalties nearly in half, down to only 12. With that, the Spartans were able to break a 2-2 tie with a very strong third period behind goals from Kristoff Papp and Mitchell Lewandowski. Penn State would notch one more to cut the lead to one, but that was all it would get. Sophomore goaltender Pierce Charleson shut the door and willed the Spartans to a win behind an amazing 50-save performance.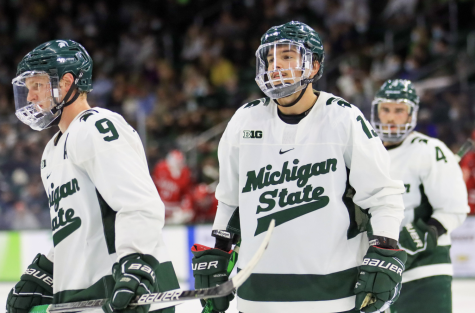 Who will be the X factors in this series?
For Notre Dame, it's goalie Matthew Galajda. The Cornell transfer has been outstanding between the pipes so far. In his nine starts, Galajda is 7-2-0 with a 1.68 goals against average and a .932 save percentage.
Those numbers, however, were hurt somewhat by a lackluster performance in the loss to Ohio State, where he allowed four goals on 28 shots. Backup Ryan Bischel then got the start Saturday. A bounce-back game from their starter would be huge for the Irish as they try to climb the rankings. 
Fun fact: Despite this being his first season in the Big Ten, Galajda is no stranger to playing Michigan State. While he was at Cornell, the Big Red played the Spartans four times. Galajda got the nod in all four of those games, and he's had mixed results at best. He is 2-2 and has allowed 12 goals on a .767 save percentage. Take those stats with a grain of salt (they were both over two years ago now), but they're still worth noting.
For Michigan State, it's hard to pick anyone other than Mitchell Lewandowski. The fifth-year senior is in the middle of a renaissance season. He's leading the team in points and has found his way onto the scoresheet in every game he's appeared in. Compare that to his stats a year ago, and he's already surpassed his previous point total (17 this season, 13 last season), despite playing in 16 fewer games. 
Since returning from injury on Nov. 11, he's somehow been more lethal. In his six games back, he's tallied 10 points, including a goal and three assists in the Penn State series.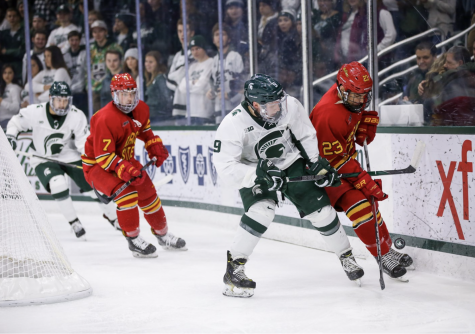 With production like that, it's easy to see the impact that Lewandowski has on the team's chance of winning. With him in the lineup, the Spartans are 8-2-1. Without him, they're 1-4.
What does a win mean for Michigan State?
Winning at least one game this weekend would mean that Michigan State has arrived as a legitimate Big Ten team. It cannot be overstated how important a road win against a top-10 team would be for this squad. As of right now, the Spartans are still trying to shake their reputation that they've developed from recent years as a bottomfeeder in the Big Ten. They've finished either last or second-to-last in the Big Ten every year since 2014-15. 
A win here is a chance to change the narrative. They can prove that they need to be taken seriously in the conference. The Spartans are already outperforming the lowly expectations they had this year. Now it is just a matter of whether or not they can keep it up.
How will this series affect the Big Ten landscape?
It all depends on who wins. After a horrendous season last year, Michigan State is still trying to figure out where it belongs in that puzzle this year. It has already established it doesn't belong at the bottom of the standings like it was projected to (Wisconsin seems to have filled that role), but it still has yet to show that it can hang with the big boys of the conference like Michigan and Minnesota. Getting blown out 7-2 at Yost will do that to you.
If Notre Dame takes both games at home, then things don't really change all too much. The Fighting Irish are already ranked in the top 10, and they're currently trying to establish themselves on the same level as Michigan and Minnesota. A win here will only add to that resume. 
If Michigan State can win at least one and prove that it can skate with a surging Notre Dame team, then it will prove that it belongs in that middle tier of Big Ten teams like Ohio State or Notre Dame: a step below the top dogs, but still a very good team that opponents have to come ready to play against. That would pin the Spartans somewhere in the third-to-fifth place range of teams.
This two-game slate against the Irish will be the last Big Ten competition that Michigan State will see in 2021. The only remaining games on the calendar year will come as part of the Great Lakes Invitational against Western Michigan and Michigan Tech.
The puck will drop at Compton Family Ice Arena for Game 1 on Friday, Dec. 10 at 7:30 EST. Game 2 will begin the next night at 7:00.