MSU F Matilda Ekh receives Big Ten Freshman of the Week Honors
Allie Cohen, Women's Basketball Beat Reporter
December 13, 2021
EAST LANSING, Mich— After another week of play for the Michigan State women's basketball team, MSU guard/forward Matilda Ekh was named as the Big Ten Freshman of the Week on Monday afternoon after scoring 20 points, a career high, in the Spartans 75-60 win over Illinois on Dec. 9. 
Against the Fighting Illini, Ekh made six 3-pointers, also a career high, to go along with three assists and three rebounds in 36 minutes of playing time. It was also the seventh time she has scored in double figures this season.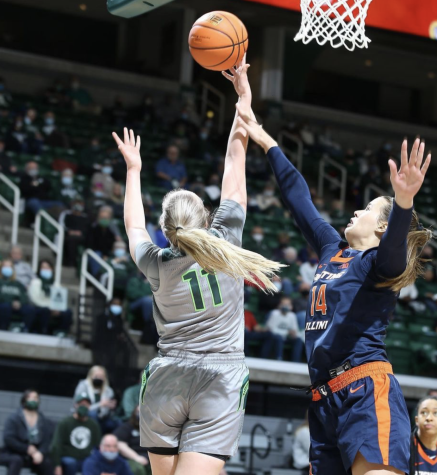 It is the first time Ekh has received the honor in her career; she is the second Spartan to win the award this season. Guard DeeDee Hagemann was also named as the conference Freshman of the Week on Nov. 15th after scoring in double digits against Morehead State and Niagara. 
She is the first Spartan to reach 20 points in a game as a freshman since Nia Clouden did against No. 16 Iowa twice and Ohio State during the 2018-2019 season. 
With finals this week, the 7-4 Spartans will not return to action until Dec. 20 against Florida Gulf Coast at 11 a.m. in the annual West Palm Beach Invitational. MSU will then face off against West Virginia on Dec. 21 before returning home to resume Big Ten play against Nebraska on Dec. 30.