Former Michigan football players Jon Vaughn, Chuck Christian are out to change the culture around sexual assault in the Big Ten
Vaughn: "They (the Big Ten) are leading in something, they are leading in this culture of abuse."
Jon Vaughn and Chuck Christian are doing something they've done their entire lives. 
The former Wolverine football players were tough to bring down when carrying the football, now they're rushing a message straight to the door of University of Michigan President Mark Schlissel.
The pair has camped outside Schlissel's 22-room mansion since Oct. 8 demanding an audience from him to share their stories of sexual abuse at the hands of former football doctor Robert Anderson.
Vaughn and Christian are two of over 2,100 Anderson survivors calling on Michigan to change the culture around sexual assault on campus. 
"We want to take back our freedom, take back our strength," Vaughn said. "Because the power that is relinquished through sexual abuse and sexual assault is one you never get over, you just get through."
The fight for that freedom is one taking place on an Ann Arbor sidewalk, complete with lawn chairs, sleeping tents and an unbreakable will.
"They're (Michigan) dealing with guys who played football on the highest level, and they're dealing with guys that are fearless," Christian said. 
The background
Vaughn and Christian represent thousands of people from Michigan, Ohio State and Penn State who are demanding accountability from the universities and the Big Ten following sexual assault scandals at each school.
On March 21, 2020, the University of Michigan Board of Regents hired the Wilmer, Cutler, Pickering and Hale law firm to investigate reported allegations of sexual assault by Dr. Robert Anderson against various athletes from 1968-2003. The investigation's findings were released on May 11, 2021.
Over the course of his 37 years as a university employee, Anderson engaged in sexual misconduct on countless occasions. The report also states that Anderson engaged in a "pervasive, decades-long destructive pattern of sexual misconduct."
Michigan reported that Anderson engaged in up to 2,100 incidents of sexual misconduct, the vast majority of which were against men, mostly football players.
Anderson served as the Director for University Health Services from 1968-80 and served as a senior physician from 1981-2003 before retiring. During his career at Michigan, he saw athletes who participated in football, track and field, cross country, wrestling and many other sports. 
He died at 78 in 2008.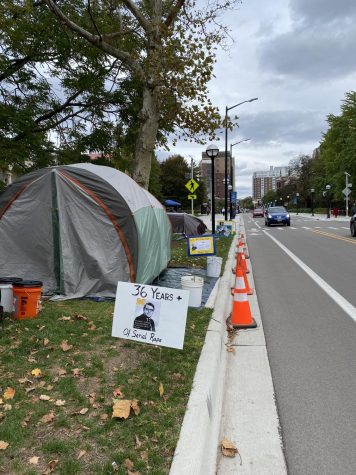 On May 17, 2019, Ohio State released a report conducted by the law firm Perkins Coie that detailed acts of sexual abuse against at least 177 former students by Dr. Richard Strauss from 1978 to 1998. Strauss, who took his own life in August of 2005, was found to have abused at least 177 student-athletes, mostly male wrestlers and swimmers, from 1978-1998.
Strauss operated an off-campus clinic and remained as a tenured member within OSU's School of Public Health until his voluntary retirement in 1998 despite being terminated from the athletic department in 1996 due to repeated allegations of sexual assault.
Strauss retired with an emeritus appointment, a distinction given by universities to a person who had sustained academic success.
Former Penn State football defensive coordinator Jerry Sandusky was found guilty in 2012 of sexually assaulting 10 boys over a 15-year span. 
Sandusky founded a charity, The Second Mile, in 1977. The organization, which served underprivileged and at-risk youth, is where Sandusky came into contact with the survivors. 
Hail to the Victims
Vaughn, the former Wolverine running back who was named as the Big Ten Co-Offensive Player of the Year in 1990, has not had any in-person interactions with Schlissel since the protest started.
"He has disconnected himself, distanced himself, from the people that he must empower to teach and protect so he can learn," Vaughn said. "I mean, this is Michigan, Michigan has the resources that anything you dare to be and to do and to think and to create, we have the resources where it can be done or at least you can go after that."
Vaughn's main reason for continuing the protest is to ensure that no other student across the Big Ten has to suffer the same unremitting trauma as himself and countless others.
"A female student said to me, 'I spend more time thinking about the next time I'm going to be sexually abused and raped than I do concentrating about what I'm going to major in.' " Vaughn said.
Christian, a Michigan tight end from 1977-81, has joined Vaughn on the front lines of the ever-growing movement to help assist survivors in sharing their stories of sexual abuse. The father of three and avid painter, acts as Vaughn's hype man at rally introductions. He has seen the issues of emotional difficulties stemming from sustained sexual assault firsthand.
"These types of things, they're not just, 'oh, you got raped and you're 17,' " Christian said. "That 18-year-old becomes a 19-year-old becomes a 30-year-old becomes a 40-year-old, and it affects everything that you are. In my case, Anderson didn't just rape the 18-year-old Chuck. He raped the husband of my wife. He raped the father of my children. He raped the grandfather of my grandchildren. He raped the friend of of my friends. And it's just like a snowball."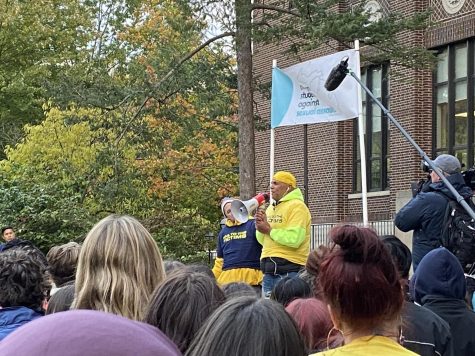 The abuse that Christian, 61, suffered at the hands of Anderson led him to delay going to the doctor's office for years, a decision that had catastrophic health consequences. 
"For me, the fact that Dr. Anderson did what he did to me, I couldn't go get a prostate exam," he said. "I told my wife, my doctor said that he wanted to give me a prostate exam. And he put the glove on, snapped it and I said oh, no. My mind was zipped all the way back to Anderson."
Christian finally relented in going to see a doctor after getting up to urinate 10 times a night. The prostate exam revealed the worst.
Stage 4 prostate cancer.
"They did a scan and found out that it had already spread to my spine, my ribs, my hips, my tailbone and my shoulders, and that I was going to be dead in three years," he said.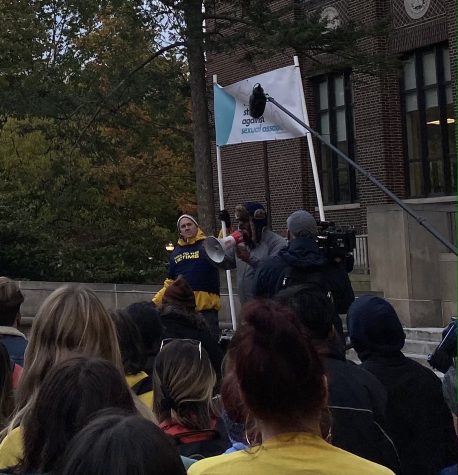 Five years later, Christian is still out and about, hanging out with other Anderson survivors, including Vaughn, wrestler Tad DeLuca and hockey player Dean Turner, laughing heartily with his closest friends. 
DeLuca and Turner, former Wolverine athletes, both suffered perpetual abuse at the hands of Anderson in the mid-to-late 1970s.
Those men and other Anderson survivors gathered in front of Schlissel's mansion take brief breaks to eat at nearby restaurants, hand out maize and blue "Hail to the Victims" T-shirts and pens to students and crack plenty of jokes.
Vaughn likes to point out Christian's constant energy, even if he puts it on display in the middle of the night. When Vaughn first arrived in Ann Arbor to set up camp, he slept in a tent that fit barely half his body, something he pokes fun at now that he has a full-sized tent. 
All of the men joke about getting arrested and going to jail for their protest, but said even that won't stop them. 
And even though they're sleeping outside on the sidewalk and in the elements, Vaughn, Christian and others have come to the sobering conclusion that their current environment feels safer than the one they had to endure while being student-athletes on campus at Michigan.
The response
Desmond Howard, the 1991 Heisman Trophy winner and former Michigan wide receiver from 1989-91, was not aware of the protest happening in front of Schlissel's mansion when asked for his response to it.
"I didn't know that," said Howard, who now works for ESPN's College GameDay show. "Are they protesting in front of his house now? Or has been like a month ago, two months ago. I guess I'm not maybe caught up to speed on what's happening today.
"They're there today in front of his house? You just told me something I was not aware of, maybe because I was traveling to get here. So thanks for informing me."
Anderson worked with the football team as a senior physician during Howard's tenure with the Wolverines.
But reaction is coming in from other people impacted by Anderson and former Ohio State doctor Richard Strauss.
Former competitive amateur U.S. diver John Michael-Lander, a survivor of both Strauss and an unnamed coach, believes altering how society enforces commonly-held tenants of masculinity is a must. Michael-Lander did not swim at Ohio State, but was taken to the campus on several occasions as a high school student to train with the OSU swimming and diving team.
"I think we have to change our attitudes and our opinions of masculinity and femininity and all these ugly behind-the-scenes expectations that our society puts on each sex," he said. "Men cannot be feminine and if they are, they must be gay. We have all these ideas and I think that we need to come back and reevaluate all that."
Early intervention is also a must, said Michael-Lander.
"A lot of predators are people who were abused themselves who never got the help they needed and that's the way that they act out," he said. "There have been studies where the person they are attracted to, they're attracted to teenagers, is the time when they were abused at that time. They are basically trying to go back and understand what happened, but yet they're abusing others to try and figure this out."
Michael-Lander himself has suffered from victim-blaming, a behavior in which survivors of abuse are faulted for not "doing more" or overexaggerating the extent of their abuse. In his case, Michael-Lander's mother told her son that "if something happened, it was probably his fault."
A group of wealthy investors, including Strauss, offered to pay for Michael-Lander's medical bills, lodging and housing if he began to train with an elite local swimming club. After his mother allowed him to spend more time with the swimming and diving team on the road at various tournaments, the abuse began. 
"She slapped me across the face and said 'you've got to do your job, this man is coming all the way here, he's well-known in the community,' "he said. "You must be making a lie up."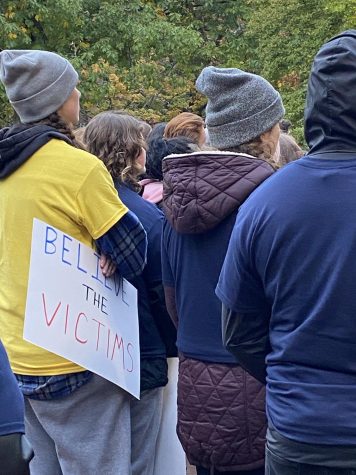 For former gymnast and Larry Nassar survivor Trinea Gonczar, accountability starts at the top with the Big Ten.
"Right now, you just have the Big Ten facilitating predators to get away with predatory behavior because money can cover up bad media," she said.
Gonczar, who was treated by Nassar approximately 800 times over several years, is currently a mother of two who works with various outside agencies to improve their response to sexual assault allegations. Her work includes assisting Vaughn, Christian and other Anderson survivors during their protest.
She is also someone who is heartened to see the newfound emphasis on men speaking out against years of widespread abuse that were swept under the rug.
"We're going in the right direction," she said. "The only way to do that is to take one foot in front of the other and the next foot in front. This is the first time men collectively are coming together and speaking about sexual violence."
The Big Ten reacts
Big Ten Commissioner Kevin Warren gave the following response when asked why sexual assault scandals involving men's sports at Michigan, Ohio State and Penn State University were allowed to endure for decades.
"I don't know if I'm really in a position to answer that," Warren said. "All I know is what we can do. One, because I wasn't here. A lot of those investigations or what has happened, I know what is in the general public."
Warren was speaking with student reporters during Monday's Big Ten Town Hall. 
The scandals at Michigan, Ohio State and Penn State, which involved the abuse of thousands of male athletes, exposed the three Big Ten member institutions for allowing sexual predators to prey on mostly male victims for years without halt.
Warren, 56, who oversees the conference's athletic programs, noted the importance of protecting the Big Ten's athletes. However, he did not directly answer how to deal with the stigma and patterns of abuse around male or female sexual assault.
"I know the importance, especially for parents who send their children to one of our schools, that it's important that we protect them," Warren said.
Next steps
Looking to the future, Vaughn believes an independent governing body must be put in place to monitor reported sexual assault incidents at major universities. 
"I think it's evident that it might be a hard pill to swallow, but Michigan hasn't shown that they can police themselves for 50 years, so stop trying to police yourselves with these policies that fall flat, because you haven't lived up to any of the policies in the past," he said. 
"I think there needs to be an independent council or independent body that governs not only Michigan, but Michigan State, Ohio State, LSU, USC, Utah, Minnesota, Penn State, the list goes on and on, Eastern Michigan."
Vaughn, Christian and other Anderson survivors are also calling for the resignation of current Michigan assistant athletic director and head trainer Paul Schmidt. 
Schmidt, who worked as an assistant athletic trainer for the football team from 1986-90, has been accused by multiple former athletes of covering up Anderson's pattern of sexual assault.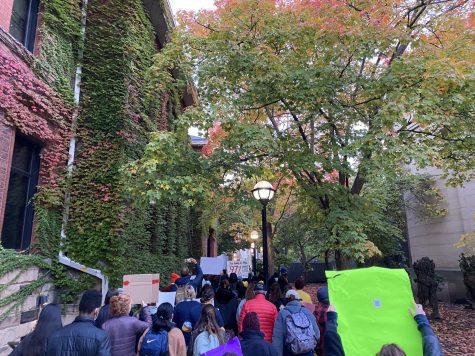 In an email, associate athletic director Matt Larson confirmed that the Michigan State football team receives yearly Relationship and Sexual Violence training from the university's Prevention, Outreach and Education Department.
Even though he didn't give a direct answer on how to end the stigma surrounding male and female sexual assault, Warren stressed the importance of safe campus cultures when responding to why the sexual assault scandals at Michigan and Ohio State were able to continue for decades.
"It's really important that we as a conference and our schools continually make sure we have safe environments," Warren said. "We talk about it regularly for our student-athletes and for our coaches and everyone."
The fight to change the culture around sexual assault is one that Christian is prepared to hit head on.
"They (Michigan) trained us to be Navy SEALs, now they're going to fight us," Christian said. "You don't want to fight us once we got trained, because we can do a lot of damage. And for us, it's nothing for us to stay in this tent in the cold in the rain. You know, it doesn't matter. We're gonna be here and we're gonna fight it."
You can follow Nathan Stearns and Luke Sloan on Twitter @NathanStearns11 and @LukeSloan_7.