MSU women's basketball anticipates a season of normalcy
Allie Cohen, Women's Basketball Beat Reporter
October 28, 2021
The Michigan State Spartans begin their 2021-2022 season this Sunday at 2 p.m. with an exhibition matchup against the Northwood Timberwolves. This is the first time the Spartans are back in action since their heartbreaking 75-79 loss against Iowa State in the big dance. Last year, MSU finished its basketball season going 15-9 and 8-7 in Big Ten play. It finished seventh in the conference. 
This team will have some adjustments to do to fill the large shoes of injured players like junior Julia Ayrault and senior Tori Ozment, who had a combined 315 points last season. 
Coach Suzy Merchant was optimistic about her team's ability to adapt.
"We have a lot of options; We have two veteran kids that had lobbed a lot of hours and knew our system, and we're losing that experience, but we are ready to make up for it in other ways," Merchant said.
Senior guard Nia Clouden has already been stacking up awards, having just recently been named a member of the Preseason All-Big Ten  team and a contender for the Nancy Lieberman Award.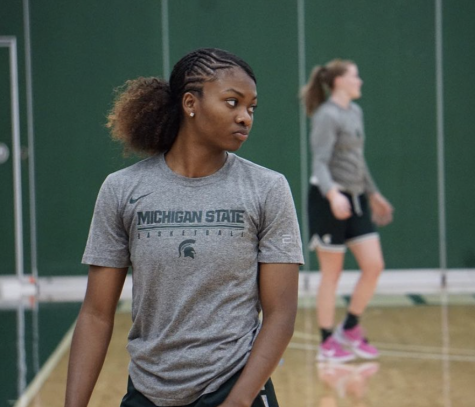 "It is a really big honor to be on the list and I'm really excited to be in such good company with everyone else who made it," Clouden said. "There are a lot of great guards on there."  
Both coaches and players are thrilled to be back in the Breslin Center with fans. 
"The team is very excited," said graduate transfer Tamara Farquhar. "We haven't had a crowd since last year, so it's been a long time waiting for this moment." 
Merchant expressed similar excitement.
"Although our cardboard cutouts were good, they were pretty quiet," she said. "Our Breslin is such a fun environment and so much fun when people are in it; It will be so nice to have everyone back, and we will really appreciate it." 
Northwood is coming off of an 11-9 season after playing all other D2 and D3 schools, so this matchup will be a challenge. It averaged 69 points a game, as opposed to MSU's 75-point a game average. This game will be a great home opener to watch after not having fans for the 2020-21 season.