PREVIEW: MSU field hockey travels to Indiana for Friday afternoon matchup
EAST LANSING — The Michigan State field hockey team is going up against the University of Indiana on Friday at 3 p.m. at the IU Field Hockey Complex. The Spartans are coming off a 4-3-win vs Miami of Ohio, in which MSU had a total of 13 shots on goal, while their opponent had a total of 21 MSU played tough defensively with 10 saves, while Miami had four. 
A goal was scored early on for the Spartans by freshman midfielder Ellie Rutherford, who was assisted by senior Isa van der Weji. This was Rutherford's first goal of the season, after she had been the co-leader in goals last season
Spartan junior forward Hannah Jarvie scored at 12:02 on a goal that was assisted by junior midfielder Merel Hanssen. Hanssen also contributed to the Spartan offensive with a goal at 26:28, her sixth of the season.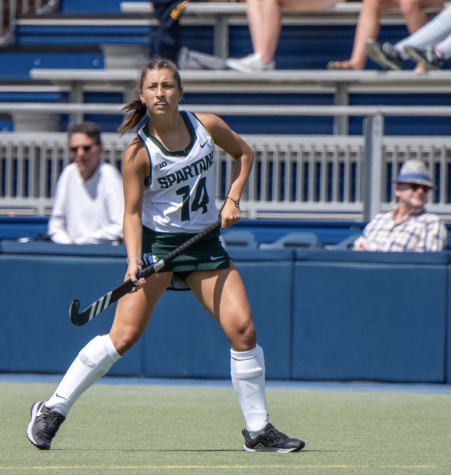 MSU senior midfielder Maddie McDonough scored at 56:23, which extended the Spartan lead to 4-2 approaching the end of the game. The goal was once again assisted by Hanssen. 
The Spartans enter Friday's matchup with a .700 winning percentage on an overall 7-3 record. They are 2-2 at home and 3-1 away. 
So far this season, MSU has had 33 goals while allowing its opponents to score 20. The Spartans average 3.30 goals this season, while their opponents average two against them. 
Indiana, on the other hand, has had 20 goals this season while allowing 26 against opponents. The Hoosiers are averaging 1.43 goals per game, with opponents averaging 1.86. 
The Spartans and Hoosiers meet for the first time since April when MSU conquered Indiana 4-2 in the first round of the 2020-21 Big Ten tournament. 
MSU leads the all-time series with a dominating 25-7 record, having won six of the last 10 meetings.
The Spartans will then play on Sunday against Northwestern for the final game of its three-game road stretch.