FINAL: MSU softball loses its fourth straight, falls to Michigan 6-1
EAST LANSING — After a postponed four-game series in April, Michigan State softball finally renewed its in-state rivalry with No. 22 Michigan in Ann Arbor at Alumni Field Wednesday evening. The Wolverines entered the contest on a roll, winning ten of their last eleven games. Meanwhile, the Spartans looked to turn things around after dropping three games in a row. 
Michigan State jumped out to an early 1-0 lead, but it was all Michigan from there as the Wolverines rolled to a 6-1 victory. 
First baseman Mackenzie Meech delivered in the top of the first inning with a single, continuing to be one of MSU's leading hitters this season. However, Michigan State could not capitalize off the base hit and was unsuccessful in bringing Meech home for a run. It was an ideal start for MSU sophomore Sarah Ladd, as she tossed two strikeouts in a scoreless opening inning. 
In the second inning, the Spartans got on the board first following a Marissa Trivelpiece solo shot, her second of the year, putting Michigan State ahead 1-0. Trivelpiece would also get involved in the bottom half of the inning when she misplayed a routine fly ball to right field. This costly mistake resulted in a two-run inside-the-park home run for the Wolverines, handing them a 2-1 lead after two innings.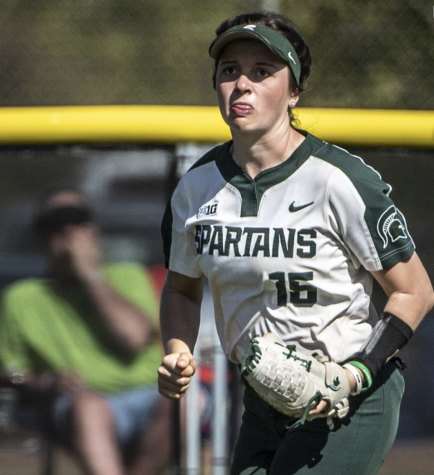 It was a productive third inning for the Ladd sisters. Caitie Ladd singled in the top of the third inning, but what stood out was her sister, Sarah, in the bottom half of the frame.  Ladd looked to rebound after surrendering the inside-the-park homer and she did just that, throwing two strikeouts in a one-two-three inning. 
Michigan State went scoreless in the top of the fourth in yet another one-two-three inning. On the flip side, Michigan looked to extend its lead, and a leadoff single and RBI double to follow certainly helped. Desperate for outs and trying to avoid any more damage, Ladd threw two more strikeouts and finished the inning retiring three straight Wolverines. She was able to escape the inning allowing just one run, leaving Michigan with a 3-1 lead. 
The Wolverines put the game out of reach in the fifth and sixth innings combining for three runs to take a 6-1 lead. Following a leadoff single, sacrifice bunt and walk, Michigan's Lou Allan drove in a run with an RBI single increasing the lead to 4-1 after the fifth inning. 
The Wolverines closed out the scoring in the sixth inning with two more runs. A double, error and wild pitch scored the first run, while Lexi Blair singled to right bringing home Michigan's final run of the day. 
After Caitie Ladd's third-inning single, Michigan retired 13 consecutive Spartan batters. Michigan's pitchers combined to throw 14 strikeouts allowing only three hits. One highlight for MSU was Sarah Ladd and Jala Wright's combined nine strikeouts including seven from Ladd. 
Michigan State (7-14) will try and bounce back when they host Penn State (4-19) for a four-game series starting on April 16 at Secchia Stadium.