MSU makes NCAA Tournament as No. 10 seed, will open against Iowa State
EAST LANSING — The Michigan State women's basketball team didn't have to wait as long as the men's team did on Sunday night when it was time for their name to be announced during the NCAA Women's selection show on Monday. The Spartans were announced as the No. 10 seed in the first region, the Mercado region, and will take on No. 7 seed Iowa State next Monday at 6 p.m. MSU cemented its tournament status with a quarterfinal upset of No. 9 Indiana in the Big Ten Tournament last week.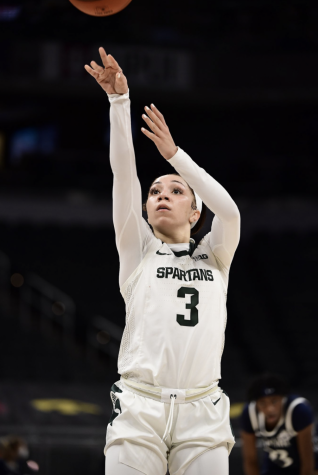 Iowa State is an at-large team from the Big 12 and enters the tournament with a 16-10 overall record and a 12-6 conference record. The Cyclones have been battle-tested this season, playing in a tough Big 12, while also playing through a strong non-conference schedule against top-tier teams, including then-No. 1 South Carolina and Big Ten Tournament runner-up Iowa. The biggest victory for ISU is a 75-71 victory over then-No. 6 Baylor in Waco on Jan. 16.
ISU has been ranked as high as No. 15 this season, but is unranked entering the tournament after coming off a quarterfinal loss in the Big 12 tournament to Texas in overtime. 
MSU will look to make a run in this year's NCAA tournament behind the strong play of junior Nia Clouden. The All-Big Ten first- team guard was also named to the All-Big Ten Tournament team after her second-half explosion against Indiana that led the Spartans to the quarterfinal upset. Clouden was a freshman when MSU made its last tournament appearance in 2019 as the No. 9 seed. That MSU team defeated Central Michigan in a thrilling 88-87 shootout before falling to top-seeded Notre Dame in the Round of 32. 
"(The experience) helps me a lot, as a leader and a player." Clouden said. "I know it's not going to be the same with the limited number of fans, but the energy of the tournament is just completely different from even the Big Ten Tournament or any regular season game so just being able to play in that environment and having the understanding of what it's like and trying to project that onto my teammates and help them come along. I think that experience in 2019 was very useful."
MSU is one of three Big Ten teams in the Mercado region, along with No. 6 Rutgers and No. 4 Indiana. Maryland swept the conference titles in the regular season and the tournament and is the Big Ten's highest-seeded team at No. 2 in the Hemisfair region.
"They're a great team, but we're a great team too, and the best man will win, senior Mardrekia Cook said." 
MSU's game against the Cyclones is on Monday night at 6 p.m. The winner of Monday's game will play the winner of No. 2 Texas A&M vs. No. 15 Troy.