FINAL: MSU baseball beats Maryland 5-4 on comeback rally to sweep doubleheader against the Terrapins
EAST LANSING — Despite being a major underdog against a loaded Maryland team, the Spartans clinched a series win with a doubleheader sweep over the Terrapins. MSU took the first game, 7-4, and scored five unanswered runs to pick up a 5-4 victory in game two. 
The biggest story of the night for MSU was its resilience. The Spartans were down 4-0 in heading to the sixth inning and had struggled to get anything going offensively in the second game of the doubleheader. Then the switch flipped for MSU. 
The Spartans strung together three straight two-out hits to score their first run of the game. A two-out RBI single by third baseman Zach Iverson gave MSU life, and it stormed out of the gates in the seventh inning. 
Casey Mayes started the seventh inning with a pinch hit double and the Spartans found a way to put four more runs on the board. Shortstop Mitch Jebb tied up the game with an RBI double and later scored what would be the game-winning run on a bases-loaded infield single from Zaid Walker.
MSU was able to hang around in the second game after starting pitcher Adam Berghorst was chased from the game in the fourth inning. This was thanks to an extraordinary effort on the mound in relief from Will Christopherson, who went 5 innings, allowing zero runs on two hits and two walks to pick up the win. 
MSU started the first game against Maryland on Saturday in a very similar way to its season-opening win on Friday night by scoring three runs in the first inning of game one. Mitch Jebb got things started for the Spartans with a lead-off single and Zaid Walker's 2-RBI single gave MSU a lead that it would not relinquish.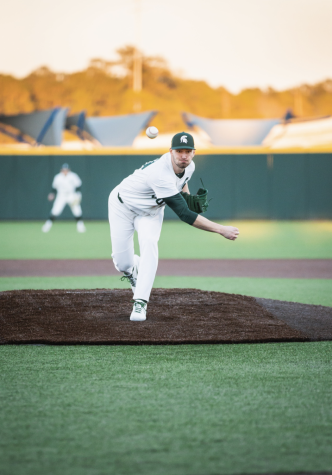 Mason Erla started on the mound for MSU and picked up a quality start in his first appearance of the season. Erla pitched six innings of the seven-inning game, giving up three runs on six hits along with two walks and eight strikeouts. The Spartan ace picked up his first win of the new campaign and moved to 1-0 on the year. 
MSU was aided in the sweep of the doubleheader by the offensive performances of Mitch Jebb (3-for-8, one RBI, one run scored), Bailey Peterson (3-for-7, one BB, two runs scored, one RBI) and Zaid Walker (5-for-7, two runs scored, four RBIs). 
The Spartans will look for the series sweep against Maryland on Sunday afternoon. The game is scheduled to start at 1:30 p.m.