Breaking down Michigan State volleyball's schedule release
EAST LANSING— Big Ten volleyball is finally back.
After the conference postponed most fall sports until the spring, season schedules for all 14 teams were released Tuesday night, and the Spartans posted their 2021 schedule on their Twitter and Instagram pages.
The Big Ten has opted to play a conference-only schedule for volleyball with two key differences compared to normal schedules:
Teams will play two games per week from Jan. 22-Apr. 3 against a single opponent. Typical conference schedules are 20 games long and feature games against each other program. This year's 11-week schedule means that Michigan State will only play games against 11 other Big Ten schools, having no games against Nebraska or Indiana.

Games between two teams from different states will be held at one team's arena on consecutive days; interstate rivalries will still be played with one game at each team's home arena, but will be played with rest days in between on the same week. The Spartans play in-state rivals Michigan in East Lansing on Jan. 28, then travel to Ann Arbor on Jan. 30 for the second matchup.
Once again, the schedule is punishing for the Spartans. The Big Ten is the deepest volleyball conference in the country year in and year out, with Nebraska, Wisconsin, Minnesota, and Penn State as longtime powerhouses. 
The Cornhuskers are the best of those four, and although the Spartans may not want to admit it, they got a big break not having to face them. They are the all-time winningest program in college volleyball. Don't expect that to change anytime soon, as they signed the best class in the country this year, including PrepVolleyball's top three prospects.
Michigan State can also be thankful that of the other three huge programs listed above, the only one that they have to travel to is Minnesota, where the Spartans open their season. They will need to capitalize on any rust the Golden Gophers may have if they want to spring a shocking upset.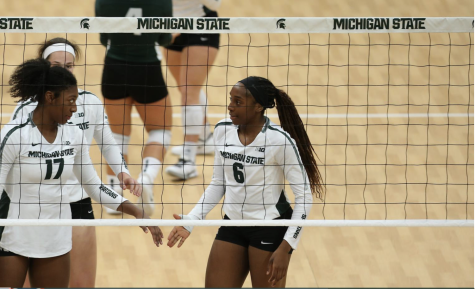 The Badgers and Nittany Lions will have to travel to East Lansing.
The schedule also is balanced—the Spartans never have to face two elite programs back-to-back. 
The closest to that situation is the two games against Michigan the week after the series against Minnesota and the two games against Purdue before Penn State. They're good programs, and they're better than Michigan State right now, but they're not unbeatable. Last season, Michigan needed all five sets and extra points in the fifth set to put Michigan State away in an instant classic at Jenison Field House.
Otherwise, the Spartans will have breather games in between their more challenging matches. Ohio State, Maryland, Rutgers, Northwestern, and Iowa are teams they should take care of business against. 
Athletics in the pandemic has produced some surprising upsets, and if the Spartans can reach .500 with this schedule, it would be hard not to consider this a successful season.