Antjuan Simmons receives invite to annual Shrine Bowl
EAST LANSING— Spartan senior linebacker Antjuan Simmons was selected to the 2021 East-West Shrine Bowl, an All-Star game that looks to highlight outstanding seniors with NFL draft hopes. 
The Shrine Bowl will not be played due to the COVID-19 pandemic, but players were still honored with bids to partake in the annual festivities. 
Virtual training sessions will be offered for players who accepted an invitation to the Shrine Bowl. These sessions will help to train players like Simmons in preparation for the 2021 NFL Draft. 
Simmons was exceptional this year for the Spartans, with 75 tackles, one sack and two fumble recoveries on the season. His 75 tackles were good for the No. 3 overall mark in the Big Ten.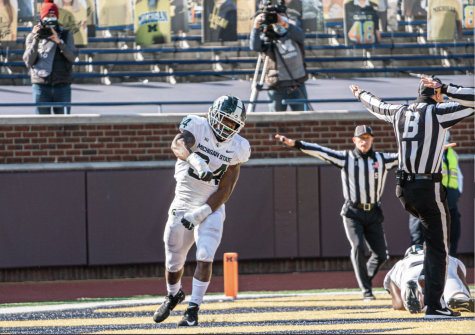 Simmons notched 230 overall tackles, two interceptions, 4.5 sacks and three fumble recoveries over his MSU career.
He was also the unquestioned leader and captain on a defense that held their own and had strong performances against Northwestern and Michigan. 
Following the Spartans final game of the season, Simmons decided to turn down his extra year of eligibility granted and head to the NFL Draft. 
The 6-foot, 225-pound linebacker will most likely be the one who gives the Spartans the best chance to extend their  81-year draft streak come selection day.