Examining the highs and lows from MSU's 81-68 win over Minnesota
EAST LANSING—Michigan State's women's basketball team improved to 3-0 on Wednesday night as it defeated Minnesota 81-68 in its first conference game of the season. 
There were a lot of positive performances for the Spartans in this game, but you can never be perfect, even in a double-digit win. I took a look at what the team did well in Minneapolis on Wednesday night while also identifying what it can do better as it continues Big Ten play:
Pros: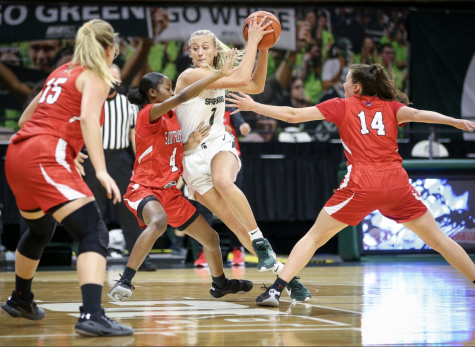 1. Scoring out the gate
MSU got off to a substantial early lead with a 16-0 run to begin the game. Its scoring burst was primarily caused by junior guard Nia Clouden who recorded 14 points in the first quarter. She finished the game as the team's leading scorer with 25 points.
If MSU can continue to come out hot against Big Ten opponents—especially on the road— it could be a force to be reckoned with if it can sustain its lead the rest of the way.
2. 3-point shooting
One of the Spartans' biggest accomplishments in this game was their success behind the arc. MSU made eight 3-pointers, including four made 3-pointers from sophomore guard Alyza Winston, who finished the night with a career-high 20 points off the bench.
Junior guard Tory Ozment also added to the team's 3-point total, going 2-for-3 from beyond the 3-point line. She tallied 10 points in the Spartans' victory, as did Julia Ayrault.
Cons: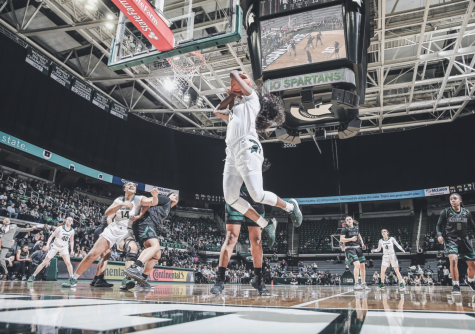 1. Rebounding
Even though MSU grabbed 40 rebounds in its victory, it also allowed the Golden Gophers to collect 27 defensive rebounds. Second-chance points are crucial in a basketball team's success. With the Spartans' multiple threats from 3-point range, offensive boards leading to kick-outs could be just another element of MSU's game that would go in its favor.
2. Defensive consistency
Despite starting the game with a 16-0 run, MSU allowed Minnesota to edge back into the game at the start of the second half. The Spartans led the Gophers by 20 points at one point but started to fall asleep on the defensive end when the Golden Gophers cut the deficit to just seven points in the third quarter. 
The Gophers' run included three made 3-pointers.
If the Spartans want to keep up the dominance they've had through three games, they need to be able to hold their leads. MSU was able to gather itself and get back to a double-digit lead, but it's safe to assume that's not always going to be the case.
With that said, the Spartans DID ultimately hold their lead and do what was necessary to remain undefeated. MSU will look to win their second-straight conference game when they face Iowa at the Breslin Center at 1:00 p.m. on Saturday.