A position-by-position look at the 2020 Michigan State Spartans
EAST LANSING — Who will start at quarterback for the Michigan State Spartans this Saturday?
This question— and many others—will be answered soon enough when MSU opens its 2020 season at home against Rutgers on Oct. 24. While the Spartans are projected by multiple national outlets to have a rough season, the roster is full of skilled players who have a great deal of untapped potential. Michigan State will release the official opening game depth chart later on in the week, but I believe I have a pretty good idea of the players who will be tasked with getting Mel Tucker his first career Michigan State win.
Let's see how I do!
OFFENSIVE STARTERS
Quarterback:
PROJECTED STARTER(S): Rocky Lombardi (RS-JR) 
IN CONTENTION: Payton Thorne (RS-FR) Theo Day (RS-SO)
A lot has been made about the three-horse race to start under center between Lombardi, Thorne and Day, but let's be honest; Lombardi won this job several weeks back.  Michigan State has featured Lombardi during media availabilities ( he is the only QB who holds this distinction) and several other public team events. Teams don't plaster their backup QB on the front of their Twitter page, and so far, Lombardi has received more public exposure than Thorne and Day combined. This leads me to believe that Lombardi will be the starting QB for the Spartans. His game experience (three career starts, 16 game appearances) is massive during a year in which widespread inexperience can be found on both sides of the ball. Although Lombardi struggled in 2018 when he started three games for the injured Brian Lewerke (44% completion percentage, 3-3 TD/INT ratio), the flashes that he showed against teams like Purdue are enough of a reason for him to earn the starting spot. Day, a four-star out of Dearborn, Michigan, has a live arm but has never been able to distinguish himself in a crowded QB room, while Thorne simply doesn't have enough experience under his belt to warrant earning the starting job. I am also a bit concerned that no other Power Five team decided to offer Thorne a scholarship; before MSU offered him, he was committed to Western Michigan.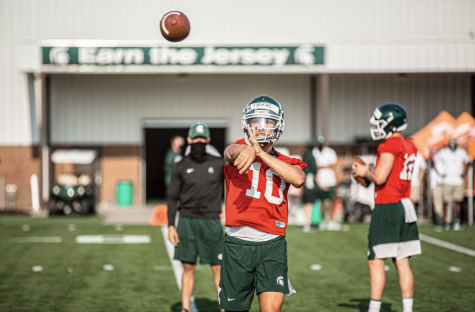 Running Back:
PROJECTED STARTER(S): Elijah Collins (RS-SO) 
IN CONTENTION: Connor Heyward (RS-JR) Anthony Williams Jr.  (SO)
How can Elijah Collins not be the starter after his sensational 2019 campaign? Collins, who ran for 994 yards and five touchdowns, is a prototypical modern-day back. He can run between the tackles with precision, slip through contact with ease, stand his ground when blocking incoming blitzers and catch the ball out of the backfield. Collins' ability to do everything well puts him a couple of tiers above everyone else on this list, including Connor Heyward. The return of Heyward from the transfer portal gives Jay Johnson an experienced No. 2 option and power rusher who can come in and relieve Collins in short-yardage situations. Heyward, like Collins, has had success in the past as a multi-faceted threat who can beat you on the ground and in open space. He ran for 529 yards in 2018 and also spent some time returning kicks. Anthony Williams Jr. is another exciting piece, I believe he will play the role of a scat-back this season more than anything else. The shifty Williams may possess the best hands and route-running ability out of the three backs, and this will allow for him to serve as a decoy or another receiving threat out of the backfield on third-and-short situations. His exceptional quickness in the open field will be enough to earn him some meaningful game action each week.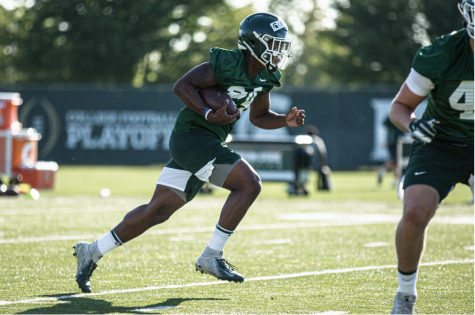 Wide Receiver
PROJECTED STARTER(S): Jayden Reed (RS-SO), Tre Mosley (SO), Jalen Nailor (RS-SO) OR Laress Nelson (SR)
IN CONTENTION: Ricky White (FR), Tre'von Morgan (RS-FR)
With the departure of Cody White and Darrell Stewart Jr., the Spartans currently have a lack of game experience at the wide receiver position group. Jayden Reed, a transfer from Western Michigan, will be tasked with leading this receiving group into the upcoming season. Reed, who started 12 games for the Broncos in 2018 as a freshman, had a sensational campaign as he tallied 797 receiving yards and eight touchdowns. For his efforts, he was named to the second-team All-Mid-American conference team. Reed possesses a rare ability of quickness and size that will make him the ideal successor to White. Sitting out a year gave him the chance to adjust to the rigors of a Big Ten football season, and he will be all the better for it. Mosley will slot next to Reed as WR No. 2 because of his sheer size (he is six-foot-two), his ability to high-point deep throws, his crisp route-running ability and his ability to keep the chains moving. Mosley finished last season with 216 receiving yards on 21 receptions. 12 of Mosley's receptions went for a first down or touchdown.  After missing the majority of last season, a healthy Jalen Nailor will provide the Spartans with a mix of positional versatility and exceptional quickness on the perimeter and in the flat. Nailor, who finished the 2018 season with 279 all-purpose yards, could also see time as the Spartans primary kickoff and punt returner.  Laress Nelson may very well end up being the starting slot receiver for the Spartans against Rutgers. His diminutive stature and game-breaking speed adds a badly-needed vertical threat element to the Spartan offense; however, Nelson will need to be more consistent than he was in 2019 if he wants to stay on the field.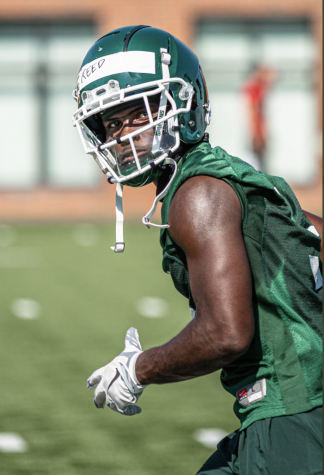 Offensive Line
PROJECTED STARTER(S): LT: Kevin Jarvis (RS-JR), LG: Luke Campbell (RS-SR), C: Matt Allen (RS-SR),  RG: Matt Carrick (RS-JR), RT: AJ Arcuri (RS-SR)
IN CONTENTION: Devontae Dobbs (RS-FR), J.D. Duplain (SO), Nick Samac (SO), Blake Bueter (RS-JR), Mustafa Khalleefah (RS-JR)
If there is one thing that the Spartans possess on the offensive line, its experience. With the exception of Khalleefah, everyone else listed above has started at least one game in their career. I admittedly had a more challenging time projecting this lineup than I did with any other position group simply because MSU has so many offensive linemen who were mediocre last season. Jarvis, Campbell, Allen and Carrick have all started at least 11 games in their careers and AJ Arcuri started five games after Jordan Reid and Tyler Higby got hurt. Reid, who opted out of the season, will most likely be replaced by some combination of Arcuri, Jarvis, Dobbs or Khaleefah. The main reason why I went with the more experienced options is the fact that the familiarity within this group will help them immensely in adjusting to the new offense. Especially with the topsy-turvy offseason, you want your most experienced guys out on the field. All five of the projected starters have been around long enough to understand how the college game works and how a Big Ten season is structured. The Spartans are deeper on the line than at any other position, and if (when) one of them gets hurt, players like four-star Devontae Dobbs or Blake Bueter can slide in and not miss a beat. Most of the players listed above have also seen action at multiple positions, which further contributes to the vast amount of depth that MSU has at this position.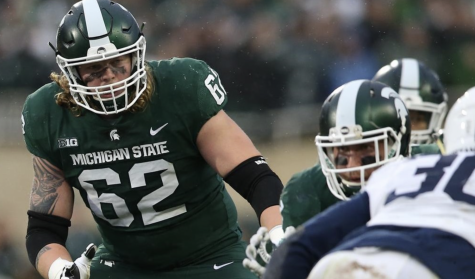 Tight End:
PROJECTED STARTER(S): Matt Dotson (SR), Trenton Gillison (RS-SO)
IN CONTENTION: Tyler Hunt (RS-JR)
Dotson and Gillison will anchor a tight end group that will need to replace the contributions of Matt Seybert. Dotson will most likely be the starting TE going into the season since he has started in seven games and appeared in 31 contests over the course of his career. Despite missing four games last season because of an achilles injury, Dotson managed to notch 16 receptions for 151 yards last season. Dotson isn't the most athletic guy on the field, but he possesses good hands and can run the entire route tree, which will be enough for him to be on the field the majority of the time. Gillison is an intriguing piece who had a sensational performance (4 catches, 88 yards) against Wake Forest in the Pinstripe Bowl. Gillison was a highly-rated four-star recruit for a reason, and his massive frame combined with his immense physicality at the point of attack will allow him to receive a fair amount of playing time as both a blocking and receiving tight end. Former punter and placeholder Tyler Hunt has been taking reps at tight end, although it remains to be seen if Hunt will receive any playing time at his new position. At best,  Hunt would serve as a capable blocking option for the offense in various rushing and passing situations. 
DEFENSIVE STARTERS
Defensive line:
PROJECTED STARTER(S):  DE: Jacob Panasiuk (SR), DT: Jacob Slade (RS-SO), DT: Naquan Jones (RS-SR), Drew DE: Beesley (RS-SR)
IN CONTENTION: Jack Camper (RS-JR), Maverick Hanson (RS-FR), Dashaun Mallory (RS-SO)
Defensive coordinator Scottie Hazelton and defensive line coach Ron Burton are tasked with replacing three starters (Kenny Willekes, Raequan Williams and Mike Panasiuk) from last year's defensive line. Very few  d-linemen on the current roster have a lot of game experience. After choosing to rescind his earlier decision to opt-out, veteran Jacub Panasiuk will return to occupy one of the defensive end positions. Panasiuk has more starting experience than the rest of the entire defensive line group put together (he has 24 starts in his career), so it's safe to say he will be starting. Panasiuk possesses a unique blend of quickness around the edge when rushing the passer as well as the ability to stay active with his hands and not lose contain when defending the rush. With the other three starters gone, Panasiuk is the only one left from the 2019 season. However, both Jacob Slade and Naquan Jones played in all 13 games last season at defensive tackle as they both rotated in behind Raequan Williams and Mike Panasiuk.  Throughout last season, Slade showed the ability to use a variety of moves (swim move, bull rush) to get in the backfield while Jones used his massive 340-pound frame to successfully clog up run lanes and occupy multiple offensive linemen at once. Like Slade and Jones, Drew Beesley also played in all 13 games last season and registered 14 tackles, including six tackles for loss. He will need to take the next step as a potent pass-rushing threat on the edge so that teams do not double-team Panasiuk in obvious passing downs.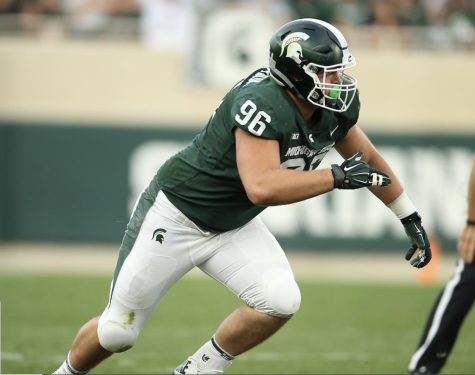 Linebackers:
PROJECTED STARTER(S):  Weakside LB/STAR: Antjuan Simmons (SR), MLB: Noah Harvey (RS-JR) Strongside LB: Chase Kline (RS-SO)
IN CONTENTION: Jeslord Boateng (RS-SO), Marcel Lewis (RS-FR)
With both Joe Bachie and Tyriq Thompson gone, the likely combination of Antjuan Simmons, Harvey and Kline/Boateng will be responsible for effectively running the Spartan defense. This group starts and ends with future NFL draft pick Antjuan Simmons. Simmons led the team in tackles last season with 90, which was good for sixth in the Big Ten. Simmons, a team captain, has an innate ability to work his way to the ball, regardless if it's a running or passing play. He also excels in zone coverage and has shown the ability time and time again to effectively jump routes and blow up running plays in the backfield. Accompanying Simmons will be redshirt junior Noah Harvey, who started five games last season after Joe Bachie was suspended.  Harvey played at every linebacker spot last season, including at the Mike, so either he or Simmons will be tasked with directing the entire defense this season. Harvey also managed to amass 49 tackles, five tackles for loss and three sacks last season. The final linebacker spot will come down to either Chase Kline or Jeslord Boateng. Both players played almost exclusively on special teams last season, so some growing pains are to be expected from both inexperienced linebackers.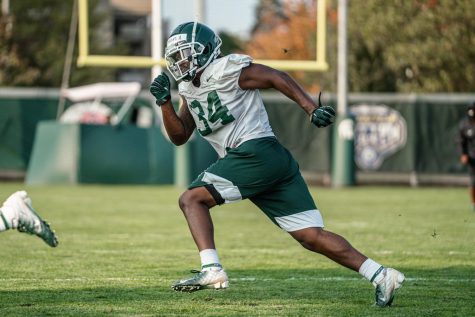 Secondary:
PROJECTED STARTER(S):  CB: Kalon Gervin (RS-SO), Shakur Brown (RS-JR), FS: Tre Person (SR) OR Michael Dowell (RS-SO), SS: Xavier Henderson
IN CONTENTION: CB: Angelo Grose (FR), Julian Barnett (SO) S: Dominique Long (SR), David Kruse (RS-SO), Tate Hallock (RS-FR)
Like Simmons and Panasiuk, Henderson's starting spot is all but assured. He will be the undisputed leader of a secondary that lost a lot of production with the graduation of Josh Butler and David Dowell as well as cornerback Josiah Scott declaring for the draft. As such, Henderson is the only returning starter in the secondary. As the projected starting strong safety, Henderson will be tasked with covering halfbacks and tight ends on passing plays, as well as playing close to the line and stopping the run. He will be joined in the secondary by either Tre Person or Michael Dowell. I give the slightest advantage to Person since he repped the free safety position a bit more than Dowell did last season. MSU has struggled in the past with letting receivers run open over the top, so the combination of either Person or Dowell will be responsible for preventing the long home-run pass.  
Kalon Gervin and Shakur Brown, both of whom received extensive playing time at corner last season, will be assigned with replacing Josiah Scott and Josh Butler, the Spartans' top two corners from a season ago.  Brown, who started in five games at corner last season and logged 359 total snaps on defense, struggled with consistency and blew his coverage assignments at times. Gervin, meanwhile, was rated as a four-star recruit in 2018, and he will finally get the opportunity to be an every-down corner. He started in one game last season and managed to register 158 snaps on defense. Gervin arguably possesses more speed and ball-hawking ability than anyone else in the secondary, but like Brown, he will need to clean up the silly mental errors.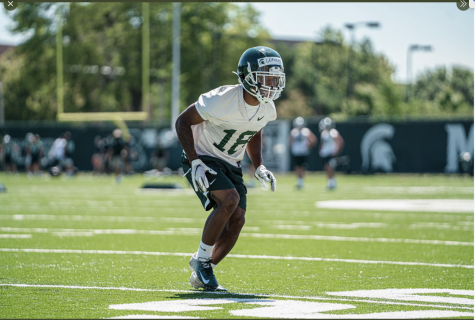 Special teams:
PROJECTED STARTER(S):  K: Matt Coghlin (RS-SR), P: Mitchell Crawford (GS), LS: Jude Pedozo (SO) KOS: Cole Hahn
IN CONTENTION: Bryce Baringer (RS-Jr), Tyler Hunt (RS-JR)
No one is taking Matt Coghlin's spot at kicker. Although he struggled at times last season, the three-year starter has done enough to warrant the starting assignment. Over the course of his career, he is a perfect 91-for-91 in PAT attempts, as well as 55-for-73 in career field goals. Last season, Coughlin went 22-for-32 on field-goal attempts, which was a step back from his spectacular sophomore season in which he went 18-for-22 in field goal attempts. 
The starting punting battle will come down to UTEP graduate transfer Mitchell Crawford and Bryce Baringer; Crawford spent the last two seasons as the starting punter for the Miners. He was named to the All-Conference USA honorable mention team in 2018 as a result of a solid sophomore season. Last year, Crawford punted the ball 61 times for 2,415 yards (39.6 avg.), and 13 of his punts were downed inside the 20-yard line.  He will be competing with Baringer, who played in four games after Jake Hartbarger and Tyler Hunt both had season-ending injuries. Hunt may also factor into this battle, but as he is also taking reps at tight end, so the chances of him starting the season at punter are slim. 
Jude Pedrozo performed admirably after Ryan Armour suffered a season-ending leg injury in the season opener against Tulsa. He will start at long snapper while Cole Hahn will serve as the Spartans' kickoff specialist for the third season in a row.