The Sci-Files – 3/23/2020 – Courtney Harrison – Lake Whitefish Infectious Diseases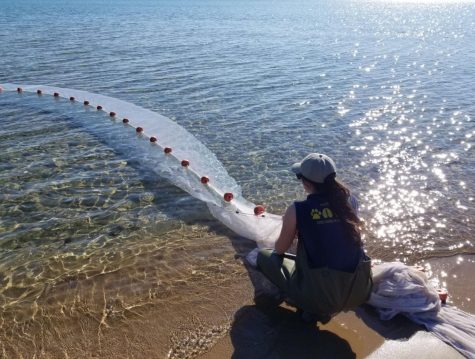 On this week's The Sci-Files, your hosts Chelsie and Danny interview Courtney Harrison.
Courtney is a second-year master's student in the Department of Fisheries and Wildlife at the Michigan State University Aquatic Animal Health Laboratory. Her research investigates the effects infectious diseases have on lake whitefish (Coregonus clupeaformis) and their subsequent recruitment to the Great Lakes. Recently, lake whitefish commercial yields have been declining, along with abundance and growth. Similarly, there have been declines in early life stages (i.e., eggs and fry), and juvenile recruitment of lake whitefish to the Great Lakes.
Few studies have assessed lake whitefish health, and these same studies discovered the presence of microbial pathogens in adult Great Lakes lake whitefish populations. Even more interesting is that the pathogens found are known to cause high mortality and can be shed in reproductive tissue or vertically transmitted from infected parent to offspring in other salmonids. Her research will determine disease status in both wild adult and juvenile lake whitefish aggregations within Lakes Superior, Michigan, and Huron. She will also assess the ability of viral hemorrhagic septicemia virus (VHSv) and three bacterial pathogens (Renibacterium salmoninarum, Carnobacterium sp., and Aeromonas salmonicida subsp. salmonicida), all which have been recovered from Great Lakes lake whitefish, to cause disease and/or mortality in juvenile lake whitefish in laboratory experimental challenges. Data generated from my study can be used in future recruitment models to address the uncertainty caused by disease-associated losses in current models.
If you're interested in talking about your MSU research on the radio or nominating a student, please email Chelsie and Danny at [email protected] You can ask questions for our future episodes here. Check The Sci-Files out on Twitter, Facebook, Instagram, and YouTube!