Sam Britten's 2018-19 women's basketball awards
Sam Britten, Women's Basketball Beat Reporter
April 6, 2019
After a roller coaster of a year, the women's basketball season has come to a close after a loss to the No. 1-seeded Notre Dame Fighting Irish in the second round of the NCAA tournament. The Spartans experienced the highest of highs and the lowest of lows this season.
From beating No. 3 Oregon, who is a Final Four team, to getting beat by Wisconsin, Nebraska and Ohio State twice, this team has been through it all.
After some time to reflect on the season and think about how each player performed, I've come up with awards for players based on statistics, team impact as well as a player's personality on the team.
Spartan spirit award: Claire Hendrickson
This player isn't the most well-known Spartan, but her energy is felt on the bench. The redshirt freshman hailing from Wyoming, Michigan has had an up and down past few years. Hendrickson tore her left ACL during her junior year in high school, which limited her over her remaining time at Wyoming.
After healing up and getting ready for college, Hendrickson tore her right ACL during the first official practice of her freshman year at Michigan State. Her future is bright, but she has been limited this season.
NCAA tournament: Notre Dame 91, MSU 63
Despite not playing much, her enthusiasm on the bench is something to watch. She is constantly cheering on her team, yelling out plays and overall just being the best teammate she can be.
Sixth man: Sidney Cooks
After Cooks started 22 of the 32 games she played in during the 2017-18 season, Victoria Gaines took over the starting power forward spot for Michigan State. After consistently outscoring Gaines coming off of the bench, Cooks took over in the starting lineup and stayed there for eight games.
Despite looking like the better player all around, Cooks didn't have the same edge as when she was a sixth man, so Merchant once again made the switch.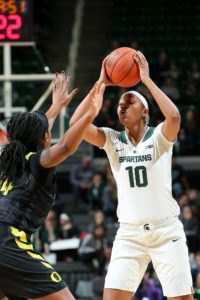 After the switch, Cooks again looked like the forward Michigan State depended on for quality minutes off of the bench. Cooks recorded her season highs in both points and rebounds coming off the bench. The statistics tell the truth plain and simple, Cooks, this year, has been a better sixth man than starting forward.
In the eight games she started in, she averaged 8.5 points and four rebounds per game. In the 22 games she didn't start, she averaged almost 10 points and just over 4.5 rebounds per game. Cooks averaged 21 minutes in games she started and 18.5 in games coming off the bench.
Because Michigan State runs an offense with two bigs and Jenna Allen is graduating, it's quite likely Cooks will be starting next year.
Rising star: Nia Clouden
This one isn't even close. Clouden blew any competition she had for this award out of the water. The freshman guard is primed to go down as a Spartan great. She was a starter from day one and ended her season averaging 12 points and nearly four assists per game while shooting 44% from the field.
Like most guards, she's great at driving to the post and drawing fouls. She was the season leader in free throws made and free throws attempted while shooting 75% from the line. Is she perfect? No, but she has a full offseason to grow and mature as both a player and a person.
Her personality is what makes her so unique. She's shy and timid, but it's quite the opposite when she's leading the offense. Constantly calling the plays and directing traffic on the court shows Clouden is a future leader. She knows her time is coming, as Taryn McCutcheon and Shay Colley are both entering their senior years. Someone will need to step up.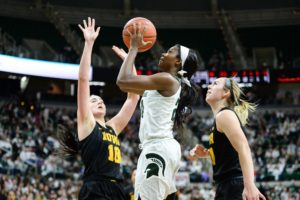 She isn't one to complain about a missed foul or a travel call. She rolls with the punches and keeps playing her game. Even when her coach gets in her face about a missed opportunity for the Spartans to score, Clouden stays levelheaded and plays her best game.
The next leader: Shay Colley
Colley is a good player with the potential to be great. She lit up defenders this year, but she struggled to finish at the rim. Knowing the type of player she is, she'll be ready for next year. Something she will possess next year will be seniority. As someone who knows how to run an offense and is already respected in the locker room, she won't have any issue stepping up to the plate and leading her team.
Taryn McCutcheon will be the other senior alongside Colley. McCutcheon will be a leader, but Colley has a higher ceiling as a player and will likely be looked to when they need someone to look to most.
MVP: Jenna Allen
Allen doesn't average the most points per game on her team, but her presence on the court is generally felt the most. She averaged 12.5 points and 6.5 rebounds per game while shooting nearly 50% from the floor. She was also one of the team's best free throw shooters at 80%.
Allen was tied for the most double-figure scoring games on the team with 23. She scored a season-high 27 points against Oregon and was one of the more consistent players on the team.
During the six games that Colley was injured for, Allen stepped up and had double-digit points in five of them. It's still debatable that Shay Colley coming back into the starting lineup made the Spartans less productive offensively. The offense revolved around Allen for those six games and then went back to revolving around Colley.
While Colley was injured, Michigan State won all of its games including knocking off No. 3 Oregon and No. 16 Iowa.
Allen's consistent numbers combined with the leadership she displayed on the court is enough to provide a convincing resume for MVP. It took a few years for her to get comfortable, but she stepped up when her team lost some of its best players.
It's hard to say what Allen's season could have been like had the offense continued to revolve around her, and it will be interesting to see what Merchant does next year to fill the hole now that Allen will be gone.