Stinson: The shortlist for Michigan State hockey's head coaching vacancy
EAST LANSING — The American Hockey Coaches Association held its annual convention last weekend in Naples, Florida. The convention was a who's who of NCAA coaches.
Monday, The Rink Live college hockey reporter Jess Myers, tweeted that he noticed a private plane flying someone directly from Naples to Lansing. 
As noted by my friend Dave Ellis, a private plane ferried someone from Naples to Lansing yesterday. One wonders if @MSU_Hockey is giving a VIP campus tour to someone who was at the American Hockey Coaches Association convention in Naples. pic.twitter.com/L216Xiwl8v

— Jess Myers (@JessRMyers) April 25, 2022
The person that Myers is referencing is Minnesota State head coach Mike Hastings. Hastings has been rumored to be a top target for the Spartans, so it would make sense for Michigan State to roll out the red carpet for him. 
It's worth noting that Danton Cole was also at the Naples conference. Reasonable people can assume that Cole was just heading back to East Lansing, where he likely still lives. 
But it's fun to play the speculation game and assume that Michigan State is using private jets to lure one of the best coaches in college hockey to East Lansing. 
However, the clock is ticking for the Spartans to make a decision. The team still doesn't have a full, competitive roster as it stands, and there's a laundry list of needs that the transfer portal will have to fix. Without a head coach though, Michigan State would be hard-pressed to find players willing to transfer in.
Furthermore, if the person on that flight was a hockey coach, there were plenty of other coaches at that conference, too. So who should replace Cole? Here's a shortlist of candidates that Michigan State should consider, starting with the aforementioned home run hire. 
Mike Hastings
I'll start with Hastings because his name is starting to pick up steam in rumors. It's a long shot, but he's rumored to be at the top of athletic director Alan Haller's list of targets.
There's no doubt that Hastings is a winner. He has spent the past 10 seasons as the head coach of Minnesota State. In that time, he's taken the Mavericks to seven NCAA tournaments and two Frozen Fours, most recently going to the national championship game in 2022. Before Hastings arrived, Minnesota State had just two 20-win seasons in its 16-year history at Division I. In the 10 years since Hastings took over, the Mavericks' .726 winning percentage is the best in the entire country.
The main question is this: why would Hastings leave a winning program he spent a decade at for one that's been equivalent to a dumpster fire in that same time?
Simply put, Money. 
First, it would take a hefty contract offer to get Hastings out of Mankato, Minnesota. Hastings is making about $350,000 per year at Minnesota State, which is much more than Danton Cole's base salary of $307,500. To nab Hastings, Haller will have to offer significantly more money than anything the Mavericks could offer. For one of the best coaches in college hockey, the Spartans would have to give him a contract rivaling – and probably surpassing – most of the Big Ten. For a better picture of what that looks like, here's what the rest of the conference makes:
In short, if the Spartans want a big-time coach, they're going to have to pay big-time money.

Note: Penn State and Notre Dame have not released the salaries of Guy Gadowsky and Jeff Jackson.
Michigan State also has more money and brand recognition than Minnesota State. With the renovations to Munn Ice Arena that should be complete before next season, the Spartans will have facilities that are both bigger and more recently updated than Minnesota State. With a more nationally recognizable name and newer, bigger facilities, it should be easier to market the program to recruits, leading to more high-profile recruits coming to East Lansing. 
Michigan State seems to be all in on Hastings as their number one pick but taking him away from Mankato is a tall order.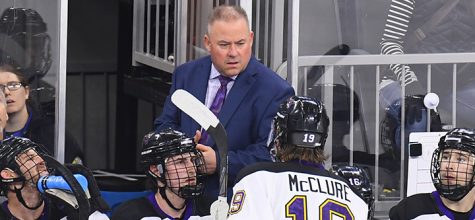 Adam Nightingale
Nightingale is likely the easiest of these coaches to land. Nightingale is a Michigan State alum, and he's currently the coach of the U.S. National Development Team Program, which has been the home of some of the country's top U-18 players, including NHL stars like Auston Matthews, 
The issue is Cole came from the exact same program. When Cole was brought in, part of the selling point was the ability to recruit players he coached at the NTDP, a gold mine of talent.
Does Michigan State want to risk going back to the same program that gave them Danton Cole? Do the people making the decision have faith in Nightingale to not repeat Cole's mistakes? 
Adam Krug
If you're a Spartan hockey fan, that name should look familiar. That's because Adam's brother is Torey Krug, former Michigan State captain and current St. Louis Blues standout. 
Krug is the head coach at Division III Adrian College and the Bulldogs' record under Krug certainly warrants Michigan State giving him a look. Last season, the Bulldogs went 31-1-0 en route to a DIII national championship.
However, Krug is an Adrian alumnus, and his brother is the only Michigan State connection he has, so it's hard to envision him leaving. Once again, the one luxury Michigan State has is its money. If Krug decides he wants to make the jump to Division I, then Michigan State would be the place to do it.
Todd Knott
Knott is an associate head coach on Hastings' staff at Minnesota State. Knott would be a guy to look for if the Hastings rumor falls through. His name has popped up in a lot of coaching rumors, and if Hastings somehow leaves, Knott would be the presumed successor. 
Knott's appeal is largely the same as Hastings': comes from a winning program, knows how to build a contender, etc. Knott's draw is that he's a fantastic recruiter and talent evaluator, two things that Michigan State has been lacking. Knott is only 43 years old so Michigan State could try and get in on a young head coach with plenty of upside. 
While Knott would likely be more willing to leave than Hastings, a lot of teams have coaching vacancies that will also pay top dollar for a guy like Knott. Both Boston College and Boston University, for example, are looking for new head coaches this offseason.
Eric Lang
Lang is currently the head coach of American International College, which he has built into a respectable program. The season before he arrived, AIC was an abysmal 7-29-3. His teams have improved from year to year, eventually producing four straight winning seasons. In those four seasons, Lang has won a regular-season championship and made an NCAA tournament appearance.
The issue with Lang is the competition he has in the Atlantic Hockey Conference. The AHC is arguably the worst conference in college hockey. No other team in the AHC received an at-large bid to last season's NCAA Tournament. 
With all that said, Lang has shown the ability to build programs from the ground up. That ability is rare, and that's effectively what he would be asked to do at Michigan State, which hasn't had a winning season since 2015.