Michigan State track and field gets set for Big Ten Indoor Championships
A select group of Michigan State track & field athletes will extend their indoor seasons as they head to the NCAA Indoor Championships in Birmingham, Alabama on Friday and Saturday. 
It was announced on March 1 that graduate student Morgan Beadlescomb and seniors Jenna Magness, Sophia Franklin and Trevor Stephenson all qualified for the championship meet. This announcement came three days after the conclusion of the Big Ten Championships. 
Beadlescomb is set to run in both the men's mile and 3000m after breaking the school record in both this season. He ran a 7:43.22 time at the Millrose Games in January, good for the seventh-best time in the nation. His mile time, a 3:52.03 at the Windy City Invitational in February, is the top collegiate time this year.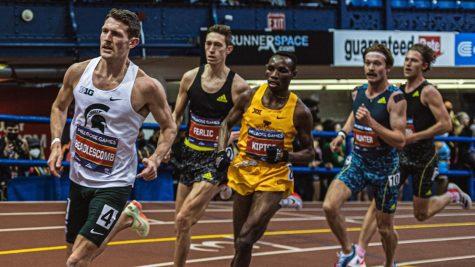 After taking third in the men's 5000m at last year's Indoor Championships, Beadlescomb will look to emulate that kind of success at this year's meet. He's coming off two third-place finishes in both the men's mile and 5000m at the Big Ten Championships two weeks ago.
Magness will be participating in the women's 5000m, an event she finished seventh in at last year's championship meet. She's coming off back-to-back Big Ten Championships in the event, and she ran a 16:09.73 to win the event by just over 12 seconds this year. 
Earlier in the season, Magness broke her own school record in the event by running a 15:36.60 time at the Music City Challenge.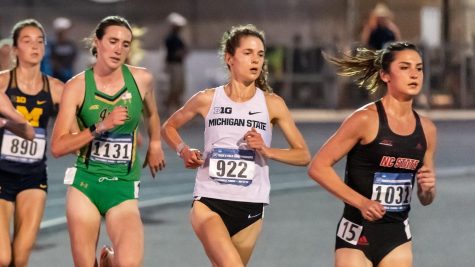 Franklin will take part in her first NCAA Indoor Championships after claiming her second career Big Ten Championship in women's indoor pole vault this season. She broke her own school record in the event twice this year, setting her top mark (4.38m) at the Meyo Invitational in February. 
Stephenson is set to participate in his first NCAA Indoor Championships as well. He has three first-place finishes in the men's pole vault this indoor season, and he set his PR with a 5.46m finish at the Windy City Invitational. 
Stephenson will kick off the meet for the Spartans as he'll participate in the men's pole vault at 3:00 p.m. on Friday. Beadlescomb's first race of the weekend will follow, with the men's mile semifinals set to begin at 4:00 p.m. Franklin will compete at 6:45 p.m., and Magness will conclude the first night by running in the women's 5000m finals at 8:05 p.m.
Saturday will include two races for Beadlescomb should he qualify for the men's mile finals, which are at 4:00 p.m. He'll finish the day by racing in the men's 3000m finals at 5:00 p.m.