MSU P Ryan Szczepaniak receives Freshman of the Week honors
EAST LANSING, Mich— After throwing five innings of one run ball against West Virginia on March 6, Michigan State pitcher Ryan Szczepaniak was named as the Big Ten Freshman of the Week on Wednesday afternoon.
Against the Mountaineers, Szczepaniak only allowed three hits while striking out four batters over five scoreless innings. He would later pick up the win as the Spartans collected the 9-3 win over West Virginia. It was Szczepaniak's second win of the year; he is the first freshman pitcher in the Big Ten to collect two wins and one of only 11 pitchers overall in the conference to reach that mark.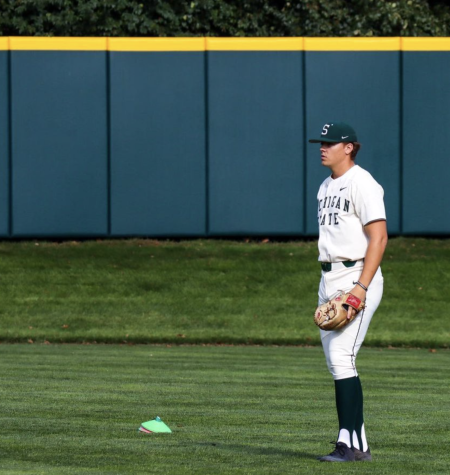 Through 12 1/3 innings pitched, Szczepaniak has a 2.92 ERA and is tied for the team lead with 14 strikeouts. He picked up the first win of his career after throwing five innings of two-run ball in the Spartans' 12-6 road win over UNLV on Feb. 19.
Szczepaniak is set to start against Kansas this Sunday, March 13. The Spartans already knocked off the Jayhawks 11-2 on March 4, and will be looking to improve on their 5-5 record when they take on Clemson on Wednesday evening. They will then get a day off before squaring off against Cincinnati on March 11 and Western Carolina on March 12 as part of the 2022 First Pitch Invitational tournament in Greenville, South Carolina.
MSU is coming off a successful series from March 4-6 that saw it knock off Kansas and West Virginia while only losing to No. 12 Notre Dame 2-1.