Patel: This weekend's "Spartan Odyssey" recruiting campaign could determine the future course of the 2023 class and beyond
Manit Patel, General Assignment Reporter
January 27, 2022
EAST LANSING, Mich – The 2022 class is nearly wrapped up.
Barring a last-second addition, Michigan State will head into the 2022 season with 23 new freshmen on scholarship, six of whom are four stars. For Mel Tucker, however, January and February is when the emphasis on recruiting every part of the country comes to fruition.
Proof of the recent program emphasis on recruiting coast-to-coast should be quite evident this weekend when Michigan State hosts over 20 prospective recruits for football and basketball for the Junior Day that is dubbed as "The Spartan Odyssey".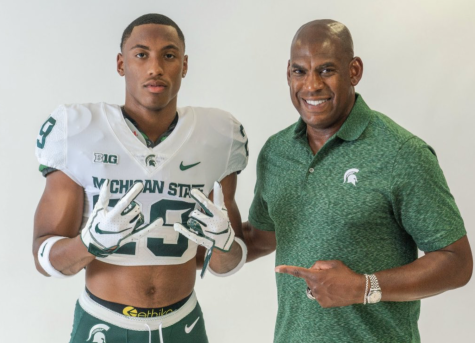 Tucker and his staff will get the chance to showcase the campus environment on Saturday while the men's basketball team is scheduled to face Michigan. MSU is set to welcome in 13 four-star recruits, and seven three-star recruits in football alone, while four-star men's basketball signee Jaxon Kohler and four-star Braelon Green are set to visit with Tom Izzo and the basketball team. 
Five-star  quarterback Dante Moore visited Michigan State Thursday, stopping by for his fifth unofficial visit on campus before traveling out west for recruiting visits. Moore is currently the No. 8 ranked player in the class of 2023 and the No. 1 ranked player from Michigan. MSU is considered a front-runner for the quarterback's commitment along with Notre Dame, Penn State, and Michigan. 
Other prospective football recruits visiting this weekend include 2023 four-star defensive backs Malik Hartford, Jayden Bonsu and Jyaire Hill, linebacker Jordan Hall and defensive ends Andrew Depaepe, Enow Etta and Caleb Herring. Also visiting East Lansing is 2024 four-star wide receiver Nick Marsh and 2024 defensive back Charles Lester.
Four-star tight end Brennen Parachek is set to visit campus; the in-state Dexter High School  product gave his commitment to Michigan State on Sept. 28. Three-star quarterback Bo Edmundson, offensive tackle Trevor Lauck, linebacker Jamal Anderson, running back Cole Cabana, offensive tackle Johnathan Slack. Cabana, a teammate of Parachek, will be one of two running backs visiting campus, along with Colorado transfer running back Jarek Broussard. 
Michigan State has already held one junior day this year over the weekend of Jan. 13 when "Dawg Day" hosted eight recruits, including 2023 four-star Texas running back Kedrick Reescano, who committed to MSU on Jan. 14.
Since the inaugural "Dawg Day", Michigan State has offered over 25 players in upcoming recruiting cycles to go along with adding defensive ends coach Brandon Jordan. His resume includes working with over 195 active NFL defensive linemen and over 25 top offensive and defensive line recruits in the 2023 and 2024 recruiting classes.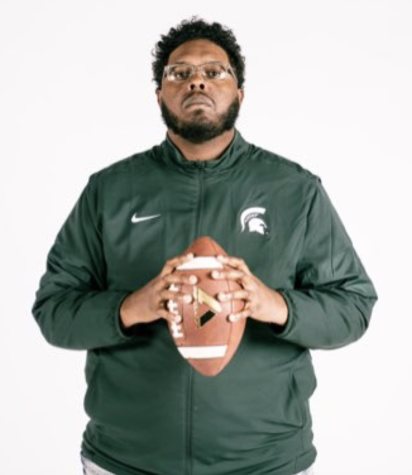 While "Dawg Day" yielded a promising turnout of prospective recruits, "The Spartan Odyssey" has the distinct potential to become a marquee recruiting event for years to come. With the increased number of recruits, transfers and early enrollees on campus, combined with the Michigan vs. Michigan State basketball game, it's entirely possible that the Spartans could walk away with several more four-star recruits  for the class of 2023. 
Of MSU's Top 100 recruits since 2000, 15 have become Spartans during Mel Tucker's time on campus. Former head coach Mark Dantonio's departure hindered the new coaching staffs' ability to recruit in the 2020 and 2021 classes due to a coaching staff turnover. This led to the classes being ranked nationally at No. 44 and No. 46, respectively. 
Tucker's first full recruiting cycle has yielded encouraging signs for the future; the 2022 recruiting class is currently ranked No. 19 in the nation and fourth amongst teams in the Big Ten, coming in behind annual recruiting powerhouses Ohio State (No. 4), Penn State (No. 6), and Michigan (No. 8). 
The average recruit within the class holds a rating of 87.28 for the class of 2022 by 247Sports. For comparison, Mark Dantonio's last three recruiting classes (2017, 2018, 2019) finished with an average of 33rd in the nation and sixth in the Big Ten. For good measure, the average recruit had a rating of 86.4. 
While the momentum on the recruiting trail needs to be maintained for Tucker going forward, the fact that he managed to land six four-stars in the 2022 class, four of whom are from Michigan, raise the stakes of this weekend's "Spartans Odyssey" that much more. Simply put, sending out offers to a bunch of four and five stars doesn't move the goalposts significantly; landing several of them in a class does.