Spartans looking for third win in a row as they travel to Penn State
Marin Klein, Women's Basketball Beat Reporter
January 27, 2022
EAST LANSING —This week, Michigan State women's basketball looks to continue its Big Ten winning streak as the Spartans travel to face Penn State on Thursday, Jan. 27. The Spartans are coming off a big comeback win against Minnesota on Sunday and now hold a 4-3 conference record.
This matchup is the first of MSU's two-game road trip. The Spartans' game against Penn State is followed by another away game at Rutgers on Sunday.
MSU has played its last two games with a strong defense recording a total of 54 defensive rebounds, 17 steals and nine blocks. However, the Spartans have been struggling to shoot the ball well and have had low field goal percentages 42.1% and 39% in their last two games.
Senior guard Nia Clouden and freshman forward Matilda Ekh have been the top scorers for the Spartans this year. The team has been plagued by injuries, with three of its key scorers out for the season in forwards Tory Ozment and Julia Ayrault as well as guard Moira Joiner. Coach Suzy Merchant has had to get creative with her lineups and game plans. Ekh's three-point shots and Clouden's dynamic scoring have been keeping MSU ahead of its opponents of late.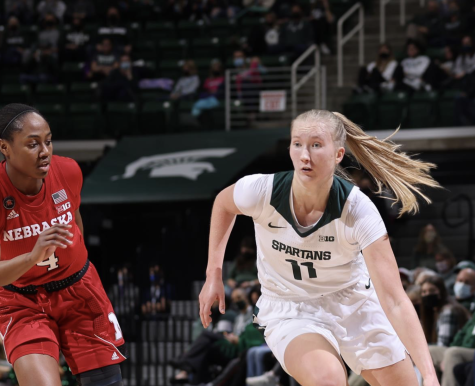 In Sunday's matchup against the Golden Gophers, Ekh reached 40 made three-point shots this year and passed teammate Moira Joinerfor the fifth-most made three-pointers by a freshman. Ekh also is 48 points away from cracking the MSU freshman single scoring top 15 list. Ekh is currently shooting 43.5% from beyond the arc.
Nia Clouden holds the second-most single-game points record in the NCAA with a 50-point performance against Florida Gulf Coast earlier this year. Clouden currently has 1,668 career points, tying her for No. 5 in MSU's history for career points. On the season, she is shooting 44.8% from the floor, 40.2% from three-point range and 89.1% from the free throw line. Clouden sits third in the Big Ten in scoring this season just behind Penn State's junior guard, Makenna Marisa.
The Nittany Lions, who are currently ninth in the Big Ten standings, are coming into this game after falling to No. 23 Iowa on Tuesday. However, this game brought a milestone for PSU's Marisa, who passed 1,000 career points in her 32-point outing. This marked her third 30-point game this season.
Along with Marisa, junior guard Shay Hagans and freshman guard Leilani Kapinus will be players for the Spartans to look out for. Hagans ranks fourth in the Big Ten in two steals per game with and a season total of 36. Kapinus is also tied for fourth in the Big Ten in total 22 blocks and is averaging 8.6 points per game.
This game is looking to be a low-scoring one, due to both teams' strong defenses and struggles on offense. MSU averages 15.7 turnovers per game and PSU averages 16.3 turnovers per game. Both teams have low averages in field goals as well.
In the series history, Penn State leads 30-22 and is 17-8 in University Park. The last time these teams met, MSU came out on top 75-66 in East Lansing. The last time MSU beat the Nittany Lions on the road was a (score) win in (year).
The Spartans and Nittany Lions are scheduled for a 7 p.m. tip from the Bryce Jordan Center.