MSU cracks top 10 of latest AP poll
Manit Patel, General Assignment Reporter
December 27, 2021
EAST LANSING, Mich—After a 372-day hiatus, the Michigan State men's basketball team has returned to the top 10 of the AP Poll. The Spartans were named as the No. 10 ranked team in the country when the poll was released Monday afternoon. 
The Spartans are one of eight teams that garnered poll consideration within the Big Ten. They are the second-highest ranked team within the conference, trailing only No. 3 Purdue. The Spartans came in ranked above No. 13 Ohio State, and No. 24 Wisconsin. Illinois, Michigan, Iowa, and Minnesota all received at least one vote, with Illinois and Michigan leading with 72 and seven.
The Spartans moved to 10-2 last week after a 90-78 neutral court win over the Oakland Golden Grizzlies. With freshman Max Christie and senior Marcus Bingham leading the way with 17 points apiece, the Spartans had five double-digit scorers, and recorded assists on 27 of their 37 field goal makes.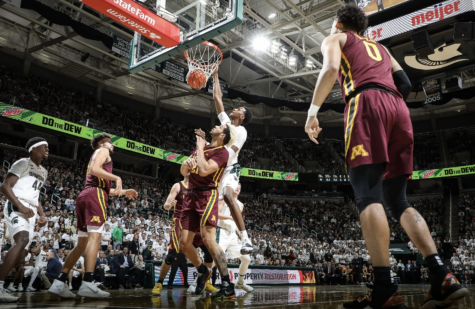 Bingham and guard Tyson Walker both had double-doubles against Oakland; Bingham had 17 points and 12 rebounds while Walker chipped in with 10 points and 10 assists. Gabe Brown and Malik Hall had solid games as well, combining for 27 points and six boards.
The Spartans are currently ranked No. 11 in the NCAA net ratings, largely on the strength of three quadrant one wins (Loyola Chicago, UConn, Minnesota)  and one quadrant two win (Oakland). MSU's two losses (to No. 1 Baylor and No. 6 Kansas) also fall firmly within the quadrant one category. 
MSU is tied with Gonzaga, Purdue and Duke for the most quadrant one wins (3) within the top 15 of the NET rankings. The Spartans and Gonzaga have also played the second-most quadrant one games (5) within the top 15 teams, only behind Villanova at six.
After playing two games over the past 20 days, head coach Tom Izzo and the Spartans are set to wrap up their non-conference schedule when they face off against former Power Five head coach Tubby Smith and the High Point Panthers on Wednesday, Dec. 29th. The Spartans will then travel to Northwestern to open up the remainder of Big Ten regular season play on Jan. 2 before hosting Nebraska on Jan. 5.