Three takeaways from MSU volleyball's loss to Maryland
Marin Klein, General Assignment Reporter
October 17, 2021
EAST LANSING ─ Michigan State volleyball fell short, losing 3-1 against Maryland on Saturday evening, despite the Spartans putting up a good fight.
Here are the three biggest takeaways from the match at Jenison Field House.
Spartans' serve errors may have cost them the match
Michigan State didn't lose this match to a lack of effort. The Spartans had 58 kills compared to Maryland's 45. The Spartans were playing strong and proved themselves to be a stronger team. One of the main reasons for Maryland's victory were the mistakes made on the serves from the Spartans. Michigan State gave away 14 points due to service errors throughout the four sets in comparison to Maryland's four. 
The Spartans need to clean up their serves and keep the ball inbounds or losses may keep coming. The match results may have turned out differently if the Spartans had not given Maryland so many points.
Sarah Franklin continues to dominate the court
The sophomore outside hitter is continuing to be the star on the court, as she has been most of the season. Franklin had a total of 20 kills in Saturday's match, putting her far ahead of her teammates and opponents alike in kill count, while also having 13 digs, making her an offensive and defensive weapon.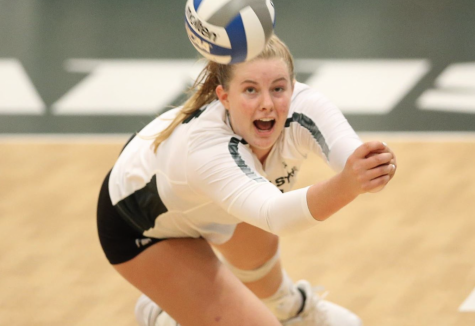 Franklin exceeds her teammates by far with a total of 245.5 points for the season thus far. She has proven herself a very valuable player on this team after her freshman season ended early due to an injury. It will be exciting to watch Franklin continue to own the court for the rest of this season and future seasons. 
The Spartans need to get past their struggles with blocking
The Spartans were showing a strong offense, but they seemed to struggle to make blocks Saturday evening. Maryland succeeded multiple times to get through Michigan State for more points and their overall victory. The Spartans need to be active and ready to make those blocks happen. Fixing these small mistakes could lead Michigan State to more victories. 
The Spartans are currently 1-7 in the conference, only coming up with a victory against Iowa. In all these matches, Michigan State has struggled to make blocks happen. Fixing up these errors could help the Spartans bounce back in the conference. The team itself is capable enough of these victories, but it is letting little mistakes get in its way.
Michigan State will still be looking for its second conference victory when it faces Purdue on the road Wednesday.