From crowded basements to the festival stage | Dogleg at the 2021 Pitchfork Music Festival
Almost two years ago, a central group in Michigan's DIY music scene made waves within the community when their single "Fox" earned a "best new track" review from Pitchfork.
Last Friday, after a quiet year without in-person performances, Dogleg made their Pitchfork Music Festival debut, opening their set with the song that helped bring the four-piece punk outfit out of Michigan and into the mainstream. 
While Pitchfork Music Festival served as a first introduction for some attendees, others followed the band from Michigan to witness their performance on the festival's red stage.
Annemarie Carlson came to the festival from Detroit. Since her first time seeing Dogleg live in 2016, Carlson has seen the band perform at DIY venues throughout Michigan, including Ann Arbor's Metal Frat. 
"They're just like, really respectful good guys… They always try to put as much into the scene as the scene gives them," she said.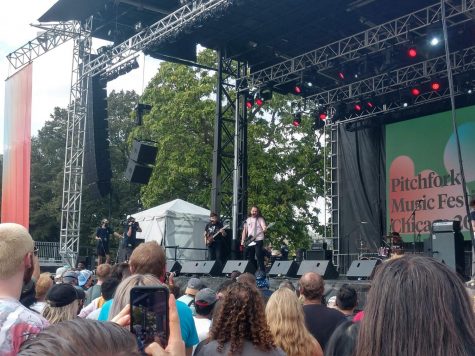 For others the festival was their first experience with the band live, as the festival lineup pointing potential new listeners toward Dogleg's musical catalog.
Payton Dahlin, a 21-year-old actor and musician from the Chicago suburbs said he purchased his festival ticket to see Animal Collective later in the day. While listening to music from the other artists scheduled to perform on Friday, Dahlin said Dogleg stood out in a big way.
"It reminded me of a lot of music that I've enjoyed since high school," he said.
"There's just something really raw about the music. You could see everybody was moshing… they really knew how to get the crowd going," Dahlin said.
After Dogleg's performance at the festival, Entertainment Editor Kyle Davidson and Media Librarian Matt Cruz sat down with the band to discuss the return of live music and the role performing plays in their creative process. The interview has been edited for length and clarity.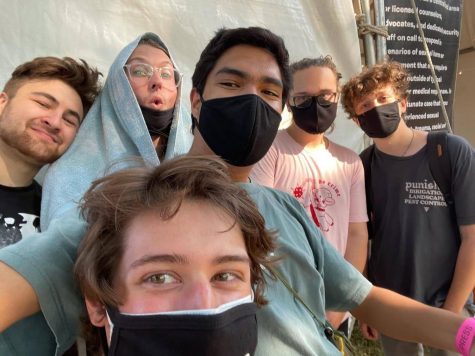 Impact 89 FM: Pitchfork Fest is a huge deal and quite a bit different from the DIY venues we've seen around Michigan. What are your thoughts on performing at the festival?
Jacob Hanlon, drums: I honestly underestimated this festival. I did not think it was as big as it actually is.
Chase Macinski, bass: I've been making jokes about "ah you know Bled Fest is pretty big." This is pretty huge. It was really cool to see so many people familiar with our music.
Hanlon: Some guys came up to me while I was in the beer line and they were like, "Yo, we came from Savannah, Georgia to see you guys."
Impact: You guys are known for being very energetic performers. How does that translate to a large, outdoor setting like this? 
Alex Stoitsiadis, vocals & rhythm guitar: I have more space to do shit.
Hanlon: Yeah, it's easy! It's easy to keep the energy up when there's that many people.
Macinski: It is crazy how stages at this size, it feels like I have too much space. I'm like, how do I use all of it? You find a way, you just kind of flail around, you know.
Parker Grissom, lead guitar: For sure it's the first time we've played on a stage that big. At some point I was just like, oh shit, I have to go to other spots. I'm so used to making room out of the tiny couple feet I've got. 
Impact: I know you've got a tour coming up with Retirement Party and then you've got another tour coming up after that. How does it feel to be back on the road again after not being able to perform?
Stoitsiadis: We're so excited to play, it's been so fucking long.
Macinski: It's been a long time, we're very excited. It's starting to scale up where we're playing great bars instead of dive places and basements. It's like established venues and now it's like 150 kids a night, which is very surreal especially after such a long gap. 
Stoitsiadis: That's the craziest thing. This show specifically, seeing how many people are singing back the lyrics and dancing and everything. It's been a year and half, so I didn't expect that many people to be like, "Holy shit, yeah, go Dogleg!" It's really inspiring and really humbling.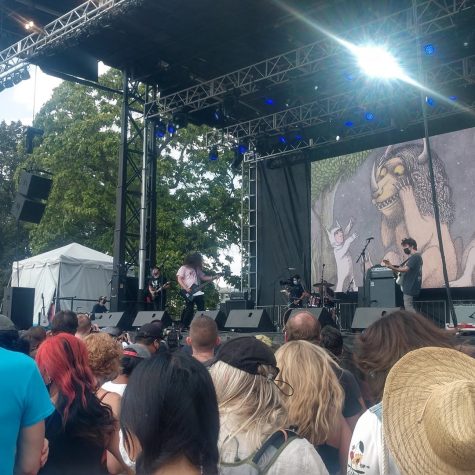 Impact: How do you think that year and a half has changed your outlook both as touring musicians and on your writing process?
Stoitsiadis: It's been really hard to write stuff because if you can't play what you've written already and put out, it's like hitting a huge wall.
Hanlon: You've gotta use those local shows when you write new songs. They're like the test runs. That is really important for making a good record.
Stoitsiadis: You've gotta be able to play those brand new songs to the people. If we can't do that, we're kind of just sitting around saying these are good ideas, but we can't flesh them out if we can't play them and see how people react.
Impact: I've always thought the way you interact with your fans is really special. Everybody would come up to you to play Super Smash Brothers at Bled Fest, which is really unique and bonds everyone in the band with the fans. How are you going to maintain that now that you're at the forefront of DIY?
Macinski: It's hard to do at shows like this because you're playing on a giant stage and you can't bring a Smash set up. We're not in control of our merch, they just said "Give us your merch, we'll take it from here." But I think as the shows get bigger, we're still going to be playing bars. I'll still be at the merch table with a Smash set up, I'm not just going to be in the green room. Until we're playing stadiums, I think I can still maintain it.
Stoitsiadis: I remember how I went to see A Great Big Pile of Leaves because I DM'd them one time, and I was like, "Do you guys have any tickets, this thing is sold out," and they were so nice. They shook my hand and recognized me from online, and I was like that's the kind of band that I want to be. I want to make sure that everybody feels special when they come to see us because it really means a lot for people to come support us.
Impact: For many people Pitchfork is the way they found out about Dogleg, especially when "Fox" was labeled "best new track." How does it feel to come full circle and play at Pitchfork Music Festival?
Stoitsiadis: I think it is the result of a lot of hard work and a little bit of luck for sure. Ian Cohen has had his eye on us since the second EP re-release. He knew about it, and when we hooked him up with our music as an early release, he was really into it. When we saw the score we couldn't believe it. The best part is that it wasn't just him pushing us. It was him and the rest of the writing crew and everybody else. It wasn't just like one dude shouting into the void, it was kind of a collective of, hey, all these critics think that we're good. That's saying something.
Impact: Melee was released right at the start of the pandemic. With your tour being canceled, do you think it's been a good thing that the album has had time to simmer within the DIY community?
Stoitsiadis: It would have been amazing to do stuff. It wasn't a good thing, but it wasn't a bad thing. We had so much momentum going up to it, and then completely hit a wall when we released it because "Oh, you can't do anything."
Hanlon: But playing stuff like this after such a long break is really how you kick people's doors down. 
Stoitsiadis: Like it's just a little bit of a delay period rather than, oh, everything's fucked and you've got to start from scratch. It's not starting from scratch, it's just pushing it off a little bit.
Grissom: It means that much more when people still come to the shows.