Defensive errors prove costly as MSU falls 3-0 to Bowling Green at home
EAST LANSING— In their first meeting since 2018, the Michigan State Spartans were stunned at home as the Bowling Green State University Falcons left DeMartin Stadium with a wire-to-wire 3-0 victory on Monday afternoon. It was the Falcons' first victory over the Spartans since 2000 after having lost 16 of the 17 previous meetings.
"To Bowling Green's credit, they came in here with a chance to beat a Big Ten team and they played like that," head coach Damon Rensing said. "That was their mindset and we came in and played like we were just going to win the game and when you do that, that's what happens."
With the loss, MSU dropped to 2-2 on the season while Bowling Green improved to 3-0-1.
Not a lot went right on the day for Rensing's squad as the early warning signs came early and often. The Falcons were keen to work the right side of the pitch and continued to put the Spartans' fullbacks under pressure.
In the 22nd minute, the Falcons were rewarded for their persistent efforts with two close-range opportunities, but senior goalkeeper Hunter Morse came up with two great stops to keep the game level.
After the double save, Rensing brought in defender Dante Morrissette to stop the defensive deficiency that was being exploited along the Spartans' left side. Bowling Green continued to deploy a high-press throughout the game, forcing the MSU defenders into hard, and mostly wrong, decisions.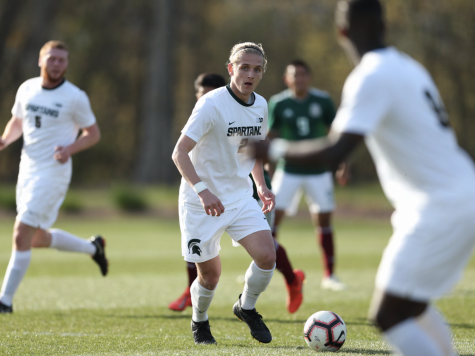 "We did all the preparation right. I think we just rolled in here a little unprepared mentally," senior captain Jack Beck said. "It takes 11 of us and when one, two, three, four,.., seven or eight, nine, ten guys don't do their job, we get results like this."
In the 35th minute, the first of many mental hiccups culminated in the game's first goal when Beck gave away a free kick just outside the 18-yard box. The Falcons played it quickly and sophomore midfielder Kyle Cusimano's cross found the head of defender Jacob Erlandson who put it off the far post and into the back of the net, giving BGSU a 1-0 lead that they would hold into the halftime break.
"I didn't like being down 1-0. You've got to find ways to get in 0-0 at halftime when you're not playing great," Rensing said. "I thought we came out decent in the second half but didn't defend for a couple of moments. Until we shift that mentality, I think we will be in trouble."
The Spartans were not only outplayed on the field, but it was quite striking to see and hear which team was more energized and animated. For the vast majority of the game, players on the Bowling Green sideline howled at every free kick earned and every header won by their teammates on the field.
"I just feel like no one was up for it today, as a whole," defender Luke Morrell said. "The energy wasn't there from the start. Bowling Green came at us and just kind of put the pressure on us right away. I think we just weren't ready for that excitement from their bench and all their players on the field, we just weren't ready for it today."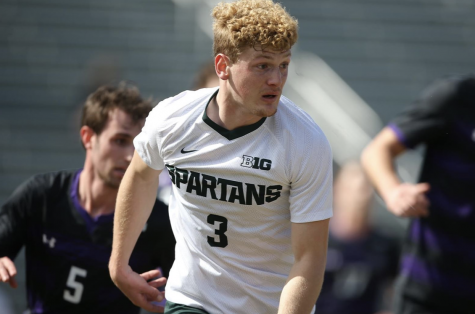 The defending miscues continued for the Spartans when in the 61st minute, Falcon midfielder Nathan Masters challenged Morrell for a header. Masters won the challenge and the ball found its way to Cusimano who danced around Hunter Morse and slotted the ball into the empty net, doubling the Falcons' lead.
"Their two forwards up top were just kind of flying at us, and I don't think we were ready for that, which isn't an excuse at all," Morrell said. "I just think we have to get our mentality right and come back the next game and be ready for whatever comes at us."
Even after going down to 10 men in the 68th minute via a penalty, Bowling Green continued to pester the Spartans' backline. Throughout most of the game, the Spartan defense resembled something closely resembling an accordion: sometimes stretched, compact, then stretched again. This trend was on full display in BGSU's third goal.
The Spartans, having switched to a 4-3-3 defense, allowed Bowling Green's Cusimano to work the left side of the pitch before turning in, forcing the Spartan defense to contract, and played a cross to a wide-open Roberto Fernandez Garrido, who ran on to the cross and half-volleyed it into the back of the net.
The lackluster overall performance was a complete turnaround from the Spartans' 3-1 victory over Oakland University on Friday. In total, Michigan State allowed five shots on goal, compared to three against the Golden Grizzlies. It was also the first time the Spartans had given up three goals in a game since a 3-0 loss to Penn State in October 2019.
"To me, there is only one statistic that really matters at the end of the game and that's the score," Rensing said. "I think that's even worse that we gave up three goals on only eight shots. To me, it's all about our defending. We've given up a goal in each game, so until we rectify that as a group, then we're going to have these up and down kind of games."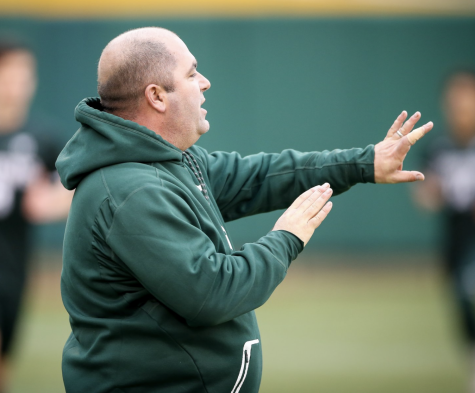 Through four games in the 2021 season, MSU has scored six goals and allowed seven.
"We've got to defend. We go to the Final Four in 2018, we are not giving up three goals to a MAC team," Rensing said. "I go back to the 2008 team, I think we went 10 games without giving up a goal. I'm not saying we have to have that, but we have to have a mindset, and until we do that, we will be kind of fighting the 2-2 kind of fight."
The Spartans will be back in action on Friday, Sept. 10, when they begin a season-long three-game road trip against Tulsa. They are also set to take on Notre Dame on Sept. 14 and Wisconsin on Sept. 17 before returning home on Sept. 21 vs. Duquesne.