Mel Tucker discusses significance of competition at Big Ten Media Days
INDIANAPOLIS — Mel Tucker had two themes when speaking to the media at the 2021 Big Ten Media Days: leadership and competition. He spoke of it in his opening statements, mentioning that he hoped to rebound from a "rough season" through "marginal gains" and getting better a little bit every day in every way.
It also can be found in all three Spartan players that came to Indianapolis with him.
Wide Receiver Jalen Nailor has established himself as a leader on the offense but has had to battle injuries in his first two seasons to get to this point.
Safety Xavier Henderson has been mentioned by Spartan coaches as a leader going back to his freshman season.
His teammate on the defensive side of the ball, defensive end Drew Beesley, came to Michigan State as a walk-on and is now returning for his sixth season with the team.
This Michigan State team is much different than the team that took the field in October 2020. The Spartans have added 34 players that were not on the 2020 roster between the transfer portal and their 2021 recruiting class. The younger players will have to learn quickly, but Tucker's mantra of "compete to play, compete to stay" has taken hold on the team and created a high-intensity environment around the program.
"I can't wait for fall camp," Nailor said. "It's going to be real fun and competitive for sure … It's going to be a fun year for us for sure."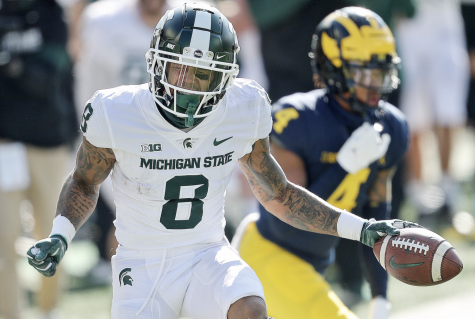 Among the older players, there has been an emphasis on becoming leaders on the team with so many new players joining the squad.
"It doesn't take much," Henderson said. "Like I tell guys all the time, if you see a new dude who's here and don't really know their way around just say 'What's up?', give him your name, ask him where he's from, ask him his name. It's not hard.​​ The best teams I've played with are the teams that have the best chemistry and love each other the most."
Tucker was also very clear about the importance of competition for everyone on the roster.
"If you don't like competition, if you don't embrace competition, whether you're a leader or not, you can't be on our roster because it's going to be a competitive roster … How can you get better if you are not willing to compete?
To me, if you're worried about someone else's talent and you don't want to help lead because you're scared that they're going to take your job, then maybe Michigan State is not the right place for you."