MSU prepares to head back on the road to Ohio State for weekend series
With less than a month to go in the Big Ten regular season, the Michigan State Spartans (13-22) travel on the road to take on the Ohio State Buckeyes (18-14) in a three-game series. This will be the first time the two schools face off on the season. 
Michigan State has struggled to keep momentum recently, losing six of its last seven ball games, sitting 11th in the Big Ten Standings. On the other side, Ohio State hasn't played a team not named Purdue in 18 days, because its series against Minnesota was postponed last weekend due to COVID concerns for Minnesota. Ohio State currently sits sixth in the Big Ten standings. 
The leading producer for the Spartans' offense this year has been sophomore Zaid Walker, who leads the team in runs scored with 21 and runs batted in with 23. Additionally, freshman Trent Farquhar has recorded nine hits over the Spartans' last six games to give the offense a boost.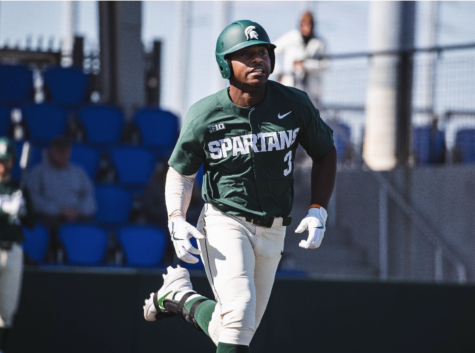 The Buckeyes have three players with over 20 runs batted in this year, led by redshirt senior infielder Conner Pohl with 29 runs batted in, aided by his 10 home-runs as well. 
Not all of the Buckeyes firepower comes on offense, as the pitching staff ranks second in the Big Ten in strikeouts with 344 (Indiana is first with 360). They have typically leaned on Garrett Burhenn to be their Friday starter, who has racked up a team high of five wins and 59 and a third innings.
Left-hander Seth Lonsway has been a strikeout machine for the Buckeyes, recording 80 punchouts in just 53 and one third innings pitched. Lonsway has shown that he can be tough to hit, recording 17 strikeouts against Indiana earlier in the year as well as a strong eight inning performance against Purdue two weeks ago. 
Anchored by redshirt Junior Mason Erla with 60 two thirds innings, the Spartans pitching staff has racked up the second most innings of any team in the Big Ten, behind only Rutgers.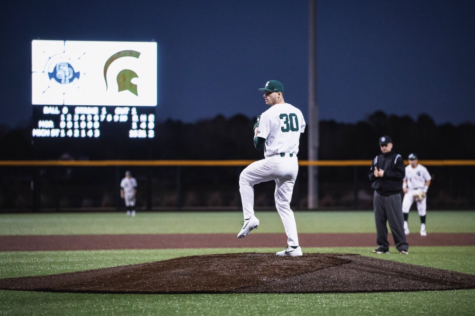 Perhaps no one on Michigan State has swing and miss stuff like Sam Benschoter, who has struck out more than 10 batters on three separate occasions this season, including a record 17-strikeout performance a few weeks ago. 
With seven guys recording over 20 innings pitched on the season, Michigan State calls upon relievers such as Burrell Jones, Wyatt Rush and William Christopherson to provide the team with a chance to win in relief. 
That trio delivered strongly in their last series against Michigan. The three of them combined for nine innings pitched while striking out 11 and only surrendering one run. Going forward, this could be a big turning point for this pitching staff. 
Friday's first pitch in Columbus is scheduled for 6:05 p.m., followed by a Saturday start time of 3:05 p.m. and will be concluded by a 1:05 p.m. first pitch on Sunday. Ohio State will look to remain above .500 in the conference, as Michigan State hopes to keep the pace it's on to improve its conference record from 2019.