MSU drops series to rival Michigan, salvages final game in 10-2 route
EAST LANSING— For the second time in its last three series, the Michigan State Spartans (12-23) hosted one of the top teams in the Big Ten. Over the weekend, the Spartans dropped their first two games against the Michigan Wolverines (22-10) before turning the tides with a convincing win on Sunday. 
To start the series against the Wolverines, the Spartans turned to their ace pitcher, redshirt junior Mason Erla. After surrendering three runs in five innings of work, Michigan State then turned to redshirt freshman William Christopherson, who dazzled in his three innings of relief, racking up six strikeouts. 
However, the story of the series opener was Michigan pitcher Steve Hajjar who gained his third win of the season after limiting the Michigan State offense to one hit with 13 strikeouts. 
This trend would continue for the Spartans in the second game of the series, as sophomore Cameron Weston threw a complete game for the Wolverines on Saturday, surrendering only one run on one hit with nine strikeouts in a complete game effort. 
Michigan State sophomores Burrell Jones and Wyatt Rush worked seven innings, yielding just one run after starter Jackson Bennett gave up two runs in two innings of work. Designated hitter Casey Mayes delivered the only RBI of the day for Michigan State with a sacrifice fly to score freshman Jack Frank.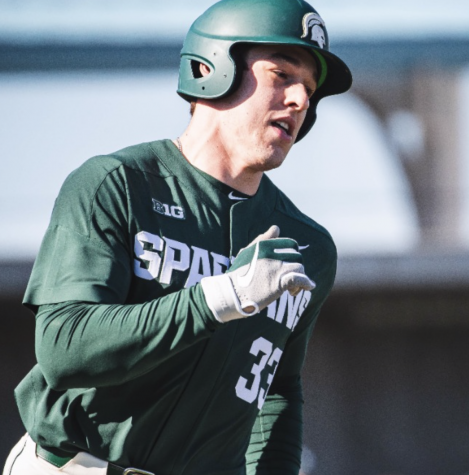 The finale of the series saw the Spartans' bats finally come alive. Four players had multiple hits, with second baseman Trent Farquar scoring three runs en route to a 10-2 blowout victory. 
Just a few weeks after his record-setting 17 strikeout performance against Nebraska, senior and team captain Sam Benschoter took the ball for Michigan State and delivered a much-needed standout performance on the mound. On Sunday, Benschoter's final line of work was seven innings of two-run ball while striking out seven batters. Christophersen closed the door on the Wolverines, working the final two innings in a non save situation. 
The win against the Wolverines marks the second of the season after previously enduring a dreadful 10-game losing streak in the series that stretched from May 2017 – March 2021, the longest streak in series history. The next two series for the Spartans will be on the road as they travel to Columbus, Ohio, to take on the Ohio State Buckeyes (17-14) followed by a trip to Piscataway, New Jersey to battle the Rutgers Scarlet Knights (17-16).