Previewing MSU baseball's weekend series against Nebraska
EAST LANSING, — The leader of the Big Ten standings will be visiting McLane Stadium in East Lansing this weekend, when the Michigan State Spartans (11-15) square off against the Nebraska Cornhuskers (18-6) for a three-game series. The series will mark the first time the two teams have faced off since March of 2019. 
Both teams have been on opposite ends of a streak, with Nebraska winning four games in a row while Michigan State has lost five straight. For the season, Nebraska has staved off Michigan for first place in the Big Ten, while Michigan State finds itself ninth in the standings.
A big catalyst for the Cornhuskers' success has been their team offense. As a team, the Huskers have a .399 on-base percentage, which is ranked as the No. 23 highest rate in the NCAA. That sets up well for junior infielders Cam Chick, who leads the team with 27 RBIs, and Spencer Schwellenbach, who has tallied 21 RBIs this season.
Schwellenbach is a Saginaw, Michigan native and has been named a captain of the Nebraska baseball team for the 2021 season following his academic All-Big Ten award during 2020. Schwellenbach additionally succeeds on the mound, as he has yet to surrender a run in 10 innings pitched this season. 
Spartans ace Mason Erla will look to ease the Nebraska offense, which is doable as Erla has only given up one run in his last 15 innings pitched. Erla's last strong start was spoiled by Purdue, which won the game in extra innings on a sacrifice fly. 
MSU's team captain, senior infielder Bailey Peterson, launched two solo home runs in one of their games against Purdue, though it wasn't enough to secure a win. Peterson is hitting .266 on the season with a team-high three home runs, after a 2020 campaign that resulted in a .441 average, ranking him No. 22 in batting average in the NCAA during last season.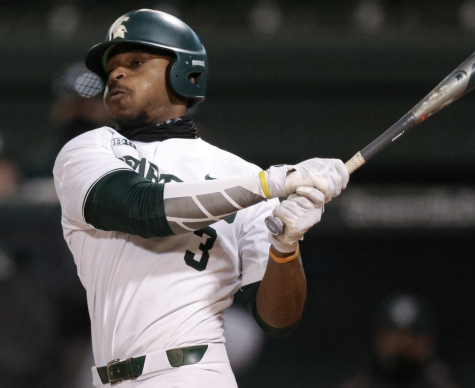 Providing help on offense for MSU is sophomore Zaid Walker, who leads the team with a .344 batting average. Walker is also the only Spartan to drive in more than 20 runs, with his last coming against Illinois on a sacrifice fly. Earlier in the year, Walker was announced Big Ten Player of the Week after tallying five RBIs in a series against Maryland to open the season. 
With just over a month to go in the regular season, both teams are looking to play strong and get a series win. First pitch is at 5:00 p.m. on Friday evening, followed by 3:05 p.m. and 12:05 p.m. pitches on Saturday and Sunday respectively.